Overview
With AUAI®, stakeholders in smart cities and intelligent urban ecosystems have the ability to harness the power of AI to drive innovation. AUAI®, offers a variety of use cases that have been thoroughly evaluated for feasibility and business value. These use cases serve as a starting point for stakeholders to adapt and implement in their smart city journey, taking into consideration regulations and societal acceptance. With AUAI®, you can take the first step towards creating a more efficient, sustainable and citizen-centric city.
Circular city waste classifications
Make smarter and cost-effective decisions in waste management with AUAI®'s Circular City Waste Classifications. This feature harnesses the power of AI and automation to provide advanced analytics on bin safety, food waste, and recyclable materials - all leading toward a greener city. With this comprehensive solution you can improve recycling rates, and reduce environmental impact while streamlining your processes for achieving smart cities goals. Choose AUAI®, choose sustainability!
Green space management
AUAI®'s "Green Space Management" feature offers city decision-makers and stakeholders a cutting-edge solution for maintaining and optimizing their green spaces. Utilizing AI and automation, our system is capable of autonomous monitoring and maintenance tasks such as irrigation, tree trimming, and lawn mowing. Additionally, our system can provide growth predictions to aid in efficient space management. With this feature, cities can not only achieve their sustainability and green goals but also increase efficiency in the management of their green spaces.
Landmark management
AUAI®'s "Landmark management" feature utilizes AI and automation to effectively maintain and preserve historical monuments in the city. This includes preventing cars from parking too close, protecting against destruction from tourists and visitors, and mitigating environmental damage. With the help of AI-based analysis of circumstantial information and events, this feature ensures that these landmarks retain their value for tourism and culture while also contributing to the city's sustainability and preservation goals. This feature is designed to be of interest to decision-makers and stakeholders in the city/town who are looking for smart city solutions to effectively manage and preserve the city's cultural heritage.
Intelligent Parking Automation and Management - iPAM
AUAI®'s Intelligent Parking Automation and Management (iPAM) is a cutting-edge solution for parking facility management. Designed specifically for parking managers and city/town officials, iPAM utilizes AI and automation to provide an array of features, including permit management, parking enforcement, revenue insights, effective parking lot/space management, analytics, dynamic pricing, and real-time insights. With iPAM, parking managers and city officials can streamline their operations and make data-driven decisions to improve parking facilities and user experience. Whether you're looking to increase revenue, reduce costs, or improve the overall experience for parking users, iPAM is the perfect solution. So, it can be your smart choice to manage your parking facility efficiently and effectively.
Microgrid resource management
AUAI®'s Microgrid Resource Management feature is the key for cities and towns to unlock their renewable potential! By aggregating data from intelligent systems such as solar, photovoltaic, rainwater harvesting and brown water recycling – all optimized with AI-driven automation – this innovative tool can revolutionize how decision-makers monitor resources in real time. Enjoy more efficient utilities while achieving those sustainability goals: AUAI® helps you make your city futureproof!
Pollution and emission management (monitor and report)
AUAI®'s innovative "Pollution and Emission Management" feature is revolutionizing the way cities, towns, decision-makers, and stakeholders are managing air quality in their communities. Using advanced AI technology to monitor real-time KPIs related to pollution levels and emissions reports across a city or town's area of jurisdiction helps them make smart decisions on mobility restrictions that improve environmental health as well as citizen notifications that boost sustainability. This powerful tool truly transforms how we tackle everyday challenges presented by pollution!
Predictive infrastructure risk management
AUAI®'s Predictive Infrastructure Risk Management feature is designed specifically for decision-makers and stakeholders of cities and towns who are looking to implement smart city solutions. This feature utilizes the latest in AI and automation technology to provide a comprehensive solution for managing and maintaining urban infrastructure. With real-time data and condition-based monitoring, AUAI®'s Predictive Infrastructure Risk Management can identify potential risks and issues before they occur, reducing costs and preventing disruptions. Whether you're looking to manage utility grids, rainwater runoff and storm drains, water pipes, sewage, or bioswales, AUAI® has you covered. With our advanced monitoring and predictive maintenance capabilities, you can ensure that your city's infrastructure is operating at peak efficiency, while also protecting citizens and the environment.
Predictive mobility services
AUAI®'s Predictive Mobility Services is the perfect way to revolutionize your city's travel experience. Our cutting-edge AI algorithms use real-time data to provide personalized journey mapping and optimized transportation options for all – from city managers, planners or average citizens looking for changes in their daily commute. With our solution, you can not only optimize traffic flow but also reduce emissions and air pollution while encouraging people towards sustainable transport choices with an added bonus of fun through gamification features integrated into it!
Predictive policing
With AUAI®'s predictive policing feature, law enforcement officers can proactively address public safety concerns and reduce crime in their communities. Utilizing AI and automation capabilities, the feature analyzes historical crime data and identifies potential hotspots to aid in the deployment of law enforcement resources. This proactive approach to policing can lead to a reduction in crime, increased community safety and improved quality of life for residents. As a smart city solution, predictive policing can be an integral part of a comprehensive public safety strategy.
Predictive urban asset management
AUAI®'s Predictive Urban Asset Management feature utilizes cutting-edge IoT and AI technology to develop advanced algorithms that predict the performance of critical assets within your city, such as waste bins, parking meters, and fire hydrants. This powerful tool enables decision-makers and stakeholders to understand and anticipate outages, reducing costs and shortening maintenance cycles. With AUAI®'s Predictive Urban Asset Management, you can proactively manage your city's infrastructure and environment, ensuring a seamless experience for your citizens. AUAI® automation capabilities make it the perfect solution for smart city decision-makers looking to optimize their operations and budget.
Sentiment analysis for citizen engagement
The AUAI® feature "Sentiment analysis for citizen engagement" is a powerful tool designed to help city/town decision-makers and stakeholders understand the opinions, perceptions and overall ambiance of their citizens. This feature uses state-of-the-art AI and automation technology to analyze and visualize citizen feedback, making it easy for decision-makers to identify key issues, trends, and areas of concern. With this feature, city/town managers can optimize financial performance, increase transparency, and encourage citizen engagement and participation in the decision-making process. With the help of AUAI's sentiment analysis, you can make informed decisions that truly reflect the needs and wants of your citizens.
Smart lampposts
AUAI®'s "Smart Lampposts" are an innovative way for cities and towns to upgrade their infrastructure. These modern lampposts use AI, automation and sensors to collect a plethora of data that can be used in various urban areas such as traffic control, parking optimization or air quality monitoring. Moreover, they act as the perfect enabler for businesses like self-driving cars or last-mile logistics companies by providing localized information efficiently at a low cost while also improving overall sustainability efforts.
Social credit prediction (OECD)
AUAI®'s "Social credit prediction" feature utilizes AI technology to create a point system for citizens based on their behaviors and actions towards socially defined causes and objectives, as seen in the OECD. This system aims to encourage good behavior through a gamified approach, and is currently in the early stages of development for potential use in smart cities. Decision-makers and stakeholders of cities and towns who are interested in implementing smart solutions can consider this feature to support the promotion of positive behaviors within their community.
Social welfare crisis prevention
AUAI®'s "Social welfare crisis prevention" feature is designed to help decision-makers and stakeholders in cities and towns ensure the well-being of their citizens by identifying and addressing potential social welfare crises before they occur. Using advanced AI and automation capabilities, this feature cross-analyzes tax and social records to identify families and individuals experiencing day-to-day vulnerabilities. It's highly personalized data approach ensures that the most vulnerable communities in the city are protected and helped in a timely manner. This feature is a proactive solution to preventing social welfare crises and can help cities and towns create a more resilient and compassionate community.
Traffic pattern prediction
AUAI®'s Traffic Pattern Prediction feature packs a powerful punch when it comes to transportation, logistics, and urban planning decisions. By harnessing cutting-edge AI technology that can process data from parking places, traffic patterns, vehicles, incidents and weather events into meaningful insights for cities all around the globe – decision-makers are now able to make smarter choices about infrastructure investments as well as explore new revenue streams through congestion charging initiatives. Furthermore, this revolutionary system offers precision accuracy of predictions in order to improve the overall quality of life for citizens living within those cities!
Video analytics on crowd movement
AUAI®'s "Video analytics on crowd movement" feature is a game-changer for city decision-makers and stakeholders looking to improve crowd management, safety, and the overall user experience. Using advanced AI and automation, our video analytics technology tracks movement in public spaces, providing valuable insights on crowd density, journey mapping, and physical distancing. This feature can be used to optimize safety and compliance in high-traffic areas, as well as enhance the retail and commercial experiences for visitors. And, our technology is designed to protect the privacy of individuals in the crowd, addressing any concerns you may have. With AUAI®, you can be confident in your ability to make informed decisions about how to best manage your city's public spaces.
Not just a Smart City but complete Intelligent Urban Ecosystem
A life cycle approach to urban governance to improve its citizens' lives, stimulate the economy and protect its environment. Our smart city initiative is revolutionizing the way people live and work, creating an intelligent ecosystem powered by innovative digital tools. It brings together businesses, government agencies, and citizens to foster economic growth in a safe environment that's inclusive for all - even those just starting out on their journey into the world of technology. Our solution is designed with everyone in mind: no matter your level of tech-savvy or knowledge base, we've got you covered!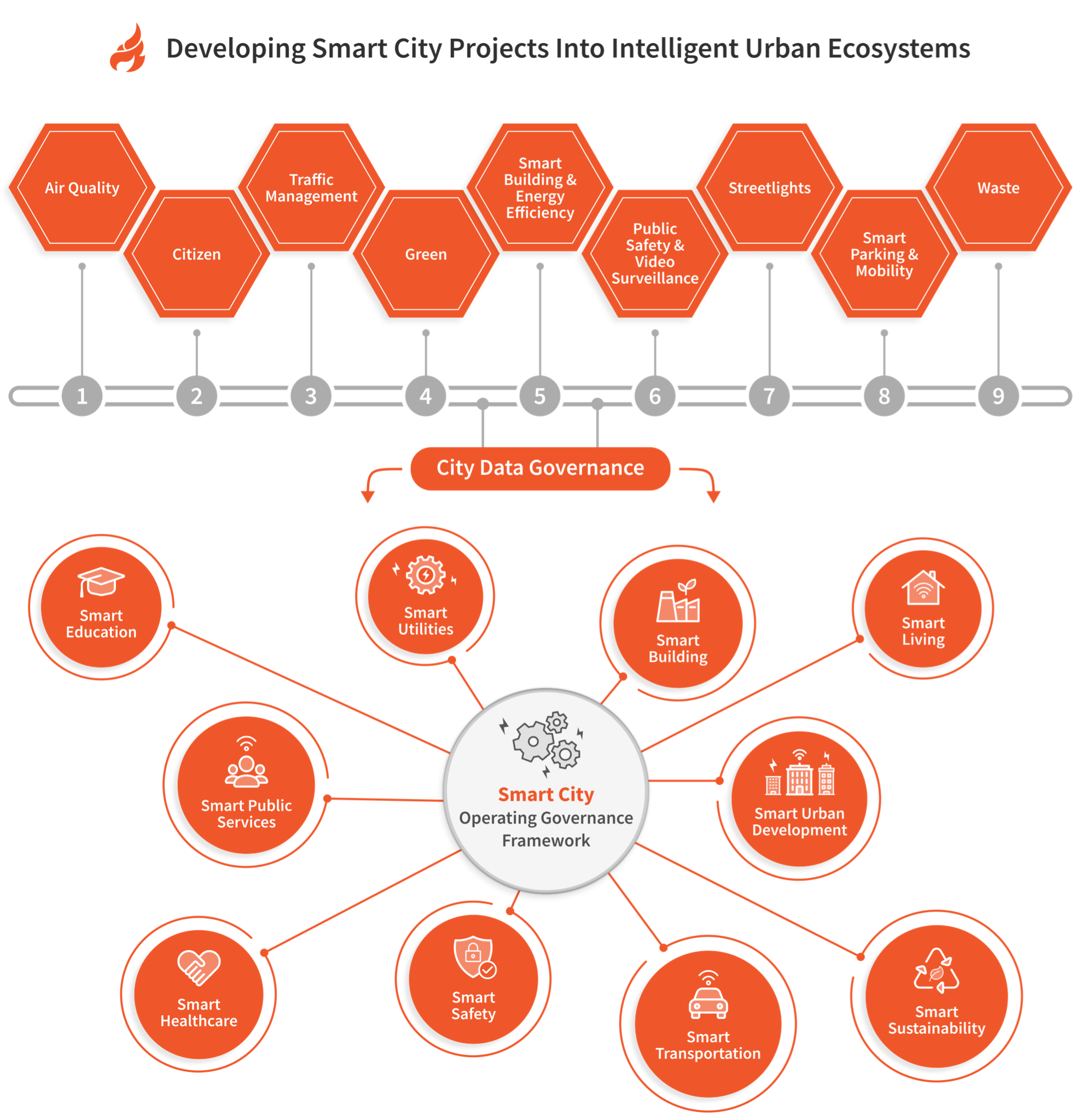 At AUAI®, we believe in creating smarter cities and more equitable urban ecosystems. Our cutting-edge technology is tailored to the unique needs of each city, allowing us to develop innovative solutions that put citizens first. We focus on six key areas—inclusion and digital equity, collaboration and community engagement, service diversity, sustainability infrastructure efficiency, policy transparency—all with a view towards providing equal access for all individuals regardless of their circumstances or background. With our smart city approach your municipality can become one step closer to its goal of establishing an advanced intelligent living space!
We understand the power of connection, and it's for this reason that we strive to keep communities connected through inclusive collaboration. Working alongside local citizens allows us to design solutions tailored specifically towards their wants and wishes during difficult times. With our dedicated volunteer initiatives, cities can benefit from innovative services available across a range of providers; creating ecosystems where smart buildings coexist with industrial parks in an integrated service environment - all engineered on a unified platform so you experience maximum value every step of the way.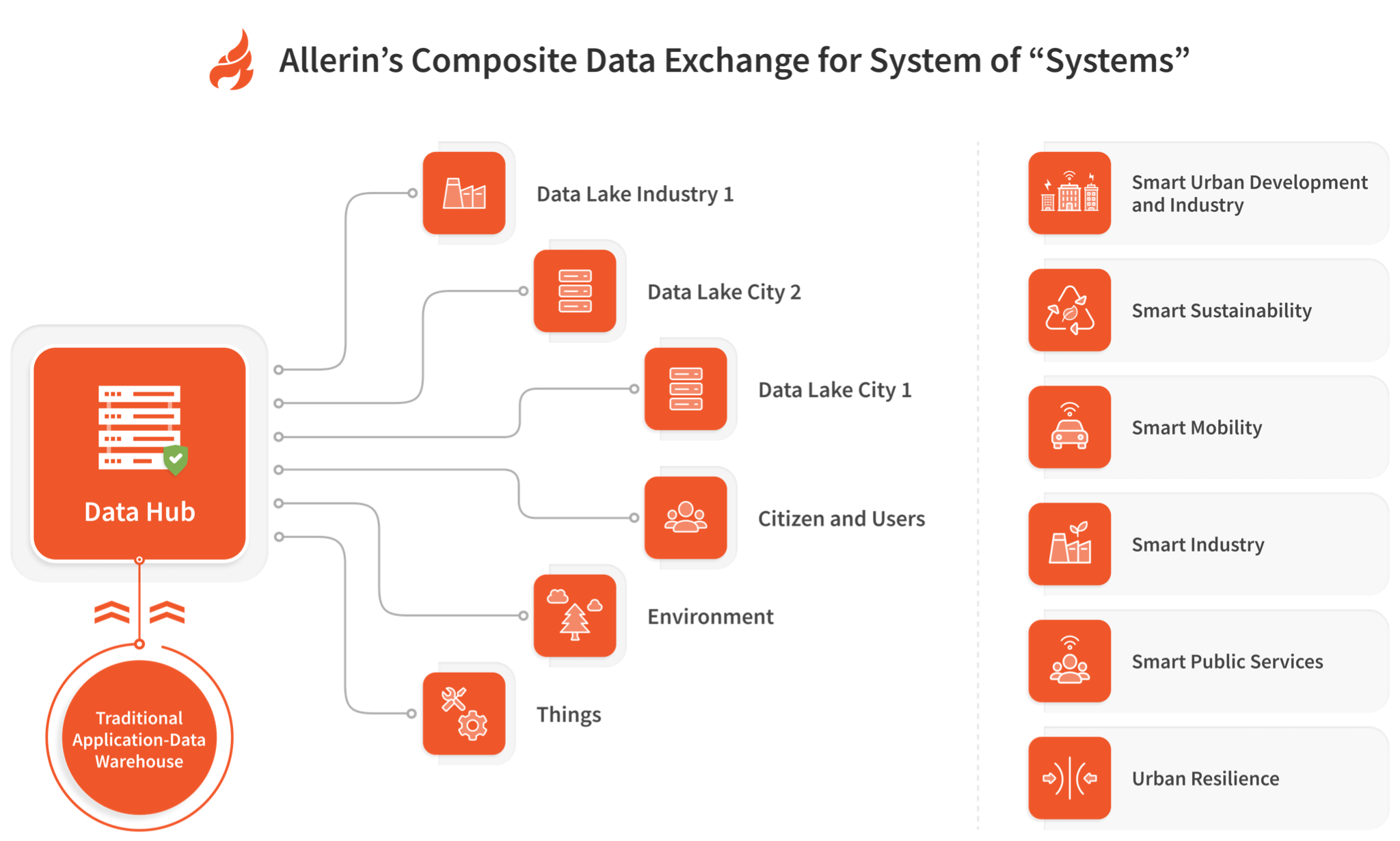 We also place a strong emphasis on urban sustainability and infrastructure efficiency. By managing resources effectively, we can reduce carbon emissions, energy consumption and noise levels, while improving air quality, parking availability and traffic flows. Our solutions also help in water management, especially in areas affected by drought, and converting waste to energy.
Urban policy, transparency and economic growth are also key elements of our approach. We work closely with local governments to create policies that promote economic development, GDP, employment, corporate investments and entrepreneurship. We also prioritize transparency in the decision-making process, ensuring that citizens have a clear understanding of the roadmap for smart city deployments.
Smart Parking
Allerin's Intelligent Parking Management and Automation (iPAM) is a smart solution designed to help city and town managers overcome the challenges they face in managing parking. Using cutting-edge technology such as Computer Vision and LPN, iPAM provides a comprehensive solution for managing gate-less parking lots, on-street parking, and ensuring compliance with handicapped parking regulations.
With iPAM, parking operators and managers can increase revenue and enhance the citizen experience. iPAM also supports electric vehicles with EV charging capabilities, making it an environmentally-friendly solution. Additionally, iPAM offers a range of features that help city and town managers offer better citizen services such as cashless payment options, real-time analytics, and integration with the Department of Motor Vehicles. With iPAM, managing parking becomes more efficient and effective, and cities and towns can focus on providing top-notch services to their citizens.
iPAM Dashboard
The iPAM Analytics Dashboard is a powerful tool that helps city and town managers to stay on top of their parking operations. With real-time data and insights, managers can see exactly how parking is being used, where revenue is coming from, and how occupancy rates are changing. This information is presented in an easy-to-understand format, with clear visualizations and charts that make it simple to identify trends and patterns.
With the Analytics Dashboard, managers can quickly see which parking lots and on-street spaces are most popular, how long vehicles are staying, and which hours of the day are busiest. They can also track revenue and occupancy over time, and compare performance across different locations. This allows managers to make informed decisions about parking management strategies and policies, such as adjusting pricing, allocating resources, and enforcing regulations.
The iPAM Analytics Dashboard is a powerful tool for city and town managers to gain a deep understanding of their parking operations. With real-time data and insights on parking usage, revenue, and occupancy, managers can make informed decisions on parking management strategies and policies. This can help to optimize parking operations, increase revenue, and enhance the overall experience for citizens. The dashboard also provides valuable data on vehicle forecasting, which can be used to plan for future parking needs and infrastructure.
What's more, this feature is not only useful for large cities, but also for small towns. With less manpower engagement, the Analytics Dashboard allows managers to easily monitor parking operations and make data-driven decisions, even with limited resources. This can help to improve parking operations and reduce costs, making it an ideal solution for municipalities of all sizes.
Disputes and Appeal Management
The iPAM's Disputes and Appeal module is designed to make the process of contesting parking citations and appeals as easy and efficient as possible for citizens. The module provides a user-friendly platform that allows citizens to submit their disputes and appeals online, eliminating the need for them to visit government offices in person. This not only saves time and effort for citizens but also reduces the workload for parking operators and city and town managers.
The module also provides parking operators/managers with a comprehensive view of all disputes and appeals received, allowing them to review and resolve disputes in a timely manner.
The Disputes and Appeal module is particularly useful for city and town managers as it helps to streamline the parking citation and appeals process, making it more efficient and effective. It also reduces the need for manual handling of disputes and appeals, freeing up staff to focus on other important tasks.
The Disputes and Appeal module of iPAM is designed to make the process of contesting and resolving parking citations as smooth as possible for both citizens and parking operators. With this feature, citizens can easily submit appeals and parking operators can efficiently review and resolve disputes. The module also utilizes computer vision technology to provide evidence and data-driven insights to help authorities make informed decisions. This feature is beneficial for both small towns as well as big cities and helps in providing better citizen services.
DMV Integration
The iPAM's DMV Integration module streamlines the process of tracking and managing parking violations and permit renewals by integrating and exchanging data with state's MTA. This feature makes it easy for city and town managers to stay on top of parking violations and permit renewals, without having to manually track and update information. With the integration with the Department of Motor Vehicles, parking operators can easily access up-to-date information and take action accordingly. This not only saves time and effort, but also ensures that parking regulations are enforced effectively and efficiently. This is an ideal solution for cities and towns of all sizes, as it automates the process and eliminates the need for manual data entry and tracking. Overall, the DMV Integration feature is designed to make the lives of city and town managers easier by providing them with the information and tools they need to effectively manage parking in their communities.
iPAM On-Street
The iPAM On-Street Parking module is a game-changer for city and town managers. This feature offers a comprehensive solution for managing on-street parking, including real-time occupancy data, parking restrictions, and enforcement. With the help of cutting-edge computer vision technology, even when license plate numbers are not captured, parking enforcement becomes effortless. The module also offers a cashless payment system, which eliminates the need for traditional parking meters and reduces maintenance costs. This not only keeps the total cost of ownership low, but also increases revenue generation for the city or town.
iPAM Gate-less
One of the iPAM's key feature is "Gate-less Parking Lots Management": iPAM's Gate-less Parking Lots Management module allows managers to efficiently manage gate-less parking lots, providing real-time data on occupancy, revenue, and parking enforcement. Managing gate-less parking can be a challenge as there is no mechanism to capture the entry and exit time of vehicles. iPAM's computer vision module, which is much more than just a license plate recognition technology, ensures that a virtual ID is assigned to every vehicle entering the gate-less parking lot and records the timestamp to maintain the parking session. This feature works in all weather conditions, including night time, making it easy for managers to keep track of parking occupancy, even in the most challenging conditions. It's a great solution for cities and towns looking to optimize their parking management and increase revenue, while providing a great citizen experience.
iPAM Subscriber
City and town managers now have access to an innovative solution that will revolutionize the parking experience for their citizens - iPAM's Subscriber Management module. This convenient tool makes it easy for residents to locate, book, and even reserve a spot in advance – taking the frustration out of finding somewhere to park! Planning trips is easier than ever with this empowered approach; visitors can enjoy peace-of-mind knowing where they'll be able to safely leave their vehicle when exploring your city or town.
The module's unique workflow is designed to make the parking process as seamless as possible for subscribers. With the use of AI-powered algorithms, the module automatically starts a parking session as soon as a subscriber's vehicle is identified, eliminating the need for manual payment or interaction with parking meters or POS systems. This workflow ensures an optimal user experience for the subscriber and optimizes the use of the city's parking lots.
Not only this, iPAM's subscriber management module is also mobile-friendly, providing citizens with the ability to find, reserve, and pay for parking spots from their mobile devices, making it even more convenient for them. With this feature, city and town managers can provide their citizens with a modern, stress-free parking experience while also ensuring that their parking lots are used to their full capacity.
iPAM Permit
One of iPAM's standout features is its Permit Management module. This tool makes it easy for city and town managers to keep track of parking permits, from issuing and renewing them, to monitoring violations and enforcing rules. With this feature, managers have the flexibility to issue daily, weekly, monthly, or yearly permits, and even temporary permits that are valid for a specific time period. Additionally, the module keeps a record of the permit holders' data, including their history and profile, so operators have all the necessary information when it comes to renewing or reissuing permits. It also allows managers to issue permits for specific parking lots or spots, making it even more convenient to manage parking in the city or town.
iPAM Enforcement
The iPAM system's Parking Enforcement and Citations module is designed to make it easy for city and town managers to efficiently manage parking enforcement. This includes the ability to issue citations, boot or tow vehicles, and collect revenue all in real-time. With this feature, parking enforcement officers (PEOs) can easily spot violations and quickly issue citations, helping them to effectively enforce parking rules as set by the city or town. Additionally, the powerful PEO app can also act as a point of sale to collect fines, making the violation process a hassle-free experience for everyone involved. With iPAM, managing parking enforcement becomes a breeze for city and town managers.
Booting and Towing
The iPAM's Booting and Towing module provides an efficient solution for enforcing parking regulations in cities and towns. With this feature, city, and town managers can not only enforce parking rules through booting and towing but also collaborate with third-party providers to manage parking enforcement effectively. The system allows for pre-approved notifications to be sent to third-party providers, so they can take swift action when needed. Additionally, it empowers citizens to report any unauthorized parking, such as blocking the passage, and generates booting sequences based on parameters set by the city managers, such as multiple pending citations and vehicles of interest. The result is a comprehensive solution that streamlines parking enforcement and improves the overall experience for city and town managers and their citizens.
iPAM Event Parking
iPAM's Event Parking module is a lifesaver for city and town managers looking to manage parking for events smoothly. With real-time occupancy data and the ability to collect revenue, event parking has never been easier. This module allows for the creation of event passes linked to specific or multiple parking lots, making the event parking process a breeze for attendees. And the best part? The module seamlessly integrates with other departments, such as the police, event permit authorities, and parks and recreation, making it a one-stop-shop solution for a hassle-free event experience.
iPAM Demand
iPAM's demane generation module works through coupon and business promotions module is a game-changer for town and city managers who are looking for smart parking solutions. This module makes it easy for managers to create and manage parking coupons and promotions for businesses, which in turn can boost revenue and stimulate local economic growth. With this feature, local businesses, such as restaurants, can offer pre-paid parking to their customers, providing a hassle-free experience during peak business hours when parking spots can be scarce. Other businesses can also pre-pay for parking spots and provide coupons to their customers, enhancing the shopping experience and promoting local commerce. With iPAM's demand module, town and city managers have a powerful tool for fostering a thriving business community.
Kiosks and POS Management
The iPAM system's Kiosks and POS Management module is a real game-changer for city and town managers. It takes care of parking kiosks and point-of-sale systems with ease, providing real-time revenue collection and data reporting. The kiosks are top-notch, designed to handle all types of payments with ease, including coins and bills. But they're more than just parking payment systems - they're also information hubs for the city, providing access passes and other helpful information. With iPAM, city and town managers have the power to simplify their parking systems and provide an effortless experience for their community. The implementation of advanced machine learning algorithms allows the kiosks to offer suggestions to users on the fly, and voice guidance makes navigating the system a breeze. These kiosks are energy-efficient too, with sensors that adjust brightness based on user interaction, ensuring that energy is saved while still providing top-notch service.
City Operations Center
Allerin's City Operations Center (COC) is an innovative platform for local government officials to effectively manage their smart city environments. It offers a comprehensive and holistic solution that delivers actionable insights to improve the city's operations and quality of life for its citizens.
With the need for quick and smooth information exchange in smart city environments, the COC module connects different data sources and streamlines engagement between government officials, citizens and various sectors. This enables the government to:
Streamline resource allocation and management to improve efficiency
Streamline resource allocation and management to improve efficiency
Foster open communication with citizens to resolve issues and concerns
Ensure responsibility and accountability in city operations through increased transparency
Drive city development and growth by optimizing processes and operations
By supporting open government principles, the COC module also shares city operation data with the public. The speed of adoption varies depending on the local government's technical and data needs. To ensure scalability and integration, the COC is cloud-based and connected to other platforms for data exchange.
The COC solution helps the government consolidate management platforms from different departments, including traffic control, public safety and policing, and critical infrastructure. It orchestrates IoT implementation and data usage to optimize operations control and city management, using KPIs such as ISO 37120 and SLAs. The COC platform offers a wealth of data and analytics for effective smart city operations and urban management, resulting in improved fiscal control and transparency for citizens.
In addition to addressing current issues, the COC can also aid in the development of a medium-term city strategy, including economic development, disaster preparedness and emergency response. The consolidated data can provide valuable insights into city trends and demographic changes.
COC Architecture of Measurable, Service-Enabled Objectives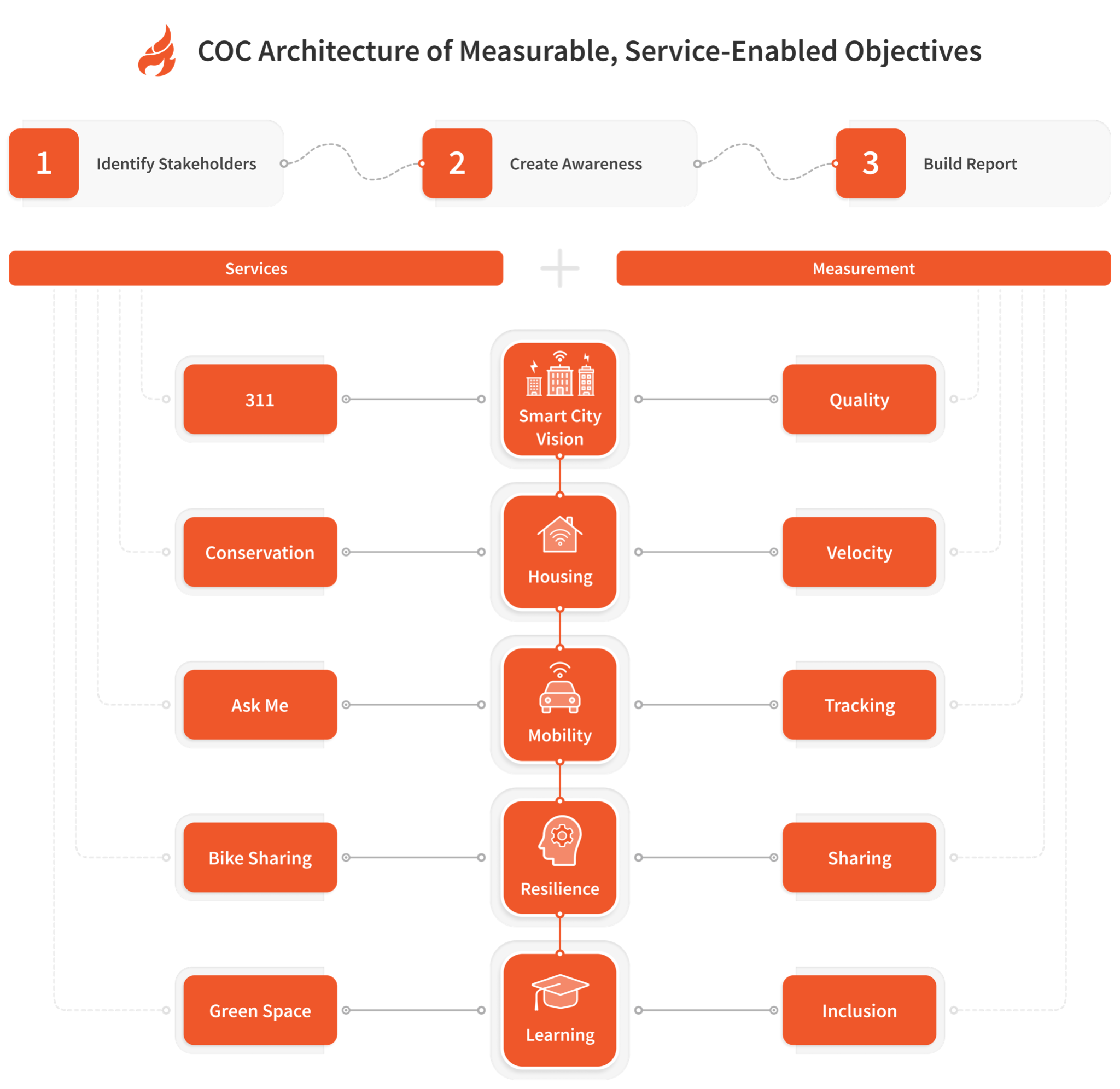 The COC functions as both a routine operations management platform and an emergency response hub, offering automated decision-making, dashboard reporting, and data sharing. As urban platforms evolve, the COC will transform into an interactive engine for application development and data visualization. Allerin's solution aligns with the FIWARE standards for a standardized, open-source approach to service, data and process management.