Even though digitalization and merging of communications and computation functions has caused dramatic advances in device and material technology, there are concerns about the integrity and authenticity of the information to be provided, as well as the protection of privacy. The following diverse set of issues faced by the telecom industry need to be addressed.
Software Crisis
As the telecommunication industry is becoming increasingly digital and computer-oriented, one major problem is the increasing cost of software development and production. Even though advances in device technology are lowering hardware costs, software costs are soaring. This increase is the result of constant demand for more sophisticated and diversified types of software, along with the high labor costs associated with software development and production.
Standardization
As telecom services are reaching a global scale, issues of standardization and of maintaining interoperability between systems and equipment are emerging. Incorporating and implementing standardizations are difficult to achieve for several reasons. First, the pace of innovation in telecommunication technology is very fast. Standards that were set early may jeopardize future innovation. Second, because of networking, telecom companies are required to have extensive standardization in software and hardware. A large amount of software at each switching center is needed to be standardized for attaining economies of scale and ease of maintenance.
Reliability and Security
Telecommunication systems are often subjected to a variety of external and internal disturbances. These disturbances include electrical noise, power line failure, and natural disasters as well as human factors, such as operators' mistakes, vandalism, and unauthorized access by outsiders. Even though different techniques have been developed to avoid these disturbances, security and unauthorized access still remains one of the major hindrances in the telecom industry.
Allerin's Solution Features

Personalized Services
Allerin's Big Data solution helps in creating sophisticated 360-degree profiles assembled from:
Customer Behavior:

Past purchase patterns

Customer care history

Voice, SMS and data usage patterns

Social media activity

Website visits, duration, browsing and search patterns

Customer Demographics:

Service usage

Age, address and gender

Geographic location

Type and number of devices used
This facilitates telecom companies to offer better personalized services or products at every step of the purchasing process.
Network Optimization
Expenses add up when a network is down, underutilized, or nearing maximum capacity. Using our Big Data solution, companies are able to analyze subscriber behavior and create individual network usage policies. Additionally, it also helps in improving efficiencies and maximizing revenue streams
Social Media and Sentiment Analysis
The evolution of social media has greatly impacted the way companies view their customers. Our Big Data solution can help in harvesting data from reviews and social feeds and subject this information to detailed sentiment analysis. This helps telecom companies in achieving the following goals:
Tackle potential problems and ease customer concerns

Improve or defend their brand image

Track usage patterns

Identify new revenue streams

Monitor the reaction to new products, offers, and campaigns
Benefits of Allerin's Solution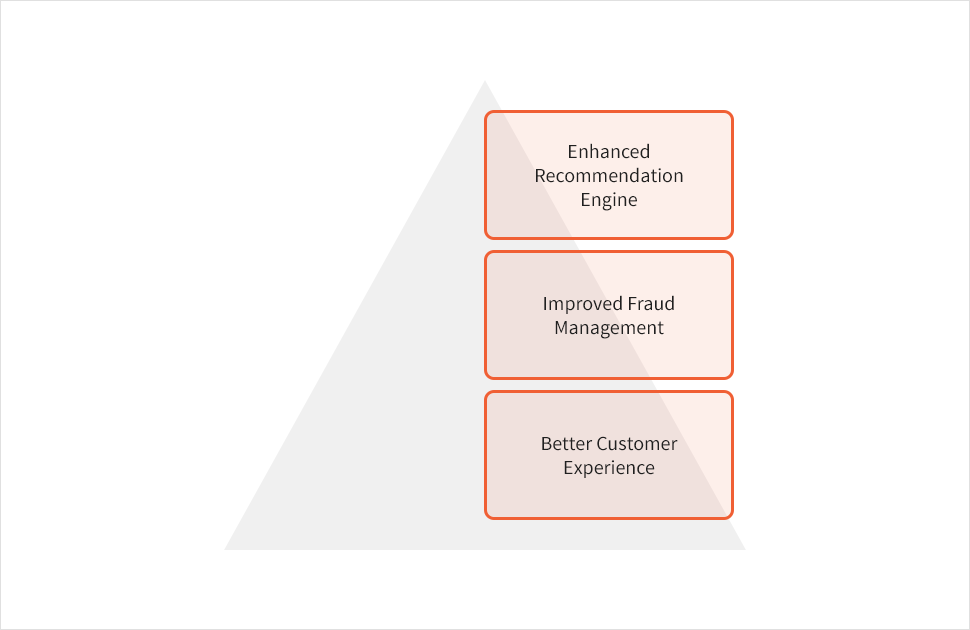 Enhanced Recommendation Engine
Using Allerin's Big Data solution, operators could generate more accurate and personalized offer recommendations for existing individual subscribers by combining internal structured data. Insights provided by our system could enable the recommendation engine to match price plans and offer attractive add-ons.
Improved Fraud Management
Our Big Data solution can help in correlating internal location, usage, and account data with external sources such as credit reports. This could significantly increase the detection of fraudulent activity such as looping or call forwarding. It can also significantly reduce fraud involving the swapping of SIM cards and improve the overall accuracy and efficiency of a telecom company's efforts to recognize patterns of fraudulent behavior.
Better Customer Experience
Allerin's Big Data solution can help in gathering real-time customer satisfaction information through social media listening. Telecom operators can get valuable feedback about a new product launch, a major brand announcement, or a simple network issue.
With our Big Data solution, telecom companies will have the strategic data and intelligence for developing new applications, thereby making them smarter and providing complete solutions rather than providing stranded static data in empty point software products.
Our telecommunication solutions team can help banks identify their specific pain points and tweak our solution accordingly. Our solution will, thus, help you take better business decisions and react faster during critical times while eliminating human intervention in routine activities. To know more about our solution, contact Allerin