Overview
Allerin provides a revolutionary solution for the legal services industry. By combining AI, ML, and computer vision technologies, Allerin offers an integrated platform that simplifies running a business in this sector - making it faster and more efficient than ever! Let's explore what ground-breaking features make up their innovative offering.
Allerin's solution covers a range of critical areas in the legal services industry, including matter management, legal document management, and contract life cycle management (CLM). The solution automates routine tasks with advanced AI algorithms and computer vision technology, freeing up valuable time and resources that legal services providers can redirect to more strategic initiatives.
In terms of matter management, Allerin's solution provides a centralized platform to manage legal matters and associated information and documents, making it easy to track the progress of each case. The legal document management system streamlines document creation, organization, and retrieval, allowing legal services providers to access the information they need to provide effective representation quickly.
Allerin's CLM accelerates the contract creation process, allowing legal service providers to swiftly move through negotiation and execution with far less risk of blunder. This solution streamlines the tedious task of contract administration for added speed in fulfilling crucial contractual obligations.
Allerin's revolutionary solution offers legal services providers an opportunity to gain a competitive edge through its comprehensive set of AI, ML, and computer vision technologies. With these powerful tools, firms are able to streamline processes more efficiently than ever before – reducing time spent on manual tasks while providing savings in both cost and effort.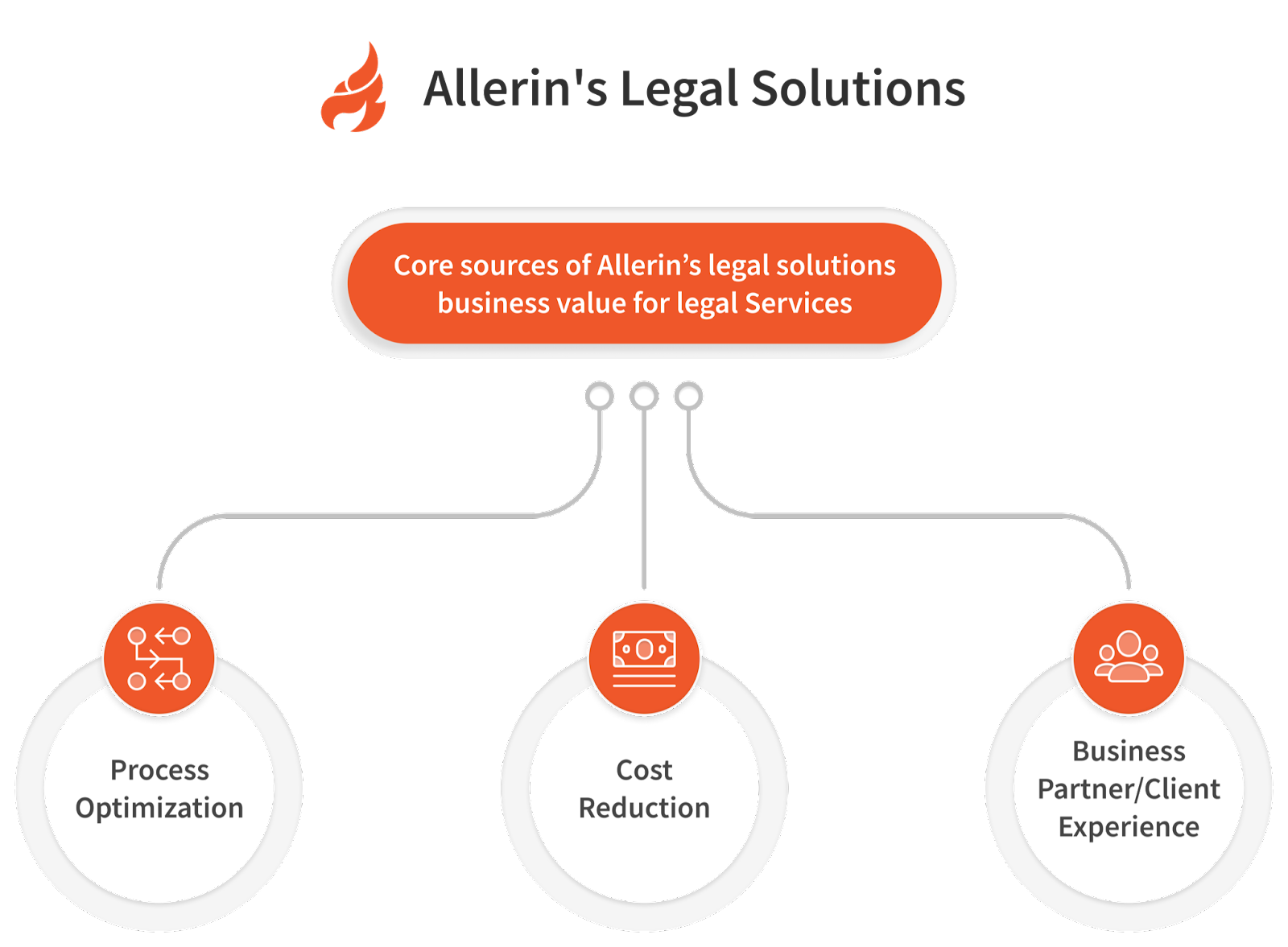 Legal Automation
Allerin's Legal Automation solution is created to revolutionize your workflow. Enjoy increased efficiency and redirected resources with automated routine legal tasks, leaving more time for strategic objectives that drive growth.
Put an end to the time-consuming manual tasks that come with legal work. Allerin's Legal Automation solution is your key to streamlining processes, saving resources and dedicating more of your attention towards strategic projects. Take advantage of AI and computer vision technologies for a faster search experience so you can stay on top when providing representation-- giving you peace of mind in any situation!
Chatbots
Our chatbots are revolutionizing the legal field by providing intelligent, accurate assistance on a variety of tasks. These helpful and seamless bots can offer their expertise in areas like giving advice related to law, responding quickly to frequently asked questions, ensuring privacy is maintained for inquiries about sensitive cases such as immigration matters - all with exceptional speed and accuracy!
Our Legal Automation platform offers following chatbot features:
Predictive Analytics
Our Predictive Analytics module is here to help. Utilizing advanced machine learning techniques, our predictive analytics module delivers unparalleled insights into future legal outcomes.
Litigation Outcome Prediction:

With an increasing volume of cases and limited resources, choosing which cases to pursue can be challenging. But with our predictive analytics module, you can make informed decisions with confidence. By analyzing a range of variables such as the presiding judge and parties' settlement history, our predictive analytics module gives you a detailed prediction of the outcome of any given litigation.

Motion Result Forecasting:

Preparing and filing motions is a time-consuming process that often yields uncertain results. However, with our predictive analytics module, you can save time and resources by predicting the outcome of motions before filing. By analyzing patterns in past motion rulings, our predictive analytics module provides you with an accurate prediction of the success of your motions. This means you can focus your efforts on the motions that are most likely to succeed, saving you both time and money."
Text Analytics
Our legal automation's Text Analytics module is designed to help you streamline your legal processes by turning text into valuable insights. It combines advanced technologies such as Natural Language Processing (NLP) and Machine Learning (ML) to analyze and categorize legal documents, freeing up your time for more important tasks. Here's a rundown of the exciting features our Text Analytics module has to offer:
AI-Assisted Complaint Analysis:

Say goodbye to spending hours reviewing and analyzing legal complaints. Our AI-assisted complaint analysis module takes care of it all, quickly and efficiently. With the ability to store and reuse legal responses, you'll see a significant reduction in time spent on these tedious tasks.

Automated Lease Compliance Review:

Keeping up with the latest lease accounting standards can be a challenge, but not with our Automated Lease Compliance Review. This feature extracts the information you need to comply, resulting in up to 30% less time spent on lease review.

AI-Conducted Due Diligence:

Our AI-conducted due diligence feature saves you time and resources when it comes to M&A document review. Using NLP technology, it identifies potential data conflicts, leading to up to 30% faster execution of deals.

Automated Contract Sorting:

Don't waste any more time sorting through contracts and non-contract documents. Our Automated Contract Sorting feature does the heavy lifting for you, distinguishing between the two and even sending foreign language contracts to the appropriate reviewers. You can expect up to 55.5% less overall review time.

ML-Assisted M&A Due Diligence:

Make M&A due diligence a breeze with our ML-assisted module. It uses NLP to review contracts and identify key negotiation points and anomalies, resulting in a process that's up to 75% faster.

Automated Lease Abstractions:

Our Automated Lease Abstractions feature streamlines the lease abstracting process, reducing the time it takes by 50%.

Global Contract Review:

Get even more out of our Text Analytics module with our Global Contract Review feature. Using NLP and ML, it extracts data from legal files to improve review speed and accuracy by up to 10%. With the ability to review 50 documents per minute, you'll never fall behind again.

Automated Invoice Review:

Keep your legal expenses under control with our Automated Invoice Review feature. It uses ML algorithms to identify potential non-compliance in invoices, saving you money by paying for fewer services outside of outside counsel guidelines.

Relevant Document Search:

Find the right document, right when you need it. Our Relevant Document Search feature allows you to input a complaint or brief, add search terms, and quickly pull up relevant documents. With the ability to detect patterns in documents, you'll save time and get the information you need, fast.

Due Diligence Deviation Identification:

Our Due Diligence Deviation Identification feature ensures thorough and accurate reviews of documents. Automatically identifying discrepancies and potential areas of concern, it results in significant improvements in both speed and accuracy.

Natural Language Case Search:

No more scouring case law for relevant information. With our Natural Language Case Search, you can simply enter a question in plain language and let NLP do the rest. You can expect to find relevant cases in half the time.

Automated Contract Due Diligence Review:

Get even more value from your legal automation with our Automated Contract Due Diligence Review. This feature reviews company contracts, highlighting and extracting relevant content
Legal Automation Platform's Robotic Process Automation (RPA)
Our RPA software is here to revolutionize the way you approach legal processes. Our reliable technology enables quick, efficient handling of "if, then else" statements due to its ability to interact with user interfaces and APIs for various client servers, mainframes & HTML code. The platform allows users hassle-free mapping out of a process which our advanced 'robot' follows across multiple runtime allocations from one central control dashboard - entirely streamlining your workflow!
Automated Document Generation

- Say goodbye to time-consuming manual drafting of immigration letters. This feature takes user responses from an intake form and turns them into rules, which are then used to select the appropriate clauses for inclusion in a standard document. As a result, you'll see a 50% reduction in time spent on this task.

Automated Contract Drafting

- Our self-service portal uses intake forms and set rules to generate standard contracts based on business partner responses. This feature can reduce contract drafting time from up to 10 hours to just 15 minutes, reducing the risk of error and improving efficiency by enforcing consistency across agreements.

Automated Transaction Monitoring

- Our software uses a rules-based algorithm to scan financial payments and flag suspicious ones for additional review, resulting in an increase in the number of transactions investigated annually from 75 to over 200.

Automated Contract Processing

- This feature uses rules-based logic to access email attachments, extract key information from partnership agreements, and upload it into your legal department's contract database. As a result, you'll see a 600% increase in contract upload speed and save 0.5 FTE.

Automated Patent Application Drafting

- This feature transforms claims into first draft patent applications of 20-30 pages, based on customized templates for each client. This can result in 5-8 hours saved on patent applications and a 30% increase in practice capacity.

Automated Contract Intake

- This feature uses intake form responses to generate standard contracts or direct incoming requests to a member of your legal department. The result is a reduced average time to generate an agreement from 4 hours to just 18 minutes.
Seamless Contract Workflow Creation - This feature simplifies the contract workflow process by allowing you to upload a contract template, select the required inputs, and choose a publishing location. As a result, you'll be able to process a higher volume of contracts (2,405) with fewer resources.
NLP & AI
Utilizing the latest technology advances in natural language processing and artificial intelligence, our Advanced Contract Analytics tool provides all-encompassing insight into your contracts. This sophisticated solution can not only uncover valuable insights but also offer actionable recommendations to ensure that you stay informed of key contract obligations. As a result, organizations gain unparalleled visibility over structured data as well as unstructured ones - exploring features such as risk analysis & compliance tracking for an optimized contractual experience! Here are just a few of the many features that make our Advanced Contract Analytics so effective:
AI-Vetted Contracts:

This feature helps you streamline your contract review process by comparing the language in your contracts to your company's established playbooks. It will then make recommendations for clauses that may need further review, ultimately reducing the time it takes to complete a contract cycle.

AI-Assisted Contract Review:

This feature leverages natural language processing to review contracts for clauses that do not align with pre-approved clauses in your contract playbook. With this feature, you can save valuable time, as you'll be able to complete a contract review in 20% less time than before.

Automated Contract Review:

This feature uses machine learning algorithms to review contracts and identify common clauses, categorize them, and flag any incomplete or incorrect clauses. With this feature, you can reduce the hours your lawyers and loan officers spend reviewing contracts each year by a staggering 360,000 hours.

Automated Contract Tracking:

This feature makes contract management a breeze by keeping all the important details in one place. It tracks contract owners, deadlines, and financial commitments, and automatically alerts contract owners when key milestones are coming up. With this feature, you'll be able to save money by avoiding missed contract deadlines.

Automated Compliance Review:

This feature uses pattern-recognition algorithms to automatically identify contracts that do not comply with GDPR regulations. With this feature, you'll be able to spend 85% less time reviewing contracts for GDPR compliance, freeing up your time for more important tasks.

Contract Validation Automation:

This feature allows you to quickly and easily measure contracts against predefined policies, giving you valuable insights into the value of and time required for a given case. With this feature, you'll be able to spend less time reviewing contracts and be more effective in your review process.
Our Legal Automation Platform has been specifically crafted to provide legal professionals with the tools required to simplify their process, while also streamlining efficiency. Combining Robotic Process Automation and Natural Language Processing powered by artificial intelligence, our platform provides well-rounded insights that assist in informed decision-making. Enhance your business operations today; reduce contract cycle times or increase volume of contracts processed - all backed up by an intelligent system suited for modern-day professional needs!
Matter Management
Introducing Allerin's Matter Management Solutions, a cutting-edge platform designed to revolutionize the way legal professionals handle their day-to-day operations. With the power of advanced technologies like AI, Machine Learning, and Computer Vision, Allerin's solution provides a comprehensive, centralized, and intuitive platform for all your legal matter management needs.
With features that cater to a wide range of needs and requirements, Allerin's Matter Management Solution is an essential tool for anyone looking to streamline and simplify their legal processes. Whether it's categorizing and tracking all substantive legal work, organizing important contacts, or automating routine processes with the workflow capability, Allerin has got you covered.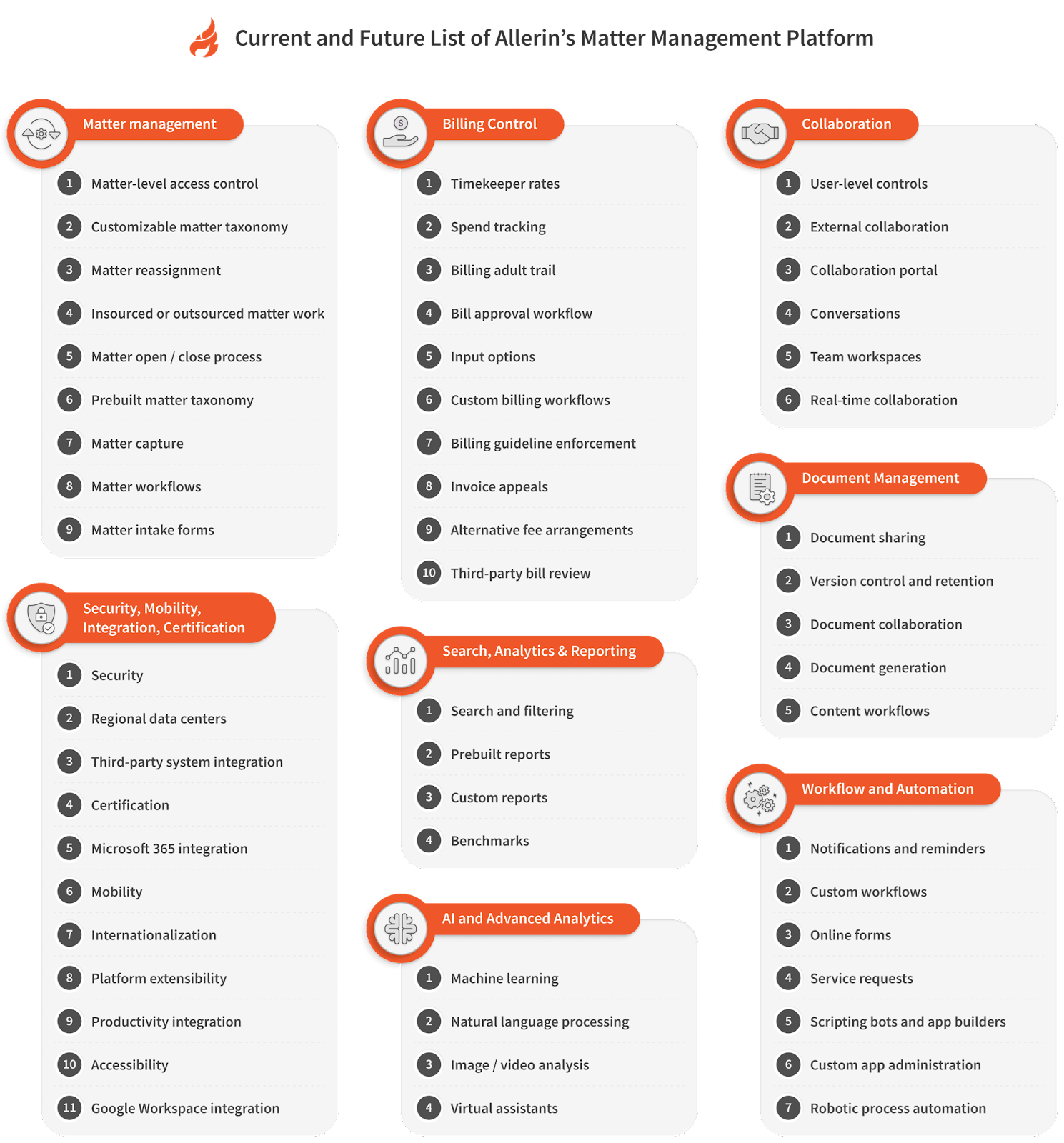 Moreover, with the ability to track and manage budgets and costs, provide granular access and data security, and generate detailed reports, Allerin's solution ensures that your legal operations are running smoothly and efficiently. And with easy mobile and remote access, you can stay on top of your work from anywhere, at any time. Allerin's Matter Management Platform offers the following features:
Categorize and track all substantive legal work:

This feature helps legal leaders categorize and track all their legal work on a per-matter basis, so they can stay organized and on top of their caseload.

Organize and identify key contacts:

With this feature, legal leaders can easily identify key players involved in each matter, including clients, outside counsel, judges, experts, and others, for seamless collaboration and coordination.

Collect, store, and organize documents:

Allerin's platform provides a centralized location for legal teams to store and organize all relevant documents and content for each matter.

Coordinate and facilitate activities:

This feature makes it easy for legal leaders to coordinate and facilitate activities with outside participants, such as law firms and alternative legal services, to ensure seamless workflows.

Automate routine legal processes:

The workflow capability of this solution enables legal teams to automate routine processes, freeing up time and resources for more critical tasks.

Track and balance workload:

Legal leaders can track and balance their team's workload, ensuring everyone is working efficiently and effectively.

Budget and cost management:

This feature provides detailed insight into legal budgets and costs, so legal teams can make informed decisions and manage their resources effectively.

Robust data security:

Allerin's platform provides robust and granular access, and data security, so sensitive information is always handled safely and securely.

Detailed reporting:

This feature provides legal leaders with detailed reporting and metrics, so they can make informed decisions and track their progress over time.

Unify and track the legal calendar:

With this feature, legal teams can unify and track their legal calendar, so they never miss a deadline or appointment.

Integration with other systems:

Allerin's Enterprise Matter Management solution integrates with e-billing, document management, records management, and collaboration systems for a seamless, integrated experience.

Easy mobile and remote access:

Legal leaders and their teams can access the platform from anywhere, at any time, using their mobile devices for maximum convenience and flexibility.
Allerin's Matter Management solutions is a comprehensive offering for legal leaders, complete with analytics and forecasting capabilities powered by the latest in AI technology. The module offers actionable insights to help guide organizational decision-making, allowing companies to mitigate risk while staying ahead of market trends. An unbeatable combination of robust features and cutting-edge innovation makes Allerin's solution an ideal choice for organizations wanting thorough management of their legal processes.
Legal document management systems
Allerin's Legal Document Management System (LDMS) revolutionizes the legal process for companies. Built on advanced AI technology, LDMS uniquely manages and tracks vital documents such as agreements and obligations, policies, and compliance regulations - to name just a few! It is an innovative approach that simplifies complex paperwork while ensuring accuracy in all your company's processes.
LDMS provides an all-inclusive experience for legal teams, with a range of features designed to ensure secure document management. Easily manage files and documents within the intuitive UI or integrated office suite - then sign them digitally while leveraging audit logs and ethical walls. Additional functionalities such as contextual email integration, basic records management plus legal application integrations are included too! With LDMS it's easy to compare versions using redlining for ultimate accuracy.
One of the most significant advantages of the Allerin LDMS is its specialized email support. Emails play a critical role in the legal process, and the LDMS offers predictive filing, presenting the most relevant documents and emails and filing emails and attachments in folders, making the process faster and more efficient.
Detailing Agreements and Obligations
Detailing Agreements and Obligations is a crucial aspect of any legal matter. With the help of Allerin's Legal Document Management System (LDMS), this process becomes streamlined and organized. The system collects and organizes relevant documents and content in a central location, making it easier for parties involved in the legal matter to keep track of the agreements and obligations between them. This helps in ensuring that all parties are on the same page, reducing the risk of misunderstandings and disputes. The LDMS provides a comprehensive and organized view of the agreements and obligations, making it easier for parties to refer to and understand them as needed. Overall, the LDMS significantly simplifies and streamlines the process of detailing agreements and obligations, helping legal teams to work more efficiently and effectively.
Communicating Policy
The Communicating Policy feature within Allerin's Legal Document Management System (LDMS) enables you to clearly communicate policies and guidelines to the relevant parties involved in a legal matter. With its predefined document templates, you can quickly create custom documents that accurately reflect your specific policies and requirements. The system provides you with an easy-to-use interface to modify these templates and ensure that they are tailored to meet the specific needs of your organization. This helps you to ensure that everyone involved in a legal matter is aware of the policies and guidelines and helps to minimize any confusion or misunderstandings. Overall, the Communicating Policy feature streamlines the process of communicating important information, making your legal processes more efficient and effective.
Attesting to Compliance Regulations
Attesting to Compliance Regulations: LDMS makes it easier to ensure compliance with relevant regulations by maintaining a comprehensive record of all changes made to legal documents. With the audit logs feature, users can see who made changes, when they were made, and what the previous version of the document looked like. This ensures that all parties are kept informed of any modifications and helps in attesting to compliance regulations, providing a solid trail of evidence if needed. By having a clear, auditable record of all changes, organizations can demonstrate their commitment to following the appropriate regulations and standards.
Initiating and Closing Legal Matters
With its predefined workflows, LDMS makes it easier for legal teams to initiate and close legal matters. These workflows are designed to guide users through the entire process, from start to finish, making sure that nothing falls through the cracks. The workflows also help in keeping track of tasks and deadlines, ensuring that everything is completed in a timely and efficient manner. Whether you are opening a new legal matter or closing an existing one, LDMS's Initiating and Closing Legal Matters feature is a valuable tool that can help you streamline your workflow and get the job done right.
Managing Internal Investigation Workflows
The Managing Internal Investigation Workflows feature in LDMS allows you to easily manage complex internal investigations. With its purpose-built UI, you have all the information and documents you need in one central location. This makes it easy to keep track of tasks and deadlines and ensures that everyone involved in the investigation has access to the latest information. The UI is designed specifically to meet the needs of internal investigation workflows and makes it easy to navigate and manage information. Whether you're leading an investigation or simply need to access information related to it, the Managing Internal Investigation Workflows feature in LDMS has you covered.
Ethical Walls
LDMS ensures that sensitive information is protected by providing ethical walls to separate information based on conflicting interests.
Audit Logs
Allerin's LDMS Audit Logs provide a transparent view of the legal process, ensuring accuracy and accountability for all changes made to documents. With this invaluable resource at your fingertips, you can make confidently informed decisions knowing that each alteration is recorded accurately with time stamps and by who initiated them. Lawyers, paralegals and support staff alike will find Audit Logs essential in not only protecting their work but also staying on top of it!
Purpose-built UI
With LDMS, legal teams can experience an intuitive and easy-to-use interface that's tailored specifically for the unique needs of legal document management. Say goodbye to clunky, outdated systems and hello to a modern, streamlined solution that makes managing legal documents a breeze.
Predefined Documents
With Predefined Documents, you'll never have to start from square one – just customize our pre-crafted legal documents made by experienced attorneys and tailor them around your specific needs. Not only will this save time in the document drafting process, but it will allow for effortless workflow optimization so that all of your energy can be directed toward other vital goals.
Predefined Workflows
Predefined workflows make the legal process more efficient and organized. With LDMS, you don't have to start from scratch every time you handle a new matter. Instead, you can use a pre-established workflow that outlines all the necessary steps from start to finish. This helps to ensure that all routine tasks are completed on time, freeing up your legal team to focus on more complex and important tasks. With predefined workflows, you'll be able to handle legal matters with confidence, knowing that you have a roadmap to guide you every step of the way.
Office Suite Integration
LDMS's "Office Suite Integration" feature vastly improves legal teams' workflow by offering a comprehensive suite of tools in one convenient platform. Legal professionals are able to access word processors, spreadsheets and more from popular office suites such as Microsoft Office and Google Workspace directly within LDMS, eliminating the need for cumbersome switching between different software applications. Furthering its utility is an intuitive document storage system that makes it easy for legal teams to find, store and collaborate on important documents quickly – meaning better overall productivity levels with less time spent searching through multiple files scattered across various programs!
File Management
LDMS' file management simplifies the organization and accessibility of essential legal documents, enabling legal teams to collaborate efficiently. This feature is designed for convenience so that users can quickly locate any document with ease - from a powerful search option to clever categorization methods. With LDMS bringing files together in one place, keeping important data organized has never been easier!
Digital Signature
LDMS' Digital Signature feature takes the hassle out of signing legal documents by enabling teams to take care of it swiftly and securely. By integrating with commonly used digital signature services, this innovative process eliminates time-consuming paperwork but also minimizes risk through its reliable accuracy - a win for all parties involved in any legal transaction!
Redlining/Comparison
Redlining/Comparison offers teams of legal professionals an invaluable tool to streamline and expedite their review process. This feature simplifies the comparison between multiple versions of a document, making it easier for users to identify key changes quickly and accurately. By utilizing this cutting-edge technology, legal teams can ensure that they are working with up-to-date information when reaching decisions on important matters in real-time - giving them a distinct advantage over more traditional methods.
Basic Records Management
The Basic Records Management feature in LDMS helps legal teams keep their legal documents organized and secure in one central location. With this feature, they can categorize and store important documents, making it easy to retrieve information and reference past cases when needed. It also helps to ensure that the information is protected and secure, as it can be restricted to certain users and access can be monitored through audit logs.
Contextual Email Integration
Contextual Email Integration provides a powerful, AI-driven bridge between email systems and the legal document management system. Combining these two essential tools into one seamless platform makes it easy for legal teams to quickly access relevant emails and attachments within the same interface - no need to toggle back and forth! Not only does this integration save time in their workflow, butit also increases overall efficiency throughout each step of the process.
Legal Application Integration
LDMS' Legal Application Integration feature connects to other legal applications and tools, providing a robust centralized platform for managing all of your team's work. This ensures streamlined access without the need for manual data transfer between multiple systems, leading to an enhanced workflow that streamlines processes and enhances productivity within corporate law departments.
Allerin's LDMS enables easy integration with a variety of existing enterprise applications, streamlining access to the data necessary for sound decision-making. Leveraging authoring tools, AI engines and other specialized sources into one comprehensive platform facilitates an efficient process from start to finish.
Contract Life Cycle Management (CLM) Automation Suite
Allerin's Legal Contract Lifecycle Management (CLM) platform offers a comprehensive solution to facilitate contract creation and management. AI-powered, it provides users with all comnents of the agreement journey - from drafting and negotiation through storage, reporting and analysis; empowering legal leaders by streamlining their operations for increased efficiency. To promote user-friendliness, Allerin CLM includes features like e-signatures, email integration as well as workflow automation – unifying both technology roadmap objectives while making collaboration effortless during negotiations or finalizing documents. If you're aiming at improving visibility into your contracts portfolio or simplifying contract administration processes in general: look no further!
Critical capabilities of Allerin's CLM Automation Suite are
Application Setup and Maintenance
Allerin's CLM platform comes with comprehensive administrative tools for clause library creation and management, contract template creation and management, alerts/reminders, exceptions management, access rights, and workflow configuration. This enables legal teams to have full control over the contract creation process.
Requesting a Contract
Streamlining the process of creating or reviewing contracts, the user-friendly Requesting a Contract feature makes it simple to get your business moving. With just one click in an accessible portal or web form, you can initiate agreements essential for future projects and partnerships - enabling success for your organization with ease!
Creating a Contract
Allerin's CLM is your one-stop shop for contract creation. Its powerful document generation capabilities come equipped with a user-friendly wizard, clause assembly and word processing tool - so you can create agreements customized to meet all of your needs in no time! No more wasting precious resources attempting complicated manual processes: Allerin has made it easier than ever before to craft perfectly tailored contracts without breaking a sweat.
Negotiation and Approval Workflow
Negotiation and Approval Workflow is a feature in Allerin's CLM platform that streamlines the contract negotiation process. With this capability, legal teams have access to a suite of tools that help simplify negotiations and get contracts approved quickly and efficiently. The platform includes features such as redlining, which allows legal teams to track changes made to a contract in real-time, document comparison to easily compare different versions of a contract, auto-approvals to automate the approval process, audit trails to keep track of all activity, version control to ensure that everyone is working with the most up-to-date version of the contract, email integration to keep communication organized, supplier collaboration to keep everyone on the same page, and e-signatures to finalize the agreement. Overall, the Negotiation and Approval Workflow makes it simple for legal teams to get contracts signed and approved in a timely manner.
Storing Contracts
Storing Contracts is a critical aspect of contract management, and the CLM platform has got you covered! With its secure contract repository, you can store all your contracts in one centralized place, ensuring that all critical information is easily accessible and organized. The platform also provides the ability to enforce record retention policies, ensuring that your contracts are maintained in accordance with your organization's requirements. Additionally, it integrates with the active directory, making it possible to manage user access to contracts, ensuring that sensitive information is only accessible to authorized individuals. With these features, you can rest assured that your contracts are safe, secure, and easily accessible whenever you need them!
Searching Contracts
Searching for contracts can often be a daunting task, especially when you have a large number of them stored in different places. Allerin's CLM platform helps solve this problem by providing advanced search capabilities that make it a breeze to locate the contracts you need. Whether you're searching for specific metadata, full document text, or attachments, the platform has you covered. With features like fuzzy search and PDF search, finding the right contract has never been easier. So, if you're tired of wasting time sifting through stacks of paper or scrolling through endless digital files, give Allerin's CLM a try. Your contract search headaches will be a thing of the past!
Running Standard Reports
Picture this: You're sitting in a meeting and your boss asks you for a report on the average cycle time for contract approval or how many contracts are in compliance with regulations. With the Running Standard Reports feature on Allerin's CLM platform, generating reports like these is a breeze. You simply access the configurable dashboard, select the report you want to run, and voila! The information you need is right there in front of you. This feature not only makes running standard reports a breeze, but you can even create custom reports on aspects like obligations and metadata management. So, say goodbye to endless hours of manual data gathering and hello to easy and accurate reporting!"
Advanced Analytics
"With Allerin's Advanced Analytics feature, legal teams have the ability to make confident and informed decisions. It's like having a personal legal assistant who quickly reviews contracts and reports on compliance, risk scores and financial performance. It's a powerful tool that streamlines your work, saves you time and helps you make smarter choices."
Updating/Renewing a Contract
Updating or renewing a contract can be a complicated and time-consuming process. With the CLM platform, managing these changes is made easier with a streamlined workflow and record-keeping system. You can easily track contract amendments and versions, ensuring that your legal agreements are up-to-date and in compliance with regulations. This feature saves you time and effort so that you can focus on more important tasks. With all the contract information in one place, updating or renewing a contract has never been easier.
Sales Workflows Integration
Allerin's CLM platform is revolutionizing your sales process with its Sales Workflows Integration feature. It seamlessly integrates key CRMs and CPQs so you don't have to worry about manual data entry or potential errors - allowing you to focus on the big picture of growing your business. Thanks to this integration, all stakeholders will be able to access a single source of truth for informed decision-making and efficient collaboration on every sale opportunity!
Procurement Workflows Integration
Procurement Workflows Integration is an innovative feature offered by Allerin's CLM platform that streamlines procurement processes. With this integration, the platform seamlessly integrates with strategic sourcing and procurement applications, allowing legal teams to work hand in hand with procurement teams to get the job done efficiently. The integration ensures that procurement workflows are streamlined and efficient, making the entire procurement process quicker, smoother, and more effective. With Procurement Workflows Integration, legal teams can keep their focus on what they do best while procurement processes run in the background with minimal disruption.
Legal Workflows Integration
Allerin's integration with enterprise legal management and matter management applications offers an innovative, comprehensive solution for optimizing the entire legal workflow process. This streamlined approach enables teams to reduce risks associated with miscommunication and missed deadlines while enhancing their productivity and efficiency through a unified view of all aspects of the contract lifecycle - from negotiation, creation & storage to final approval.
Automated Contract Review and Comparison
Automated Contract Review and Comparison is a feature within Allerin's CLM platform that leverages AI technology to streamline the contract review process. This advanced analytics capability enables legal teams to quickly and efficiently compare multiple contract versions to identify changes, discrepancies, and potential risk areas. The automated process eliminates the need for manual document comparisons and allows legal teams to focus on more strategic and high-value tasks. The platform's AI algorithms analyze and compare contract text, clauses, terms, and conditions to provide an accurate and comprehensive view of the changes made over time. This feature can help legal teams make informed decisions, minimize risk, and ensure contract compliance. With Automated Contract Review and Comparison, legal teams can save time,
Compliance Reporting
Legal teams can stay on top of their obligations with Compliance Reporting. This feature helps them compare agreements in contracts to regulations and other standards while pinpointing areas that need attention -- all presented in a simple-to-read format for maximum clarity. What's more? The report is customizable and displays real-time updates, so legal professionals have the assurance they're always compliant!
With Compliance Reporting, you can rest assured that your agreements are adhering to all the rules and regulations. No need to worry about any deadlines or compliance issues - this feature has got your back! Plus, with an intuitive user interface at hand, it's easy to keep track of everything: monitor your status in a timely manner and take action accordingly so you don't fall out of control. This is unquestionably essential for legal teams striving towards maximum organization & compliance; definitely worth taking advantage of!
Allerin's CLM platform offers various capabilities that cater to diverse contract management needs. To highlight the practical application of these features, we have listed some use cases below. These use cases demonstrate how the platform can help organizations streamline their contract management process and drive greater efficiency, compliance, and risk management. Whether you're looking to create, store, negotiate, approve, or search for contracts, Allerin's CLM has you covered. These use cases are
Procurement
Allerin's CLM caters to the needs of procurement stakeholders by providing them with capabilities such as contract searching, updating and renewing contracts, and integrating with procurement workflows such as e-sourcing and procure-to-pay suites. Procurement teams can also manage contract requests, run reports and store supplier contracts with ease. Additionally, Allerin CLM also supports the negotiation of business terms, although broader contract negotiations are typically handled by the legal department.
Enterprise
Allerin's CLM caters to the needs of organizations that manage multiple contract types, including both buy-side (supplier) and sell-side (customer) contracts, as well as employment agreements. The platform enables collaboration among key stakeholders such as procurement, sales, and legal and provides a single source of truth for all contracts. Allerin CLM also provides advanced contract analytics, contract request, creation, negotiation, storage, and search capabilities. Setup and maintenance of the application and workflows that support business-specific processes, such as sales and procurement, are critical considerations. Additionally, Allerin CLM integrates with existing business-specific applications, making it a comprehensive solution for enterprise contract management.
Sales
Allerin's CLM caters to the needs of sales stakeholders by providing integration with the organization's customer relationship management (CRM) or configure, price, and quote (CPQ) solutions. The platform makes it easy for sales stakeholders to request contracts and run reports. The capability of integrating with CRM/CPQ solutions is the most critical for sales teams as sales leads are generated and maintained in these applications.
Legal
Allerin's CLM caters to the needs of the legal department by providing contract negotiation and approval capabilities, and integrating with enterprise legal management and matter management suites. The platform also supports contract creation, setting up clause and template libraries, storing contracts, record retention, and contract to search. Automated contract review capabilities can help legal teams expedite the negotiation process for third-party contracts.
Corporate & Legal Intelligence Management (CLIM™)
At Allerin, we understand the challenges faced by corporate legal teams and have developed a solution to simplify the legal practice. Introducing the Corporate & Legal Intelligence Management (CLIM) suite, designed to optimize your corporate legal processes and streamline your workflows. CLIM™ brings together the power of AI and the expertise of our legal professionals to help you stay ahead of the game and make informed decisions. Say goodbye to manual processes and hello to an efficient and effective legal practice with CLIM™.
Contract exploratory data analysis
Are you tired of manually sifting through stacks of contracts, trying to make sense of the key elements? CLIM™ has got you covered! With its contract exploratory data analysis feature, CLIM™ automates the process of extracting important information from your contracts.
It works by using advanced technology to scan the contracts and pull out the relevant details such as dates, entities involved, terms, and values. This information is then neatly organized and classified, making it easier for you and your legal team to quickly understand the specifics of each contract.
Say goodbye to the hassle of manual data extraction and hello to a more efficient and streamlined process.
Contract risk analysis
When it comes to contract risk analysis, CLIM™ really steps up to the plate. Our advanced technology uses pattern recognition and linguistic analysis to scour through contracts and identify any potential risks or liabilities that might be hiding within the fine print.
But how does it work exactly? Well, CLIM™ uses its cutting-edge algorithms to examine the language and clauses within a contract, looking for anything that might cause problems down the line. For example, it might identify ambiguous language that could be open to interpretation or missing provisions that could leave you vulnerable. By highlighting these potential risks, CLIM™ gives you a clear and concise way to mitigate them before they become a bigger issue.
In short, CLIM™'s contract risk analysis feature is like having a legal expert by your side, helping you make the best decisions for your business. By using this feature, you can be confident that your contracts are in safe hands.
E-discovery automation
Have you ever found yourself drowning in a sea of electronic information, trying to find specific files for a discovery request or court order? CLIM™ understands the struggle and wants to help! With our e-discovery automation feature, we take care of the tedious task of identifying, collecting, and organizing all those electronic records for you. No more wasting time searching through countless folders and files. With CLIM™, you can quickly and efficiently respond to requests for information and get back to what's important.
E-discovery exploratory data analysis
CLIM™'s "E-discovery exploratory data analysis" feature makes e-discovery a breeze! It automates the tedious and time-consuming process of analyzing large amounts of electronic data, making it easier for legal teams to quickly find and redact relevant information in response to e-discovery requests.
How does it work? CLIM™ uses advanced language analysis and data extraction techniques to automatically classify and sort through electronic data, such as documents or email conversations. This helps legal teams quickly identify what information is relevant to the e-discovery request and ensures that sensitive or confidential information is properly protected.
No more sifting through endless data, no more missing important information - CLIM™'s "E-discovery exploratory data analysis" feature helps streamline the e-discovery process, making it faster, more efficient, and more accurate.
Guided litigation brief assembly
Looking to make your litigation brief the best it can be? CLIM™ has got you covered with its "Guided litigation brief assembly" feature! This amazing tool uses advanced analysis to assess the strengths of your arguments and identify any weaknesses. It also considers factors like court or judge behavior and opposing counsel when giving you guidance on how to put together the strongest possible brief. The result? A well-crafted and persuasive brief that will give you the best chance for a favorable outcome. With CLIM™ by your side, you'll have all the help you need to make your case in court!
Guided, compliant contract assembly
Get ready for an easier and more streamlined contract drafting process with CLIM™'s "Guided, Compliant Contract Assembly" feature! This smart tool will be your personal contract assembly assistant, guiding you every step of the way. Whether you need help with company-specific regulations or industry standards, CLIM™ will ask questions and suggest relevant clauses to make sure your contracts are up to compliance. With this feature, you can feel confident that your contracts will be error-free and fully compliant, so you can focus on the bigger picture and leave the nitty-gritty details to CLIM™.
Legal entity and obligations tracking
This feature allows you to easily manage important information such as regulatory obligations, ownership structures, licenses and permits, key officer data, and key dates all in one place.
Here's how it works: CLIM™ uses advanced tracking and management tools to store and organize all the information related to your company's legal entities. You can access this information in real-time, making it easy to stay up to date on everything related to your company's legal obligations. Whether you're a legal professional or an executive responsible for compliance, CLIM™ makes it simple to keep track of all the information you need to ensure your company stays compliant and up to date.
Legal process automation
Are you tired of manual and repetitive legal processes that are slowing down your work and causing you stress? Well, let CLIM™ help you out with its legal process automation feature! This feature provides you with easy-to-use tools that allow you to streamline your legal operations and make your work more efficient. No more manual and repetitive tasks – CLIM™ makes it possible for you to focus on more important tasks, so you can get more done in less time. CLIM™ helps you model your legal operation workflows so you can get the job done faster and with ease.
Legal self-service chatbots
Have you ever felt like dealing with legal tasks can be a bit overwhelming, especially when it comes to client-facing roles and handling legal intake requests? That's where CLIM™ comes in with its amazing feature "Legal self-service chatbots." This feature uses advanced NLP and ML algorithms to incorporate bots and virtual assistants that help legal teams manage these tasks in a more streamlined and efficient manner.
Think of it as having your own virtual legal assistant! These chatbots can assist with tasks such as answering frequently asked questions, guiding clients through the legal process, and even handling simple legal intake requests. CLIM™ makes it easier for legal teams to focus on more high-value tasks while still providing a seamless experience for clients.
Legal spend analysis
Have you ever struggled to keep track of your legal spending? CLIM™ is here to help! This feature automates collecting information about your legal expenses, like invoices and messages from law firms. CLIM™ uses advanced NLP and machine learning algorithms to extract and classify this information, so you can easily see where your money is going. With CLIM™, you can easily track your legal spending and quickly identify unusual or strange situations. No more manual spreadsheets or confusion! CLIM™ makes legal spending analysis a breeze!"
Litigation legal research
CLIM™'s feature "Litigation legal research" is like having a super-powered legal research assistant by your side! It helps legal teams quickly and easily find the information they need to build strong cases. With CLIM™, you can search through vast amounts of legal information, including court opinions, precedents, legal standards, and more, to find the most relevant information for your case. And the best part? CLIM™ uses text mining, data extraction, and data exploration capabilities to do the heavy lifting for you, so you can focus on what really matters - winning your case.
Matter exploratory data analysis
Have you ever struggled to find the most important details in a sea of legal documents? CLIM™ has got your back! Our Matter Exploratory Data Analysis feature helps you effortlessly extract key information from your legal matter content. With the power of data extraction and categorization, CLIM™ can identify important elements such as dates, cases, entities involved, and values. Imagine being able to quickly and easily understand the big picture of your legal matter. No more manually combing through pages of information. Let CLIM™ do the heavy lifting for you!
Patent drafting and prosecution
Have you ever found yourself struggling to draft a perfect patent application? Well, with CLIM™'s patent drafting and prosecution feature, you won't have to worry anymore! Our feature helps legal teams create strong patent applications by using document assembly and data analysis techniques. Think of it as your own personal assistant that makes sure all the right information is included in your application.
And how does it work, you ask? It's simple! CLIM™ uses advanced technologies like text mining and data extraction to gather all the relevant information needed for your patent application. Then, it presents the information in an organized and easy-to-use manner, so you can quickly and efficiently draft a strong application. And once you've submitted your application, CLIM™ will continue to assist you by providing insights and analysis to help you make the best decisions and strengthen your position. So, go ahead and say goodbye to the headaches of patent drafting and hello to CLIM™!
Regulatory tracking
Have you ever found yourself struggling to keep up with all the ever-changing laws and regulations in different jurisdictions and geographies? Well, worry no more! CLIM™ has got you covered.
CLIM™ automates the analysis of laws and regulations issued by government bodies and agencies, making it easy for you and your legal team to stay on top of all the changes in regulatory obligations. It works by using sophisticated data analysis techniques to scan and track new laws and regulations, ensuring that you are always up-to-date and compliant.
With CLIM™, you can say goodbye to manual research and hello to a streamlined, efficient legal team. Say goodbye to regulatory headaches and hello to peace of mind.
Risk monitoring and reporting
Hey there, if you're looking for a way to keep on top of your company's risk management, CLIM™ has got you covered! This feature uses cutting-edge technology to monitor information from all your different systems and detect any potential risks or anomalies. CLIM™ will then analyze the situation, rank the risks, and even make recommendations for how to address the problem. Basically, it's like having your own personal risk management assistant 24/7! And the best part? It all happens automatically, so you can focus on other things. Trust CLIM™ to keep you informed and on track!
Trademark and patent research
CLIM™ uses powerful data mining and search algorithms to scan through external patent databases and other IP-related databases. This helps legal teams quickly find and retrieve relevant information, saving them a lot of time and effort. It's like having a personal assistant by your side who knows exactly what you need and where to find it.
Think about it, no more hours spent searching through databases, no more frustration of not being able to find the information you need. CLIM™ has got you covered! This feature is designed to make life easier for legal teams, freeing up their time so they can focus on the more important aspects of their work. It's just one of the many ways CLIM™ is revolutionizing the legal industry.
CLIM™ provides comprehensive management for legal teams, delivering the latest in automation and regulation tracking alongside an intuitive interface. With features tailored to optimize research processes, CLIM™ is a leading choice for law organizations seeking greater productivity and staying ahead of the competition. Backed by effective customer support services, this revolutionary solution guarantees superior performance that will streamline operational efficiency like never before!