Healthcare Payer Solutions
Allerin empowers healthcare payers to maximize the efficiency, effectiveness and cost-effectiveness of their operations with our innovative AI, machine learning, natural language processing (NLP), and computer vision technologies. We provide comprehensive solutions that streamline processes to reduce costs while also improving member health outcomes. Our customizable offering allows clients to tailor solutions for automating claims processing or better engaging members - providing a unique opportunity for each business' goals ultimately be achieved. Drawing on our in-depth knowledge of the healthcare industry environment we can offer unparalleled insights into maximizing success within your organization's ecosystem.
iHAP®'s medical payer solutions have been developed with healthcare providers in mind. Our AI and NLP capabilities can help you proactively engage members, leading to higher satisfaction rates and greater loyalty. Additionally, our autonomous technology automates mundane tasks while also detecting potential fraud - both of which will contribute towards reducing costs for your organization. As the industry faces pressure from rising expenses as well as a need for better quality services, Allerin is ready to provide its expertise so that you can meet these challenges head-on: contact us today if you are interested in learning more about how we may be able to assist!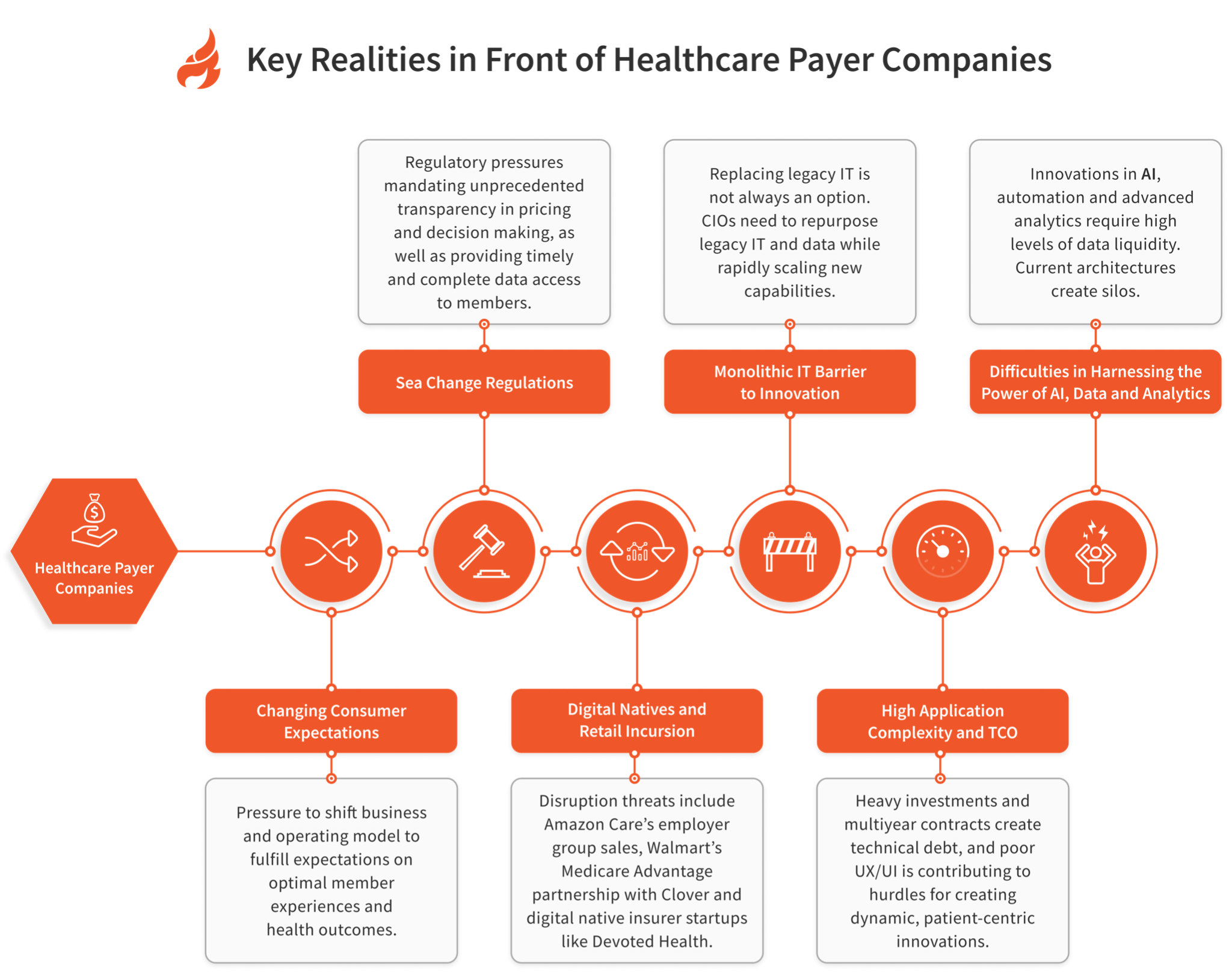 Advanced Underwriting and Actuarial
iHAP®'s advanced underwriting and actuarial solution for healthcare payers is a powerful tool that utilizes cutting-edge AI techniques to provide decision makers with valuable insights and actionable data. This solution helps predict aggregate medical costs across a line of business or other enumerated population, allowing for better business strategy, rate setting, and medical management decisions.
One of the key benefits of this solution is its ability to process large amounts of unstructured data, such as medical records and claims, using natural language processing (NLP) techniques. This allows for a more comprehensive and accurate analysis of medical costs and trends. Additionally, the solution is ensembled with conventional actuarial models, providing a well-rounded and reliable approach to underwriting and actuarial analysis.
iHAP®'s advanced underwriting and actuarial solution for healthcare payers provides a myriad of advantages to buyers, enabling them to make better decisions, reduce expenses and maximize medical management strategies. With this innovative technology in their toolkit, healthcare providers can gain an edge on the competition while continuously raising standards of patient service excellence.
Authorization - Case Abstraction
Our innovative "Authorization - Case Abstraction" feature is the perfect choice for healthcare payers seeking to streamline their authorization processes. Combining advanced AI with a comprehensive view of structured and unstructured data in one easy-to-access destination, it allows users to quickly make informed decisions while mitigating risk and decreasing turnarounds times.
Our "Authorization - Case Abstraction" feature offers considerable advantages to payers in terms of quality and efficiency. By giving a complete picture of authorization requests, decision-making is improved; meanwhile AI algorithms guarantee that all relevant data points are captured, reducing the likelihood for mistakes or oversights. Additionally, use time and expenses necessary for review can be minimized with this tool – providing savings overall to organizations utilizing it.
Authorization - Medical Policy Abstraction
"Authorization - Medical Policy Abstraction" is a powerful feature of iHAP®'s healthcare solution for healthcare payers that simplifies the process of evaluating medical service authorization requests. By analyzing both structured and unstructured sources, such as internal policy documents and licensed content, our algorithm is able to quickly and accurately determine whether a medical service will be authorized.
The benefits of this feature to buyers include increased efficiency in the authorization process, improved accuracy and consistency in decision-making, and the ability to stay up-to-date with the latest medical necessity guidelines. Additionally, the abstraction of medical policies allows payers to easily evaluate the criteria used to authorize medical services, which can help identify areas for improvement in the process. Overall, this feature is an invaluable tool for healthcare payers looking to streamline their authorization process and make more informed decisions.
Automated Data Management
This feature leverages advanced AI technology to keep payers informed and efficient. It streamlines the data consolidation process by scanning internal and external sources for up-to-date accuracy, enabling organizations to stay organized without the burden of manual labor or resources.
The benefits of using Automated Data Management include:
Improved data accuracy
Increased efficiency
Better data organization
Better data visualization
Better data security
Healthcare payers can make leaps and bounds with Automated Data Management. Optimize operations and gain vital data insights to reach objectives quickly while enjoying efficient, hassle-free processes. Unlock success today!
Chronic Condition Decision Support
Our advanced data analysis solutions provide decision makers with insightful, actionable information to support daily decisions of those living with chronic conditions. With comprehensive evaluation into member records as well as Internet connected devices and events, we help identify needs and potential challenges associated with their condition for proactive management.
Effective management of chronic conditions is essential for healthcare payers, as it mitigates the risks associated with hospitalization or exacerbation while also promoting improved quality of life and outcomes in individuals living with such ailments. This feature provides not only an effective way to identify patients at risk but also a robust toolkit which can be used by care providers to drive down costs and maintain better health & wellbeing among their members.
Claims Editing
This automated algorithm is designed to cleanse and prepare claims for successful adjudication, helping to ensure that the claims process runs smoothly and efficiently. By running after provider claims submission but prior to payer adjudication, the algorithm can identify and correct any errors or inconsistencies in the claim data, saving valuable time and resources for healthcare decision makers and influencers. With this feature, you can rest assured that your claims are accurate and ready for processing, reducing the risk of delays or denied claims. In addition, the algorithm can also provide suggested edits to the claim, allowing you to make any necessary adjustments and further improve the claims process. With iHAP®'s Claims Editing feature, you can streamline your claims process and improve the bottom line of your healthcare organization.
Claims Processing
The feature uses exception-based analysis to review claims that have been flagged for manual processing, and compares the final resolution of these claims to the initial submission. This allows us to identify patterns and areas for improvement in claims processing, such as changes in business logic or workflow. By providing valuable insights and actionable data, our Claims Processing feature can help decision makers in the healthcare industry make informed decisions and ultimately improve the claims processing process for their organization.
Enterprise Next Best Action
Introducing "Enterprise Next Best Action" - our innovative feature that utilizes advanced algorithms to help healthcare payers make informed decisions for their members. With this feature, decision makers can easily identify the most valuable goals for their organization in relation to a specific member and score them according to the predicted value of taking action towards that goal. Whether it's administrative tasks such as policy renewal, clinical initiatives such as engaging in a care management program, or educational goals such as learning to use digital tools, this feature provides valuable insights and actionable data to help payers make the most impactful decisions for their members. With "Enterprise Next Best Action", healthcare decision makers can optimize their efforts, improve member outcomes and enhance the overall effectiveness of their organization.
Home Health Monitoring
Our "Home Health Monitoring" feature is designed to provide healthcare decision makers with valuable insights and actionable data that can help prevent or ameliorate adverse events. By analyzing member data and IoT and event streams collected in the member's home, we can raise alerts that action should be taken to improve the member's health and well-being. This feature utilizes a variety of data sources, including wearables on the body, motion detectors in living spaces, and mechanical sensors for key activities such as mattress compression, toilet utilization, and refrigerator access. By utilizing these sources, we can provide healthcare decision makers with a comprehensive view of the member's health and help them make more informed decisions. Overall, our "Home Health Monitoring" feature is a powerful tool that can help improve the lives of members and help healthcare decision makers make more informed decisions.
Lifestyle Coaching
Our "Lifestyle Coaching" feature is a powerful tool for healthcare decision makers and influencers looking to improve the health behaviors of their members. Our algorithm analyzes member data to determine personalized "nudges" that can help individuals make healthier choices related to diet, physical activity and stress management. With this feature, healthcare providers can easily identify potential health risks and take proactive steps to address them, which can lead to improved outcomes and lower costs for both the member and the payer. Additionally, this feature is fully automated, making it easy to implement and maintain, saving time and resources for the healthcare organization. By using our "Lifestyle Coaching" feature, healthcare decision makers and influencers can help their members make better choices and lead healthier, happier lives.
Medical Shopping and Navigation
Our "Medical Shopping and Navigation" feature offers a simple yet powerful solution for finding the optimal healthcare provider. Our algorithm evaluates your preferences to provide tailored results, ensuring you receive care from providers that fit all of your individual needs - no more spending hours researching or comparing! From primary doctors to specialists and diagnostic centers, this innovative system makes it easier than ever before to get on with taking care of yourself and pursuing wellness in an efficient manner.
Member Early Identification
Our "Member Early Identification" feature is a game-changer for healthcare decision makers and influencers. By using advanced medical concept abstraction techniques, we can identify potential health issues in members much earlier than traditional methods. This allows for earlier intervention and improved outcomes for time-sensitive medical episodes such as preference-sensitive procedures, high-risk maternity, and oncology. By using a variety of non-conventional data sources such as consumer, wearable, and unstructured clinical data, we can give you a more complete picture of your members' health and help you take action sooner. This feature is a valuable addition to any payer's toolbox and can help improve the overall health and well-being of your members.
Member Self-Triage
"Member Self-Triage" is a powerful feature of our solution that empowers members to take control of their own healthcare journey. By analyzing presenting member information from a self-assessment, as well as existing medical and administrative data, our predictive algorithm is able to score various next steps in diagnosis, treatment or recovery. This can include everything from seeking emergency care to using over-the-counter medication and monitoring at home.
Member Self-Triage equips healthcare influencers and decision makers with the ability to give their members a greater say in their care. By doing so, everyone can benefit from better outcomes, lowered expenses, and heightened satisfaction - what's more it also facilitates proactive health management that emboldens individuals to make sound decisions for improved overall wellbeing!
Member Treatment Decision Support
"Member Treatment Decision Support" provides healthcare decision makers and influencers a comprehensive tool to extend the best possible treatment options for their patients. Our matching algorithm considers individual information, preferences and available pathways for a distinct health scenario - ensuring personalized, evidence-based decisions that can result in improved patient outcomes, financial savings and an enhanced overall experience. With this feature at hand, providers have confidence knowing they are providing optimal care while allowing everyday people to take control of their own healthcare journey with ease.
Payment Integrity - Post Payment
A powerful feature of our solution that helps healthcare decision makers and influencers protect their bottom line. This innovative algorithm analyzes claims after payment to evaluate the likelihood that they are fraudulent, providing an easy-to-use risk score that can be used to prioritize potential fraud cases. With Payment Integrity - Post Payment, you can rest easy knowing that you're taking the necessary steps to protect your organization from the costly and time-consuming effects of fraudulent claims. Say goodbye to the uncertainty and resource intensity of recovering payments already made, and hello to a more secure future.
Payment Integrity - Prepayment
Our "Payment Integrity - Prepayment" feature is designed to help healthcare decision-makers and influencers protect against fraudulent claims before they are paid out. Utilizing advanced analysis techniques, our system evaluates each claim and assigns a risk score. Claims with a high risk score are flagged and automatically "pended" for further investigation, allowing you to take action before payments are made. This not only helps to protect your organization's finances, but also ensures that your members are receiving the care they need. With "Payment Integrity - Prepayment", you can have peace of mind knowing that your organization is taking proactive steps to prevent fraud and misuse of resources.
Plan Selection Decision Support
Our advanced algorithm helps healthcare decision-makers make informed choices for their members, taking into consideration a wide range of factors like risk tolerance and past utilization. The solution offers detailed rankings to match the individual preferences and medical needs with the ideal health plan product.
With this feature, healthcare providers can make more informed decisions when it comes to selecting the right health plan for their members. This can lead to improved health outcomes, better member satisfaction, and ultimately, cost savings for both the members and the healthcare provider.
Say goodbye to the guesswork and uncertainty that comes with selecting a health plan. Our "Plan Selection Decision Support" feature provides a clear, data-driven approach to match members with the right plan for them. Give your members the best possible care and peace of mind with our innovative solution.
Product Configuration
Get the most out of your healthcare investment with "Product Configuration", a cutting-edge tool to help streamline decision making. Featuring advanced analysis capabilities, it allows payers and purchasers alike to create custom configurations that maximize value while ensuring their members receive optimal care. For individuals or employers looking for an easy way to save time and resources whilst meeting health needs - this one's for you! Product Configuration offers decisive solutions designed specifically around maximizing both cost savings and quality healthcare options.
Provider Network Analysis
Our "Provider Network Analysis" feature is a powerful tool that helps healthcare decision-makers and influencers optimize the performance of their provider networks. By analyzing the relationships between providers in terms of affiliations, facilities, referral patterns, cost, quality, and experience measures, this feature allows users to identify key actions that can help improve the overall performance of their networks.
This feature is particularly beneficial for payers who want to ensure they are getting the best value for their money when it comes to provider networks. By identifying areas where network performance can be improved, payers can make more informed decisions about which providers to contract with, and how to structure their networks for maximum efficiency and effectiveness.
In addition, by using Graph analysis, this feature can help identify key relationships and connections between providers that may not be immediately obvious. This can help users better understand the dynamics of their networks and make more strategic decisions about how to optimize them.
Overall, the "Provider Network Analysis" feature offers a wide range of benefits to healthcare decision-makers and influencers, helping them to make more informed and strategic decisions about their provider networks, and ultimately resulting in better patient outcomes and lower costs.
Security
Now more than ever, it is essential to keep your organization's information secure. Our sophisticated security feature employs automated monitoring technology infrastructure that can detect and identify perimeter vulnerabilities or active security threats in order to protect the sensitive data held by you and your team. Healthcare decision-makers can trust our solution because of its constantly working capabilities - allowing them to focus on providing quality care without worrying about risking their data safety. With us, rest assured knowing that all critical information is ensured with a state-of-the art protection system!
Service Chat - Interactive Voice
Introducing "Service Chat - Interactive Voice", a game-changing addition to our healthcare solution, revolutionizing customer service with the utmost convenience and accessibility. Our advanced language interpretation technology allows users to access crucial information via digital chat utilizing voice commands — just like Alexa or Siri! No more tedious typing: it's as easy as asking questions about bills, requesting ID Cards, booking doctors appointments – all at the sound of your voice!
This feature provides healthcare decision-makers, an intuitive, user-friendly solution for managing customer service. With streamlined efficiency and convenience, your organization can enjoy reduced workload on customer service teams while exceeding the expectations of members. Incorporating this valuable addition into any healthcare team will enable enhanced productivity and satisfaction levels across the board!
Additionally, this feature is built with security in mind to ensure the safety and privacy of your members' information. With this feature, you can provide your members with the best possible service, while also maintaining a high level of security and compliance.
So why wait? Give your members the convenience and accessibility they deserve with Service Chat - Interactive Voice. Try it today and experience the difference!
Service Chat - Web or App:
Our "Service Chat - Web or App" feature grants healthcare professionals an effortless way to access the information they need. Through this user-friendly chat interface, simply type in queries and receive a quick response that is natural and easy for users to understand – no phone calls or visits necessary! Our advanced language interpretation & generation tech provides accurate answers, improving customer satisfaction dramatically. With Service Chat's capabilities at your fingertips, you can swiftly address billing concerns; request ID cards; even find doctors from web browsers or mobile apps with ease!
Allerin's Healthcare Solution has been designed to provide payers with the tools they need to stay ahead of a rapidly-evolving healthcare landscape. Our innovative platform helps them unlock their existing data and build pivotal partnerships, while its digital transformation capabilities ensure that they can keep pace as technology advances around them. Leveraging this cutting-edge solution will enable payers to rise above any challenge and emerge as leaders in an ever-changing industry.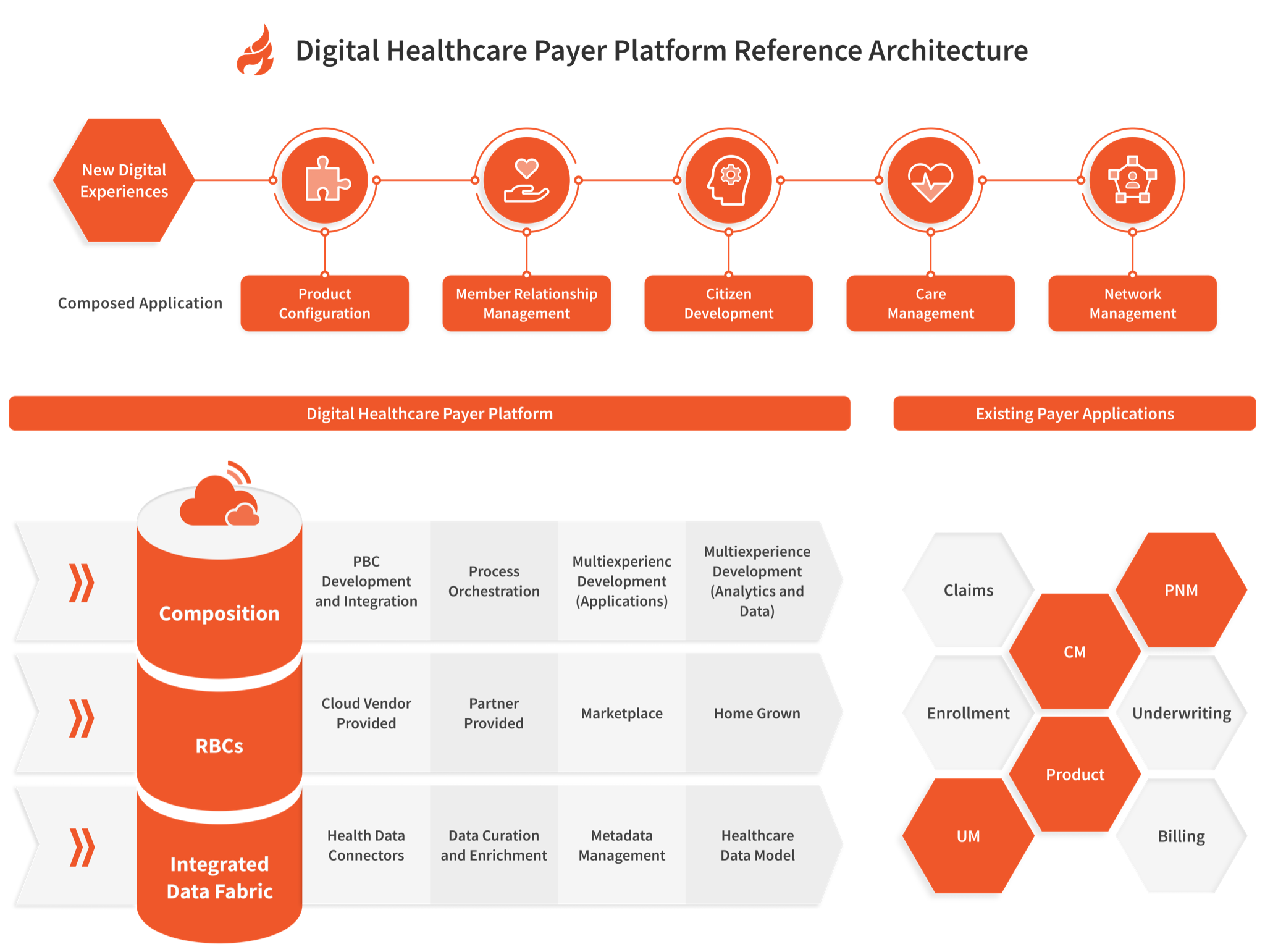 As healthcare decision-makers and practitioners, agility and adaptability are essential skills in the ever changing market. That is why iHAP® has been carefully designed to help you take advantage of new technologies while managing your legacy systems at a rapid pace. Our composable architecture provides flexibility to meet various needs; allowing smooth integration into your ecosystem without sacrificing performance or outcomes for members and consumers alike.
At Allerin, we understand that healthcare payer companies are constantly looking for ways to improve their operations and better serve their customers. That's why we've developed iHAP® - our Intelligent Healthcare Automation Platform - to help you achieve just that.
With iHAP®, you'll be able to adapt to the ever-changing healthcare landscape, innovate new ways to meet customer needs, and accelerate the realization of value in your organization.
By adopting a DHPP (Digital Health Platform Provider) approach, you'll be able to:
Increase your resilience, adaptability, and flexibility

, so you can respond and adapt to changing consumer demand, external disruption and changes in business strategy.

Realize faster value from the investments

you've already made in your IT infrastructure. You'll be able to reassemble the capabilities of your existing application portfolio to support new digital experiences and fill in capability gaps.

Improve your ability to innovate

, by reducing your reliance on monolithic, claims-centric architecture over time.

Standardize your approach to interoperable data and workflows

,by using standards-driven and API-enabled data exchange to break down silos across internal and external ecosystems, and enable integrated insights and workflows across clinical and administrative domains.
At iHAP®, we offer powerful data management solutions which allow you to transform and optimize existing applications into new digital experiences that improve user engagement. We break down silos across clinical and administrative domains while decreasing reliance on claims-centric technology - all without sacrificing your current investments. Get in touch now to discover how our innovative services can help keep your organization ahead of the competition!
With iHAP®, healthcare payer companies can revolutionize their approach to data management by implementing a data fabric strategy. Our platform allows organizations to efficiently integrate and distribute data, resulting in faster time to value for new initiatives. By forming a data fabric team and identifying pilot opportunities, companies can measure the value of the data fabric through key performance indicators. iHAP® empowers less-technical users to easily access and share data, streamlines the data modeling process and accelerates the delivery of data-dependent value. By incorporating iHAP® into their digital transformation efforts, healthcare payers can gain a competitive edge in an ever-evolving industry.
iHAP® helps you stay ahead of the rapidly-changing industry. Our low-code framework provides a user friendly alternative to expensive and time consuming coding, giving decision makers in the healthcare sector more freedom to focus on delivering value and growing their business with minimal disruption from IT infrastructure issues.
AI Governance
At Allerin, we understand that healthcare providers are constantly striving to find the perfect balance between introducing cutting-edge AI innovation and ensuring that solutions are trustworthy, safe, and transparent. That's why we offer AI Governance strategy development services to help healthcare providers navigate the complex landscape of AI adoption. Our team of experts will work closely with you to evaluate your organization's current governance structure and help you establish policies and procedures that will mitigate friction and help you move AI from inert to game-changing.
Our services include:
Helping you align your organization around AI governance

by identifying the best committee to define, establish, and enforce policies and procedures related to AI.

Partnering with you to establish common definitions

and a clear understanding of the strategic value of AI for your organization through enterprise governance discussions.

Anticipating and addressing any data challenges

that may arise by working with you to increase the scope and maturity of your data governance practices and data acquisition tools.
AI Governance Framework helps healthcare companies align their AI strategy by identifying the best committee to define, establish, and enforce policies and procedures for AI. It also helps anticipate any potential data challenges by improving data governance practices and tools.
Our framework includes the following key elements:
Legal, Regulatory and Compliance Review
AI Governance framework helps healthcare providers navigate the legal and regulatory landscape surrounding AI, including internal legal review of procedures and documentation related to algorithm usage. This includes assessing potential risks and liabilities, and determining guidelines for ethical disclosure when using AI in patient care.
Clinical and Scientific Verification and Valuation
AI Governance framework helps establish a verification process that includes a mix of clinicians, AI engineers, data scientists, and other stakeholders to ensure the accuracy of algorithms. It also helps assess the clinical and business value of AI applications, and make sure investments are delivering a return on investment.
Ethical Evaluation and Usage Guidelines
AI Governance framework helps establish ethical guidelines for the use of AI in patient care, including questions about disclosure and informed consent. It also helps document these guidelines as part of deploying AI to ensure they are followed.
After successfully implementing Allerin's AI Governamce framework, healthcare providers can expect to see the following benefits:
AI Champion:

The AI champion will guide and set the tone for how the healthcare provider organization (HDO) will embrace and benefit from AI. The ideal AI champion is:

Someone who can work with the CIO, or if available, the chief data or analytics officer, to lead and guide enterprise strategy and investment in AI
An AI enthusiast who is vested in bringing structure to the rollout of AI to make sure pilots and projects are successful; someone who understands the art and science of AI
A clinical, not operational or business, leader

One of the biggest barriers to the adoption of data science methods is getting buy-in from clinicians. Clinicians are absolutely right to be skeptical of AI — they have an incredible level of expertise practicing medicine. Clinicians, with their years of training and experience, are not inclined to simply trust the results of a "black box" algorithm. AI Governance framework can help healthcare providers finding the right influential clinical leader can help to eliminate some of the skepticism and barriers.
Of course, AI's insights will not be solely clinical, so the champion will also have broad enterprise purview and interest in AI. This reinforces strong clinical priority balanced with operational and financial acumen.
Compliance, Legal, and Risk: Data and analytics governance typically does not routinely include legal, risk and compliance resources in strategic planning and oversight meetings and discussions. In the past, legal and compliance experts might have been brought in or consulted on an as-needed basis. AI changes this. Our tentative understanding of the value and risk of this emerging technology and the reluctance to use it stems from concerns about risk and liability. Conversations around liability and malpractice will be routine, and usage guidelines will need legal review.
Implementing an AI governance framework can bring various benefits to healthcare providers, including
| Use Case | Description |
| --- | --- |
| Algorithmic Medicine | The use of complex clinical algorithms to aid and drive clinical decisions to effectively streamline, improve and standardize medical practice. Neural nets that drive the algorithms are often trained over time for increased accuracy and situational specificity. |
| AI Healthcare Advisors | By leveraging the power of AI, healthcare providers are advancing their abilities to diagnose and treat diseases. Complex technologies such as natural language processing, deep neural nets and machine learning offer clinicians cutting-edge support in leading patients towards improved well being. |
| AI-Enabled Diagnostic Imaging Interpretation | The use of AI healthcare advisors is revolutionizing the way clinicians make decisions. Combining deep neural nets and machine learning with advanced categorization technology, these systems are empowering medical teams to analyze imaging studies quickly and accurately - resulting in improved patient treatment outcomes. |
| AI for Virtual Care Monitoring and Real-Time Operations Management | Real-time clinical and operational dashboards leverage big data, advanced analytics and AI to remotely monitor clinical and operational indicators (often referred to as a capacity command center). Predictive and prescription alerting drives decisions for improved outcomes, efficiency and satisfaction. |
| Revenue Cycle Optimization and Efficiency | By utilizing cutting-edge technologies such as NLP and ML, coding processes are becoming more efficient while also providing deeper insights through the unearthing of vital data from raw notes. |
| Automating Repetitive Tasks | AI is accelerating the way we communicate and process information. From chatbots that carry out routine conversations, to preauthorization processing and medication refills - this revolutionary technology streamlines operations in a range of functional areas. |
| Virtual Personal Health Assistants | Augmented reality, cognitive computing, sentiment analysis and more are the context for a uniquely personal health experience. A virtual interaction between patient and assistant enables easy adherence to healthcare goals - no matter where they may be on their journey! |
Our experienced team is here to make sure your AI strategy progresses without a hitch. We'll step in and provide the necessary support by boosting both data governance practices, as well as tools used for acquiring information - so no unforeseen obstacles interfere with executing your plan.
Our team of experts will work closely with you to gain alignment around AI governance by identifying the key players and committees that are best-suited to define, establish, and enforce policies and procedures related to AI. We'll also help you begin enterprise governance discussions, providing guidance and support as you establish common definitions and gain a deeper understanding of the strategic value of AI to your organization.
Put your trust in our team of AI experts to craft a healthcare strategy that keeps you ahead of the curve. One strategy can not fit all, Our dedication to providing tailored solutions ensures organizations stay well-equipped for navigating today's rapidly evolving industry, helping them drive real-world results and achieve their desired goals with superior ease. Let us help arm you against any potential challenges and gain an edge over competitors!