Overview
We stay ahead of the competition through our cutting-edge approaches to technology, allowing us to provide government agencies with world-class services. Our focus on automation and data analysis drives efficiency while also securing valuable information, resulting in a smooth experience for customers every time. We guarantee satisfaction by creating customized solutions that meet individual requirements - whether it's elevating security or developing innovative new processes; we are devoted to achieving success for those who trust us with their needs!
Allerin can help put your government agency in a better position to succeed. Our team of experienced professionals is ready and eager to get you up-to-speed with the most cutting edge technologies and strategies so that you can stay one step ahead when it comes to achieving your goals. Contact us today for more information!
Service Delivery Framework
Allerin's Government Service Delivery framework is the perfect solution for government agencies looking to improve the efficiency and effectiveness of their services. Our framework is designed to address the common problem of government services being designed from the service provider perspective, resulting in inefficiencies and a lack of citizen satisfaction.
Our framework utilizes cutting-edge tools and technologies, including UI audits of websites and apps, citizen and employee journey mapping, service design integrability, and proactivity assessments. We focus on developing solutions and functionalities that capture citizen perception and behavior using artificial intelligence.
Our approach is agile and based on a culture of knowledge sharing, which allows us to prioritize services and improve citizens' acceptance and familiarity with processes by 87%. Additionally, our approach results in fewer touchpoints and a reduction in ambiguity around individual service processes by 79%, leading to an overall improvement in citizen and employee satisfaction of 38%.
At Allerin, we understand that every government agency has unique needs and requirements. That's why we work closely with our clients to understand their specific needs and develop tailored solutions that meet those requirements. Whether you're looking to improve service delivery, increase efficiency, or simply provide a better experience for citizens, Allerin's Government Service Delivery framework is the ideal solution.
By utilizing an agile approach and emphasizing knowledge sharing, we prioritize our services to better reflect citizens' perspectives. This leads to improved Total Experiences (TX), resulting in enhanced satisfaction, fewer touchpoints, and removed ambiguity around service processes - all collectively creating a positive outcome for TX experiences.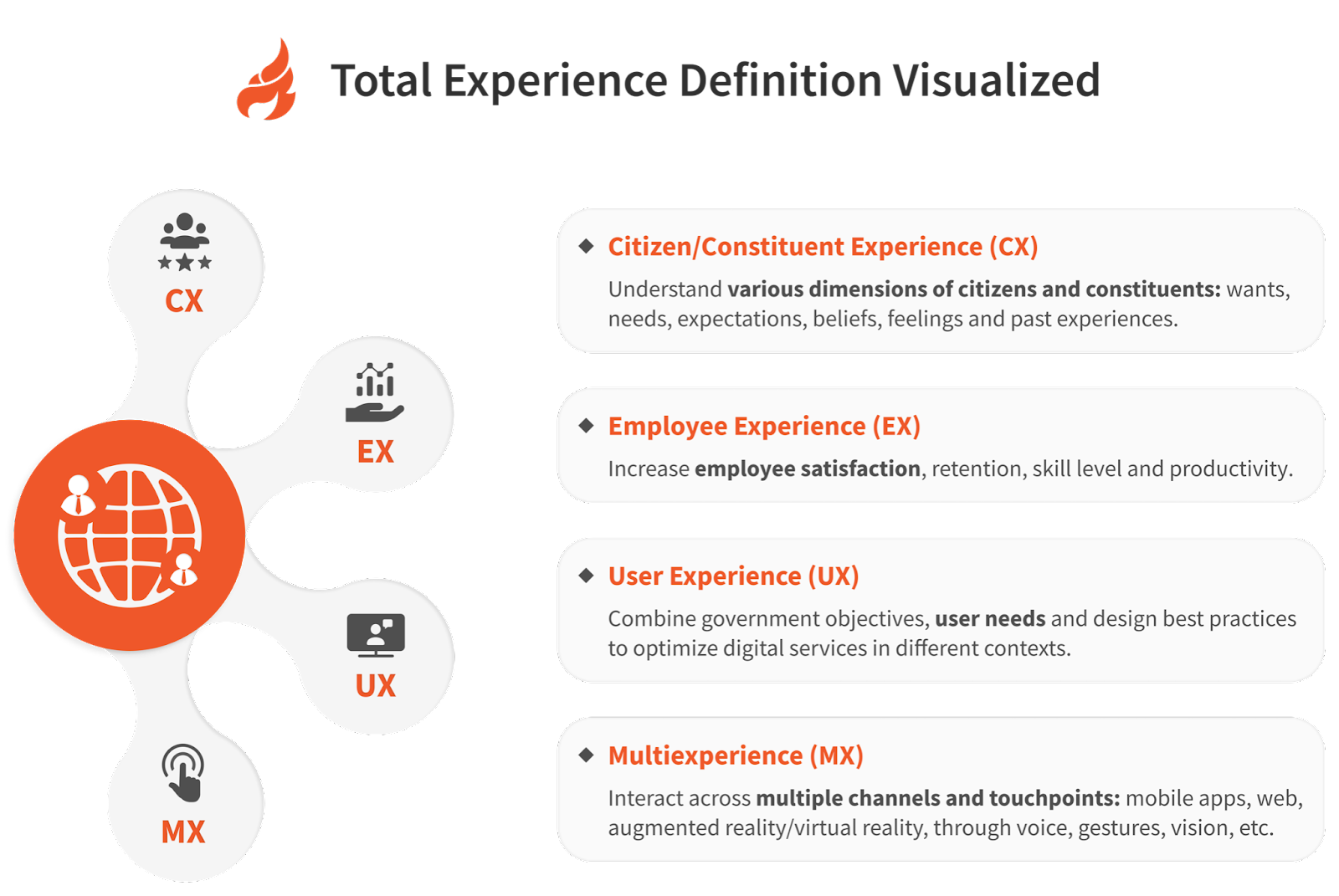 This framework has been tested with synthetic data for the following use cases.
There are a variety of government agencies that could benefit from Allerin's Government Service Delivery framework, including:
Department of Motor Vehicles (DMV)
Social Services
Taxation and Revenue
Public Transportation
Health and Human Services
Emergency Services
The above list is not exhaustive, the framework can be applied to any government agency that wants to improve the delivery of their services and the citizen's satisfaction. Current scenario of digital transformation in government appears as:
Have already deployed or plan to deploy in the next 3 years
| Key Technologies and Practices | Percentage |
| --- | --- |
| Machine learning, supported predictive analytics or data mining | 85% |
| Chatbot or conversational agents | 84% |
| Integration platforms | 84% |
Have already deployed or plan to deploy in the next 3 years
| Key Technologies and Practices | Percentage |
| --- | --- |
| Agile project delivery | 97% |
| DevOps | 89% |
| Human-centered design/design thinking | 84% |
Digital Government Framework/Solutions
Allerin's Digital Government Framework/Solution is designed to support government organizations in their transition to digital government. Our solution helps government leaders to plan and execute a successful digital transformation, by addressing common non-technical challenges that put digital government programs at risk.

Our framework provides best practices for tackling challenges such as siloed strategies and decision making, business culture blocking change, insufficient funding/budgets, insufficient depth/breadth of digital skills, insufficient numbers of IT-business resources, lack of digital leadership, governance/oversight rules blocking change, inconsistent/ad hoc funding, inadequate procurement approaches, lack of access or availability of required data, IT culture blocking change, and technology challenges blocking change.

We offer a comprehensive solution that helps government organizations to:
Compare the top objectives and drivers for digital transformation in government organization.
Illustrate the importance of a balanced digital government program that invests in both optimization and transformation initiatives.
Reinforce the importance of digital leadership, especially at the executive level, to transformational success.
Create a compelling case for change and evoke the appropriate urgency to progress the transition to digital government at an increased speed.
Our solution provides decision makers with the tools and support they need to navigate the complexities of digital government, and to create sustainable, long-term change. With our framework, government organizations can ensure that their digital investments deliver real value, and that they are well-positioned to meet the rising expectations of citizens, businesses, and other stakeholders.

Allerin's Digital Government Framework/Solution is the perfect tool for government organizations to drive digital transformation and provide better, more efficient services to citizens. It enables quicker delivery of results, creating a truly responsive public sector that serves all their needs.
Virtual and Augmented Reality
Allerin's Digital Government Framework/Solution enables the governments to use of VR and AR to improve citizen engagement, public safety and emergency response.
Virtual Reality in Emergency Management
Virtual reality for incident command:

This feature allows emergency management teams to remotely access and assess hazardous environments, such as natural disasters, industrial accidents, and terrorist attacks, to make better-informed decisions.

Virtual reality for emergency evacuation:

This feature uses virtual reality to simulate emergency evacuation scenarios, allowing building managers and emergency responders to test and improve their evacuation plans.

Virtual reality for first responders:

This feature allows first responders to remotely access and assess emergency scenes, providing them with a better understanding of the situation and allowing them to make better-informed decisions.
Digital Platforms and Portals
Allerin understands how essential digital platforms and portals are for successful transitions to a more digitized government. That's why we've developed an extensive solution that includes all kinds of portals, easily accessible by citizens, businesses, and other stakeholders alike. Our platform is not only user-friendly but also incredibly customizable; allowing governments the ability to tailor it specifically to their needs.

Government services and information are more accessible than ever before with our digital platforms, thanks to advanced technologies such as Artificial Intelligence (AI). Our AI-powered chatbot can assist citizens and businesses in finding the right content - even when it is dispersed across multiple government websites. Moreover, we also offer secure data collection storage/analysis capabilities that empower organizations to make informed decisions through evidence-based analysis.

Allerin offers a comprehensive digital government solution to empower governments in creating modern and efficient infrastructure. Our platforms are capable of offering seamless integration with other services, such as online payments and e-signatures, delivering citizens & businesses an effortless end-to-end experience. This will ensure continued satisfaction for all stakeholders over the long run.
Big Data Analytics
Allerin offers a comprehensive Digital Government solution tailored to the unique needs of government organizations. By leveraging big data analytics and advanced technologies like machine learning and artificial intelligence, our offering facilitates efficient data collection, storage, analysis and interpretation - enabling governments to make informed decisions based on deep insights gained from their operations.

By leveraging big data analytics, government organizations can improve their decision-making, increase efficiency, and better serve their citizens. Our solution can help with:
Identifying patterns and trends in data to inform policy and strategy
Improving service delivery by identifying and addressing areas of inefficiency
Enhancing public safety by identifying patterns and trends in crime data
Improving healthcare outcomes by identifying patterns and trends in patient data
Improving transportation planning by identifying patterns and trends in traffic data
Improving citizen engagement by identifying patterns and trends in engagement data
Open data
Government organizations can now make informed decisions backed by timely, accurate open data. Our platform makes it easy for them to share and access invaluable insights that empower decision-making in order to improve their communities. One example of this is when analyzing crime patterns; the analysis uncovers areas suffering from high rates of criminal activity — enabling officials to take steps necessary toward making positive change.

Our open data platform provides a reliable and secure solution for government agencies to access, share, publish and store sensitive information. Not only does it meet the highest security requirements but also facilitates transparency between the governmental institutions of power as well as citizen engagement in policy analysis & decision-making processes. Therefore giving citizens an avenue where they can track progress on initiatives taken by their administration from which improvement plans could be formulated more efficiently.
Artificial intelligence
AI innovation is revolutionizing the way governments operate, empowering them to make data-driven decisions in order to deliver more efficient and effective services. Allerin offers an invaluable Digital Government solution that harnesses AI technology for maximum impact - from automating complex processes through robotic process automation (RPA) tools, to improving service delivery with predictive analytics capabilities. Join us on this digital transformation journey!
Intelligent Case Management: Government program executives seeking to maximize their digital innovation can now benefit from our AI-driven case management solution. With its low-code structure and composable features, the tool allows for easy integration of legacy custom applications in a secure modular way - standing out as a revolutionary force multiplier creating new opportunities for business technologists. The tool is designed to improve cross-government services integration and streamline case work, the predominant workstyle of government. By harnessing the power of self-service, automation and collaboration, our case management tool allows for the formation of CMaaS fusion teams that include case workers and business technologists. Our groundbreaking case management tool provides tailored solutions to each individual situation, achieving quicker and more precise results. Thanks to improved collaboration between government officials enabled by the state-of-the-art machine learning capabilities of this revolutionary system, programs are integrated in ways never seen before while ensuring better outcomes are achieved with a streamlined process.

Advanced Analytics in Taxation Fraud Detection: Our Advanced Analytics in Taxation Fraud Detection solution uses leading-edge machine learning and analytics to detect tax evasion. Our powerful technology is able to analyze large amounts of data for potential fraudulent activity, enabling more accurate fraud detection results with improved collaboration between government entities. By streamlining the workflow process, resources are better allocated - allowing agents to work together seamlessly towards a common goal: fighting fraudulence at its core! In addition, our solution utilizes graph-based tools to dramatically reduce the time needed to identify resolvable cases and improve productivity. This, in turn, allows government officials to pursue a wider range of cases, ultimately reducing the tax gap and increasing revenue collection. Our solution also utilizes user-centric agile development, which allows government officials to provide input and feedback throughout the development process, ensuring that the final product meets their specific needs and requirements. Overall, our "Advanced Analytics in Taxation Fraud Detection" solution represents a major leap forward in the fight against tax fraud, utilizing cutting-edge AI and machine learning technologies to deliver a powerful and effective tool for government officials. With its advanced capabilities and user-centric design, our solution has the potential to significantly improve the efficiency and effectiveness of tax fraud detection and prevention efforts.

AI to improve detection of harmful consumer products:: Our AI-driven market surveillance of e-commerce tool (AIME) solution uses advanced computer vision and machine learning technologies to scan the web for potentially dangerous products. This revolutionary AI-driven market surveillance tool enhances detection rates significantly - up to five times more than traditional methods! By streamlining product safety compliance, government officials can swiftly track down violations of federal legislation so that consumers remain safe from hazardous products. AIME is a game-changing solution revolutionizing the product safety landscape. Its unparalleled versatility and scalability make it globally accessible - thanks to open source technologies, early prototyping with partners, and a multi-national spinoff model. This cutting edge innovation brings hope to consumers around the world who benefit from unprecedented access to state of the art solutions when purchasing goods monitored by their governments!

Total Experience

Introducing Allerin's Total Experience (TX) solution for Digital Government. Our TX approach optimizes the user experience for all government stakeholders, including citizens, residents, visitors, businesses, and employees. By combining the disciplines of User Experience (UX), Customer Experience (CX), Employee Experience (EX), and Multi-Experience (MX), we provide a holistic and inclusive service design and delivery.

Our TX strategy interlinks digital and non-digital techniques to increase citizen and employee confidence and satisfaction with government services. We aim to design and deliver services that are so exceptional that individuals would naturally recommend them to their personal and professional networks. Upgrade your government's digital services with Allerin's Total Experience solution.

Internet of Things

Our innovative IoT solutions revolutionize the way government agencies work. From increased safety to more efficient operations, our customizable offerings are designed to cater specifically to the needs of your agency and create a stronger platform for progress.

Street and Outdoor Lighting - Our IoT-enabled street and outdoor lighting solutions allow for the remote monitoring and control of lighting systems. This can result in significant energy savings and improved public safety by ensuring that lights are functioning properly and are turned on and off at the appropriate times.

Police Evidence Gathering - Our IoT solutions for police evidence gathering allow officers to gather and analyze data in real time, which can improve crime-solving and increase the speed of investigations.

City/Town Asset Tracking - Our IoT solutions for city and town asset tracking make it possible to track and monitor the location and condition of assets such as vehicles, equipment, and infrastructure. This can improve efficiency, reduce costs, and prevent loss or damage.

Outdoor Surveillance - Our IoT-enabled outdoor surveillance solutions allow for real-time monitoring of public spaces and can improve public safety by providing early warning of potential dangers and enabling rapid response.

Parking Management (Smart Parking) - Our IoT solutions for smart parking can help cities and towns optimize parking availability, reduce congestion and improve the overall parking experience for citizens and visitors.

Emergency Population Communication - Our IoT solutions for emergency population communication can be used to quickly and effectively disseminate critical information to residents and visitors in the event of an emergency.

Road Toll and Traffic Management - Government agencies can unlock the potential of their roads and highways with our advanced IoT solutions for tolls and traffic management. By decreasing congestion while introducing safety features, they will be able to upgrade their transportation systems without compromising efficiency or security - creating a much improved environment on all sides.

Fire Services Monitoring - Fire service personnel can increase public safety and improve response times thanks to our sophisticated IoT solutions. Thanks to remote monitoring functionality, they are able to gain full control of fire alarm systems without having physical access on-site.

Public Communication and Wayfinding - Public communication and wayfinding have never been easier with our state-of-the-art IoT solutions! Our tools are designed to provide citizens and visitors with real time updates ranging from public transportation locations, and parking availability, all the way to current weather conditions - ensuring everyone can stay in the know.

Hyperautomation

Our Digital Government solution offers hyperautomation, a cutting-edge technology that helps government agencies streamline their processes and improve efficiency, effectiveness, sustainability, safety and citizen/stakeholder outcomes. Allerin's hyperautomation solution is designed to help government officials enhance their agility and resilience, and inspire innovation.

Our hyperautomation solutions for government cover a wide range of use cases, including

Our hyperautomation roadmap for government includes the following steps:

Hyperconnected Public Service: Governments can now revolutionize the way they deliver public services with our advanced technology solution. By giving citizens direct access to key info via streamlined communication channels, we are helping authorities close the digital gap and empowering people everywhere!

Robotic Process Automation: Our RPA solution automates repetitive and time-consuming tasks, freeing government employees to focus on more complex and strategic work. The following use cases are covered Allerin's RPA module for hyperautomation.


Contact Center Processes
Records Management Compliance
Simplifying Complex Process Execution
Bridge Gaps in Digital Processes

Machine learning (ML): Our ML platform is revolutionizing the way government agencies make decisions, streamlining processes with hyperautomation and arming them with data-driven insights. By combing through large datasets, our solution helps discover trends that may have otherwise gone unnoticed – allowing for smarter strategic planning and improved outcomes.

Event-driven software architecture: Governments worldwide have the opportunity to stay ahead of their rapidly changing environment with our state-of-the-art solution, allowing for rapid data analysis and informed decision making through hyperautomation.

Business process management (BPM)/intelligent BPM suites: Government agencies can now leverage our BPM solution to optimize their processes from start to finish with the power of hyperautomation. Streamline your operations and uncover opportunities for growth through improved monitoring and advanced analytics.

Low-code/no-code tools: Allerin enables government agencies to develop and launch new applications with ease, transforming their operations through hyperautomation - no complex coding knowledge is needed.

Blockchain

Allerin has created custom blockchain solutions to assist government organizations in achieving maximum efficiency, transparency and security. Our unique approach ensures that officials are equipped with the right tools for delivering better services and enhanced experiences for citizens & stakeholders alike - all while ensuring a secure environment!

Our blockchain solutions cover a wide range of use cases, including

Financial markets regulation: Our solutions can help government officials establish licensing and oversight over financial institutions and explore the issuance of digital central bank currencies on top of a blockchain.

Official records keeping: Our blockchain solutions can establish a single system of record (a single source of truth) or even authenticated provenance across multiple entities based on immutable data and transparent audit trails.

Identity data sharing: Our solutions support decentralized identity (DCI), self-sovereign identity (SSI) and other future models for (consented) sharing of identity data between individuals, organizations, and objects. This includes the exploration of identity wallets for use across different sectors.

Disintermediation and transparency of marketplaces: Our solutions can help government officials reduce or eliminate barriers to participation for producers and consumers of diverse products.

Improved social services delivery and socioeconomic empowerment: Our blockchain solutions can provide vulnerable groups with easier access to government assistance and important services by third parties, notably financial institutions.

Allerin offers government organizations the chance to step into a secure and efficient future with our blockchain solutions. Our innovative designs are based on cutting-edge technology, providing quick integration within existing systems for maximum convenience. Unlock your organization's potential and contact us today to discover how we can help you take advantage of all that blockchain has to offer!