Banks are increasingly deploying technology-intensive solutions for growing their revenues, enhancing customer experience, optimizing cost structure and managing enterprise risk. With internet and mobile banking, banks are now focusing on enhancing services like accepting deposits, mortgage lending, giving consumer loans, and basic investment services like savings account, term deposits.
But, there are several external and internal challenges that are impacting the banking industry.
Allerin's Solution Features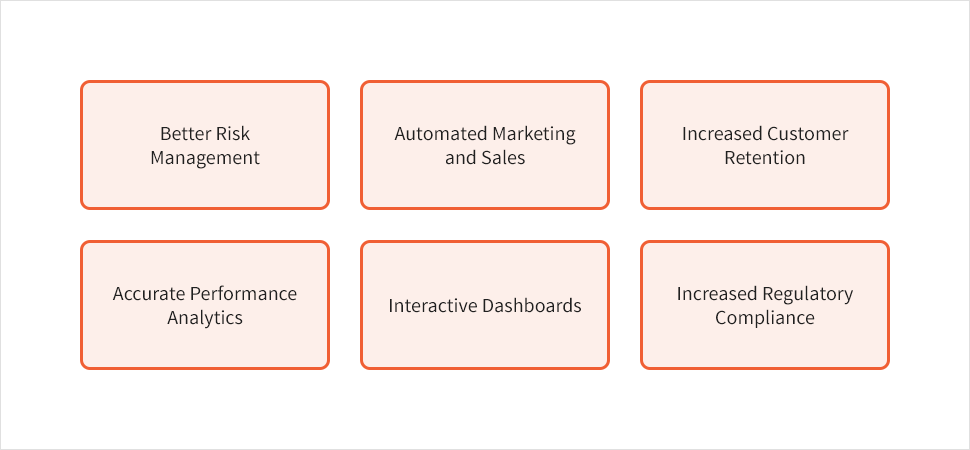 After leveraging Allerin's Big Data banking solution, you get the following feature set:
Targeted marketing and customer segmentation to offer personalized and client centric solutions to your customers.

Our Big Data solution helps in analyzing internal bank records to gain accurate business insights.

Because of its predictive capabilities, our Big Data solution can also help mitigate risks by detecting frauds and risks in real-time. Thus, our Big Data solution provides banks with a resource to stay a step ahead of cybercriminals.

Allerin's Big Data solution facilitates accurate budgeting, planning and forecasting of banking initiatives. It also helps in determining and detailing a bank's long- and short-term financial goals.
Better Risk management
The banking industry is built on risk, so every loan and investment needs to be evaluated. Allerin's Big Data solution can give banks new insights into their systems, transactions, customers and environments to help them avoid certain risks.
Automated Marketing and Sales
With huge volumes of data available today, banks can gather previously unimaginable information about each of their customers. Our Big Data solution gives banks a better understanding of customers' needs and helps address these needs proactively.
Increased Customer Retention
Our Big Data solution also gives banks up-to-date information on their most profitable customers and provides them with the right products to make decisions such as products to invest in and changes to the customer experience.
Accurate Performance Analytics
Banks can use our Big Data solution for measuring business and employee performance and then creating branch budgets and employee goals based on past achievements.
Interactive Dashboards
Using graphs, charts and animations, customizable interfaces help users visualize data. Using our Big Data solution, managers can run queries and pull reports based on their needs. They can analyze the percentage of loans by its type, and monthly operating expenses.
Increased Regulatory Compliance
Our Big Data solution can help banks gather, organize and analyze data, compile reports and comply with requirements.
With our Big Data solution, banks will have the strategic data and intelligence for developing new applications, thereby making them smarter and providing complete solutions rather than providing stranded static data in empty point software products.
Our Banking solutions team can help banks identify their specific pain points and tweak our solution accordingly. Our solution will thus, help you take better business decisions and react faster during critical times along with eliminating human intervention in routine activities. To know more about our Big Data solution for Banking, contact Allerin.