Overview
Our innovative solution provides an enhanced way for designers to create beautiful and effective designs with flexibility, efficiency, and collaboration. Our composable design framework separates components into customizable building blocks that can be easily combined without needless complexity or constraints - streamlining the process while maintaining ample space for creativity. Utilizing this approach has multiple advantages: improved team synergy leads to reduced design debt & increased consistency across projects!
The solution offers several key benefits:
Carbon Proficiency
Modern technology allows for the optimization of operations in real-time with physical and virtual sensors, as well as asset control processes based on data networking. AI/ML enables fast performance deviations to be identified while digital twins drastically improve data integration and analytics at scale. Dynamic risk management is automated via quantification of risk alongside emission strategy development all whilst ensuring regulatory compliance through audit reporting and customer data integration services. Asset design is further optimized using state-of-the-art inspections coupled with engineering analyses that result in enhanced operational efficiency enabling carbon offset position tracking for traceability purposes.
Hyperautomation
Hyperautomation brings product leaders the power to elevate their enterprise partnerships, exponentially increasing content ingestion capabilities and sharpening process visibility with automated efficiency. Get ready for an upgrade!
Anywhere Operations
Allerin's solution enables product leaders to embrace a new way of working, where their products and services can be accessed from anywhere, at any time. With the shift to a distributed infrastructure, they can quickly and easily build first-stage solutions that deliver immediate value to their customers. This not only helps to speed up the time to market, but it also lays the foundation for future-proofing their operations. The solution is designed to be flexible and adaptable, allowing product leaders to plan for the next generation of solutions that will support anywhere operations. This empowers them to stay ahead of the curve, even as technology and market conditions continue to evolve.
Lean-Virtual Business
Product leaders now have the chance to embrace a lean-virtual business model with Allerin's robust, pioneering solution. By evaluating which processes can be handled virtually and streamlining operations for maximum efficiency, they're able to reduce their carbon footprint - creating an eco-friendly offering that is both efficient and sustainable. With this tool in hand, product leads are empowered to craft businesses built on responsible practices as well as productivity levels of excellence!
Digital Automation and Modernization Framework
Allerin's DAMF™ offers a comprehensive framework for companies in the oil, gas and energy industries to navigate today's changing markets. With this solution-driven approach, product leaders can keep pace with current market conditions while achieving essential business objectives such as improving efficiency and productivity, mitigating risk exposure, decarbonizing operations and meeting heightened customer expectations. Equipped with Allerin's Digital Automation And Modernization Framework (DAMF™), those operating within these sectors have access to solutions that map directly onto initiatives they are pursuing - enabling them to remain successful amidst modern industry challenges.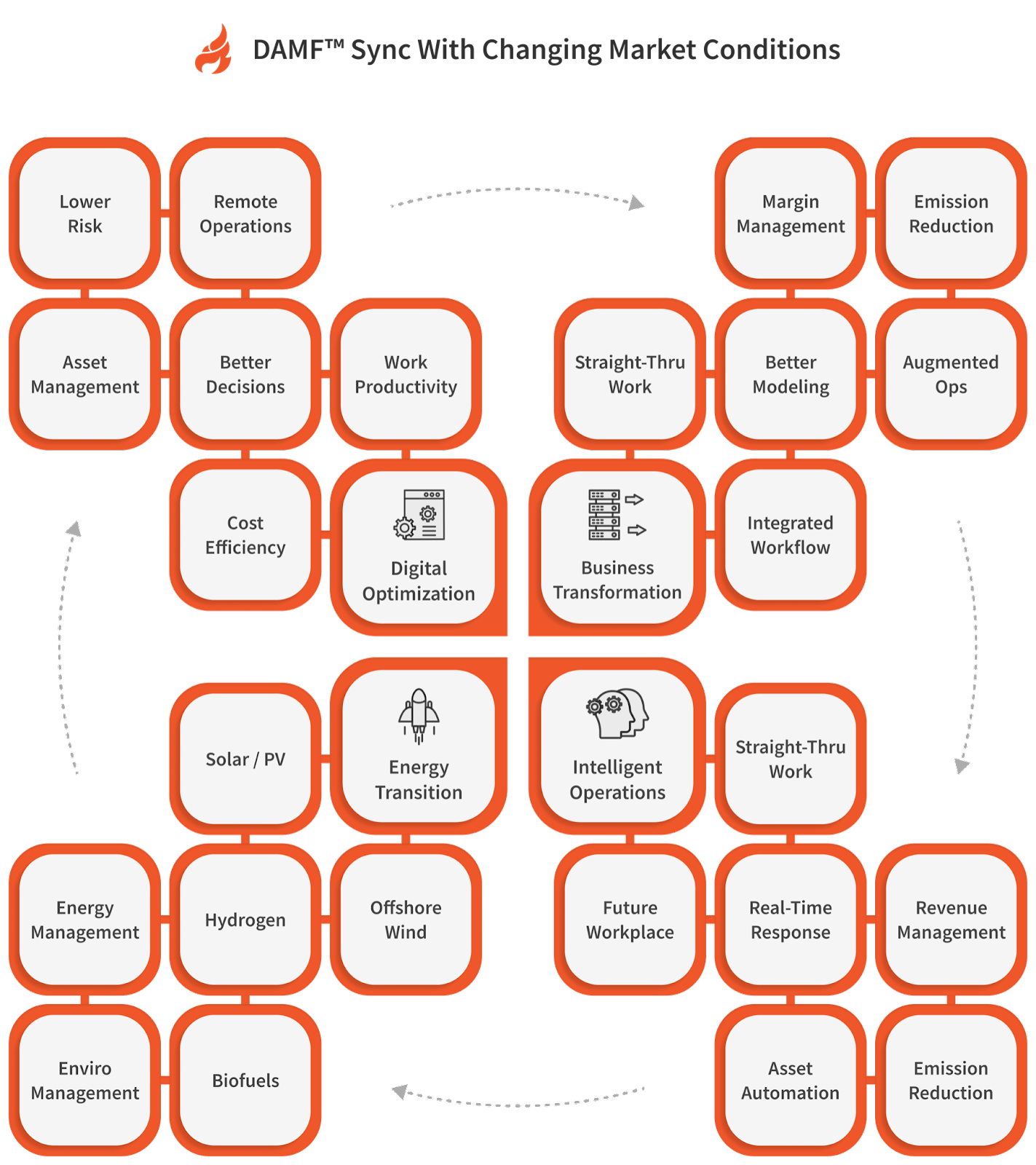 DAMF™ is an incredibly powerful tool for businesses that can revolutionize their efficiency and productivity. It offers a comprehensive framework that covers all operational aspects, allowing processes to be streamlined, tasks automated and manual interventions reduced. This results in cost reductions as well as improved revenue growth through increased efficiency - it's not hard to see why DAMF™ has become the go-to solution for companies worldwide! On top of this impressive package comes its flexibility; easily customizable so individual users can tailor features while still ensuring unique requirements are met with precision and accuracy.
DAMF™ safeguards organizations against potential hazards and regulatory non-compliance by offering a consolidated overview of all operations. By providing this broad scope, companies can identify upcoming risks before they manifest into more serious issues – giving them the power to preemptively act for efficient safety management.
Coverage of DAMF™ Business Objectives and Technical outcomes
| Enterprise Digital Strategy | Strategic Business Goals | Technical Outcome |
| --- | --- | --- |
| Digital Optimization | Improving Efficiency, Reliability, and Incremental Value | Implementing Enterprise Data Hubs and Fabrics, Visualizing Real-Time Operations, Enabling Remote Operations, Incorporating Machine Learning and AI, Streamlining Lean Workflows, Automating Processes, Integrating IT/OT/ET Systems |
| Business Transformation | Enhancing Competitive Performance, Accelerating Innovation and Digital Revenue | Adopting Straight-Through Workflows, Implementing Digital Twins at Scale, Achieving Autonomous Operations, Incorporating Robotics, Utilizing Commercial Platforms, Making Dynamic Assets, Lowering Carbon Footprint and Maximizing Low Carbon Revenues |
| Intelligent Asset Designs | Introducing Disruptive Business Capabilities | Providing 360-degree Operational Transparency, Implementing Remote, Automated, and Autonomous Operations, Multiplying Benefits with Multiobjective Optimization, Ensuring AI-Driven Performance 24/7, Connecting Interassets, Adopting Smart Contracts and Platforms, Achieving Software Reconfigurability, Anticipating Dynamic Demands, Protecting Proprietary IP, Building Composite Ecosystems, Incorporating Ubiquitous Computing, Creating Physical-Digital Designs |
| Energy Transition | Developing New Energy Products, Services, and Revenue | Embracing Offshore Wind, Harnessing Solar/PV, Capturing Carbon, Adopting Hydrogen Fuels and Energy Storage, Managing Energy, Preserving the Environment, Driving Electric Vehicles, and More |
Digital Twins Expansion
Allerin's digital twin expansion module is designed to serve the needs of the oil and gas industry by providing a powerful visualization tool that integrates current and engineering information through a detailed 3D model of relevant assets. This module offers an innovative approach to equipment monitoring and predictive modeling, helping operators to optimize their operations and ensure well integrity.
The digital twin expansion module covers a wide range of use cases, including well integrity assurance, condition monitoring of gas compressors and other equipment, multiphase flow metering, production surveillance, and drilling parameter optimization. With a focus on efficiency and effectiveness, this module is an essential tool for companies looking to stay ahead in a rapidly evolving industry.
Well Integrity Assurance
The digital twin model can be used to monitor and assess the structural integrity of wells and predict potential failures. This information can then be used to proactively address any issues, reducing the risk of well failures and increasing production and safety.
Condition Monitoring of Equipment
Gaining insight into your production wells' flow dynamics has never been easier. With our digital twin solution, you can make the most of every resource in real-time with accurate and comprehensive data analysis to optimize each well's performance while minimizing waste and increasing efficiency - giving you an extra edge over traditional solutions.
Multiphase Flow Metering
Leverage the power of digital twins and gain a comprehensive, up-to-date understanding of your production well flow dynamics. Our intelligent data analysis provides invaluable insights that can maximize output, reduce wasteful practices, and help you work smarter - with an extra set of eyes on performance at all times!
Production Surveillance
Oil and gas operators need the best tools to stay ahead in their production operations. With a digital twin, they can gain comprehensive insights into their performance for informed decision-making that boosts output, prevents equipment failure, and reduces downtime. Taking advantage of this advanced system will help them optimize efficiency while staying up-to-date on any potential issues as they arise.
Drilling Parameter Optimization
Leverage the power of digital twin technology to upgrade your drilling operations! This innovative solution can provide real-time feedback and insights on a range of crucial parameters, allowing you to make smarter decisions that lead to improved efficiency, safety, and production output. Digital Twin promises cost savings through lesser downtime and reduced waste – making it easier than ever before for operators to achieve smoother, more valuable results in their drilling processes.
Whether you're looking to monitor your equipment more closely or make more informed decisions about production and drilling, Allerin's digital twin expansion module is a valuable resource that offers a wealth of information and insights at your fingertips. So why wait? Start harnessing the power of this cutting-edge technology today and take your operations to the next level!
Pursuit of Intelligent Operations Requires Effective, Sophisticated Digital Twins, Allerin's Digital Twin Expansion module is at the forefront of intelligent operations, providing organizations with a powerful information access platform and predictive capabilities. This cutting-edge technology empowers companies to make data-driven decisions that result in improved efficiency, reliability, and safety - especially for remote or low-manned operations where its advanced automation features are necessary. With Allerin's module as an indispensable tool in their arsenal, businesses can realize optimal performance while reducing costs along the way.
Enterprisewide Workflow Integration and Automation
In today's oil and gas industry, the demand for lean operations efficiency is growing as the expertise becomes scarce and the industry faces continuous disruption. Recognizing this, Allerin has developed a solution that provides automation for streamlined workflows across organizational boundaries. The solution features the Enterprisewide Workflow Integration and Automation (EWIA) modules, aimed at helping product leaders create a unified strategy for automating workflows. The EWIA modules lower the obstacles to cross-process automation by introducing a common design framework, principles, standards, and governance across all initiatives. It also provides a comprehensive technology roadmap, including the latest technologies, services, and tools that enable the implementation of integrated and automated workflows. With the EWIA modules, Allerin is helping product leaders drive efficiency, productivity, and growth in the oil and gas industry.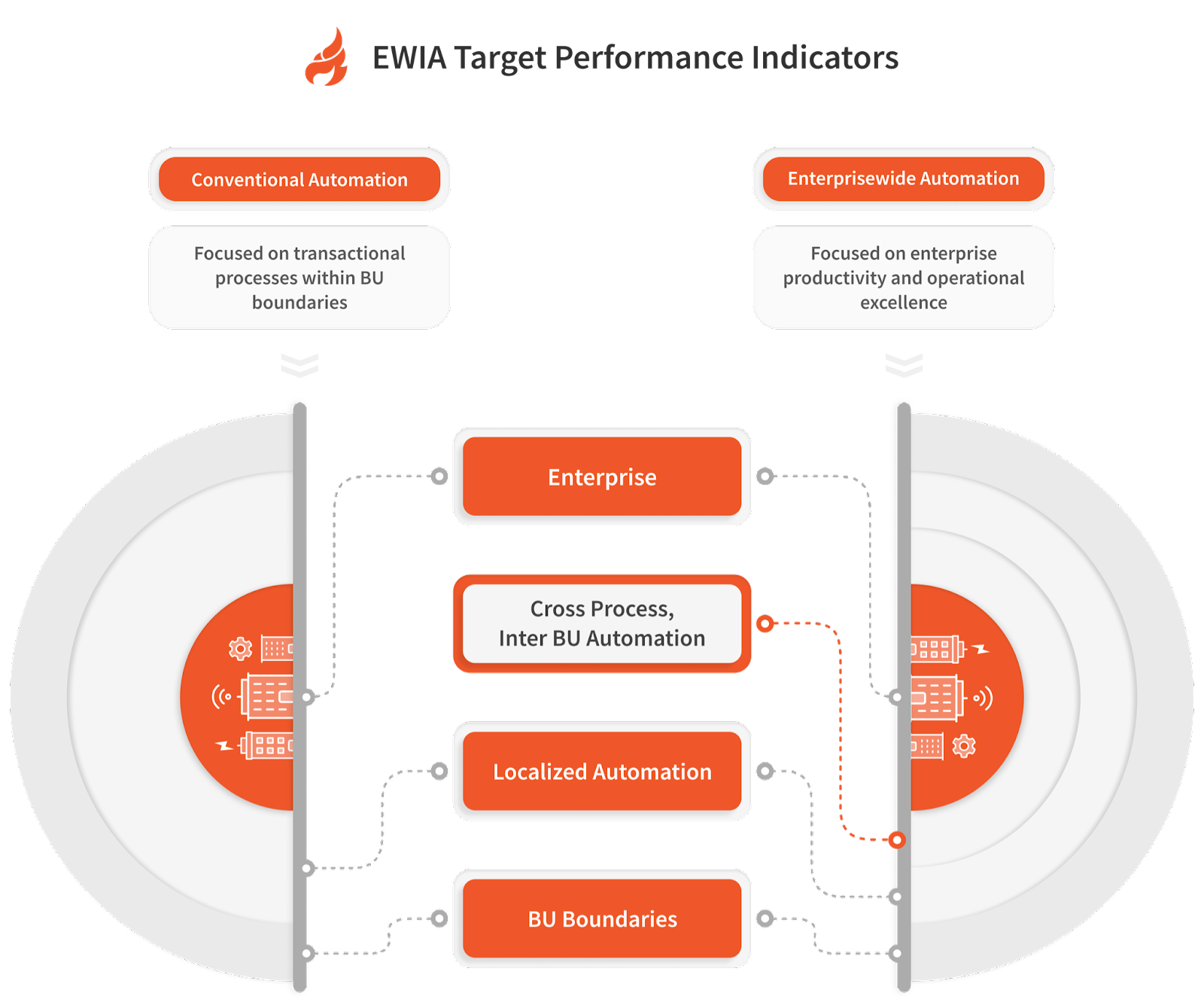 Allerin's EWIA is the go-to solution for oil and gas companies to get ahead in today's rapidly changing business environment. Specifically created to tackle the unique challenges of fast-paced, disrupted operations, this system delivers streamlined processes that increase efficiency while delivering results.
EWIA provides a revolutionary platform for enhancing corporate processes across the organization. Through its integrated and automated approach, companies can enjoy maximum productivity while leveraging leading technologies such as RPA, BPM, content management systems, and virtual assistants. By aligning operations within an umbrella of coordination, governance, and security design – implementation is simplified from start to finish with improved streamlining efficiency in mind. Unlock your full business potential today with EWIA's unparalleled offering!
Energy Management and Optimization Systems
Allerin is proud to introduce its innovative Low-code solution for the Oil and Gas Industry for Energy Management and Optimization Systems (EMOS).
Our solution is designed to help companies manage their operations and improve energy efficiency, ultimately reducing operating expenditures. With the help of cutting-edge technologies such as AI and ML, our EMOS solution offers a comprehensive approach to asset, energy, and process optimization.
Our Asset Optimization feature provides direct control over assets through hardware and software, giving you complete visibility and control over your operations. The Energy Arbitrage feature uses software platforms to extract insights and value from energy information, providing a tailored approach to energy management for specific sectors and regions. Finally, our Process Optimization feature offers operational optimization through cloud-first software solutions, streamlining processes and increasing efficiency.
Allerin's EMOS is a comprehensive solution that offers four core functions to help you take control of your energy needs.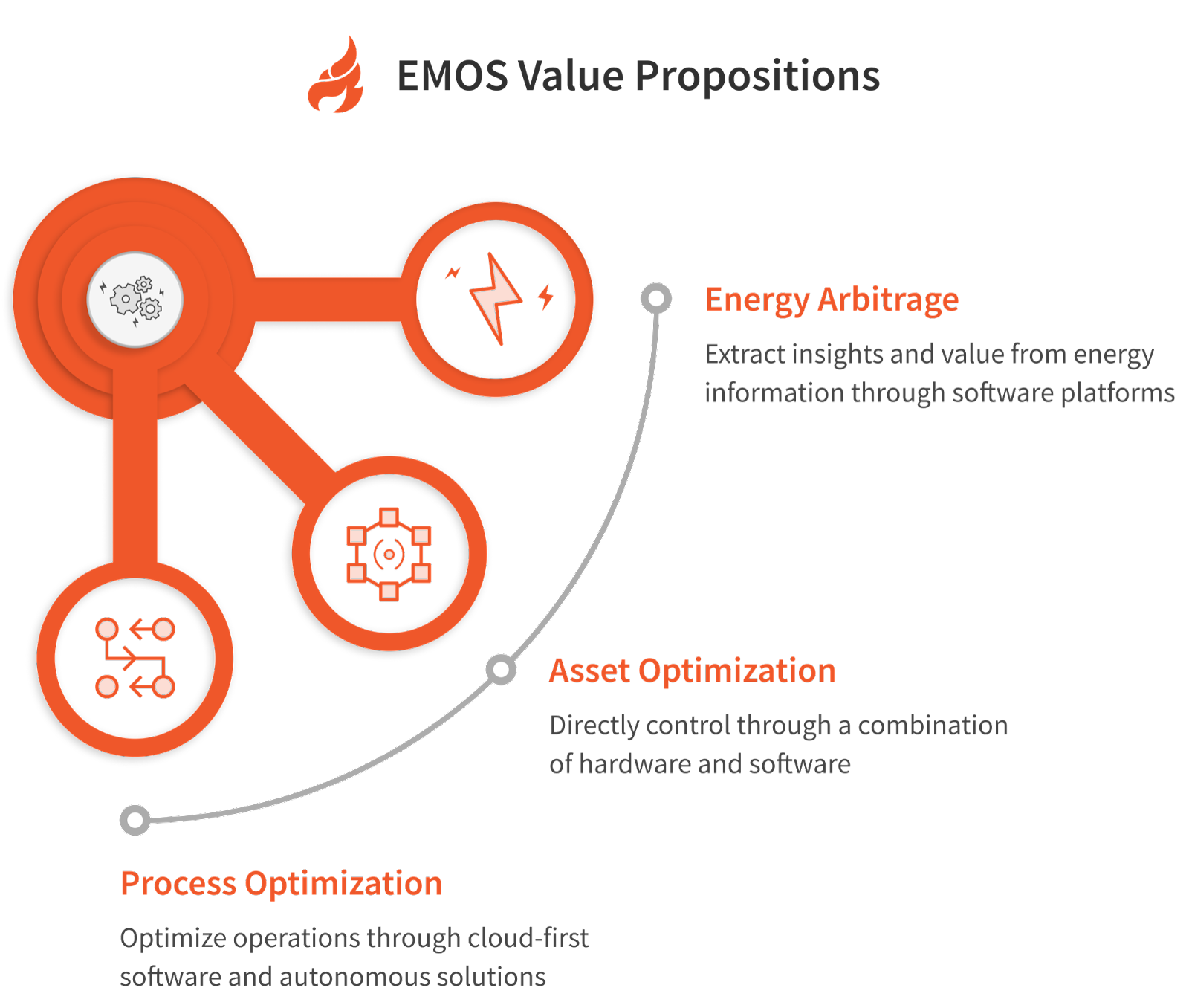 Plan
This function allows you to create a tailored energy plan that supports your production goals by establishing key performance indicators and action plans. With this feature, you can ensure that your energy consumption aligns with your business objectives.
Collect
This function enables you to gather and normalize data, providing a clear picture of your energy usage. This feature allows you to measure demand, compare energy performance across different sites, and forecast energy consumption.
Monitor
With our Monitor Function; you can keep track of key processes and measure energy performance against objectives, giving you real-time insight into how you're using energy and how you can make improvements. Our Manage and Control feature takes things one step further by helping you manage cost and environmental impact. Whether you're facing volatile energy costs or increasing pressure to reduce your environmental impact, EMOS gives you the tools you need to make a positive impact.
Optimize
Our optimize function puts all the pieces together, analyzing information and providing recommendations to help you reduce energy costs and minimize your environmental impact. By leveraging the latest AI and ML technology, EMOS delivers actionable insights that drive real results.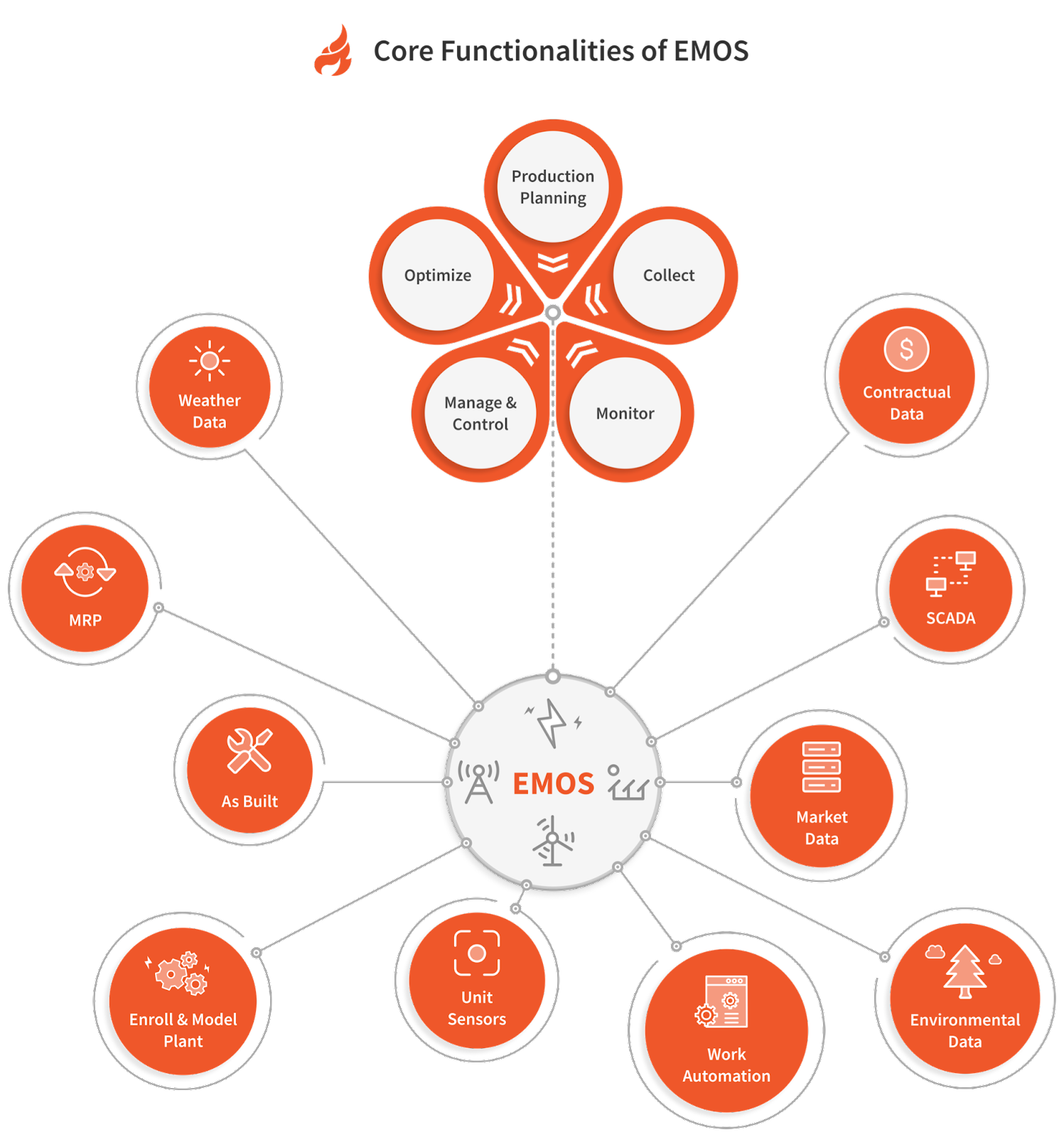 Our functions integrate with external data feeds and applications to provide insights that can drive adaptive asset configuration, resulting in optimized energy use.
What sets our solution apart is the integration of artificial intelligence (AI) and automation. This allows our EMOS to make intelligent decisions and operate autonomously, giving you peace of mind and freeing up time for other important tasks.
One key way our EMOS helps optimize energy is by purchasing energy during off-peak hours when prices are lower. This not only saves you money but also helps manage peak demand by participating in demand-response events. In addition, our solution also supports other energy-related use cases such as surplus energy transmission and electric vehicle (EV) fleet charging optimization.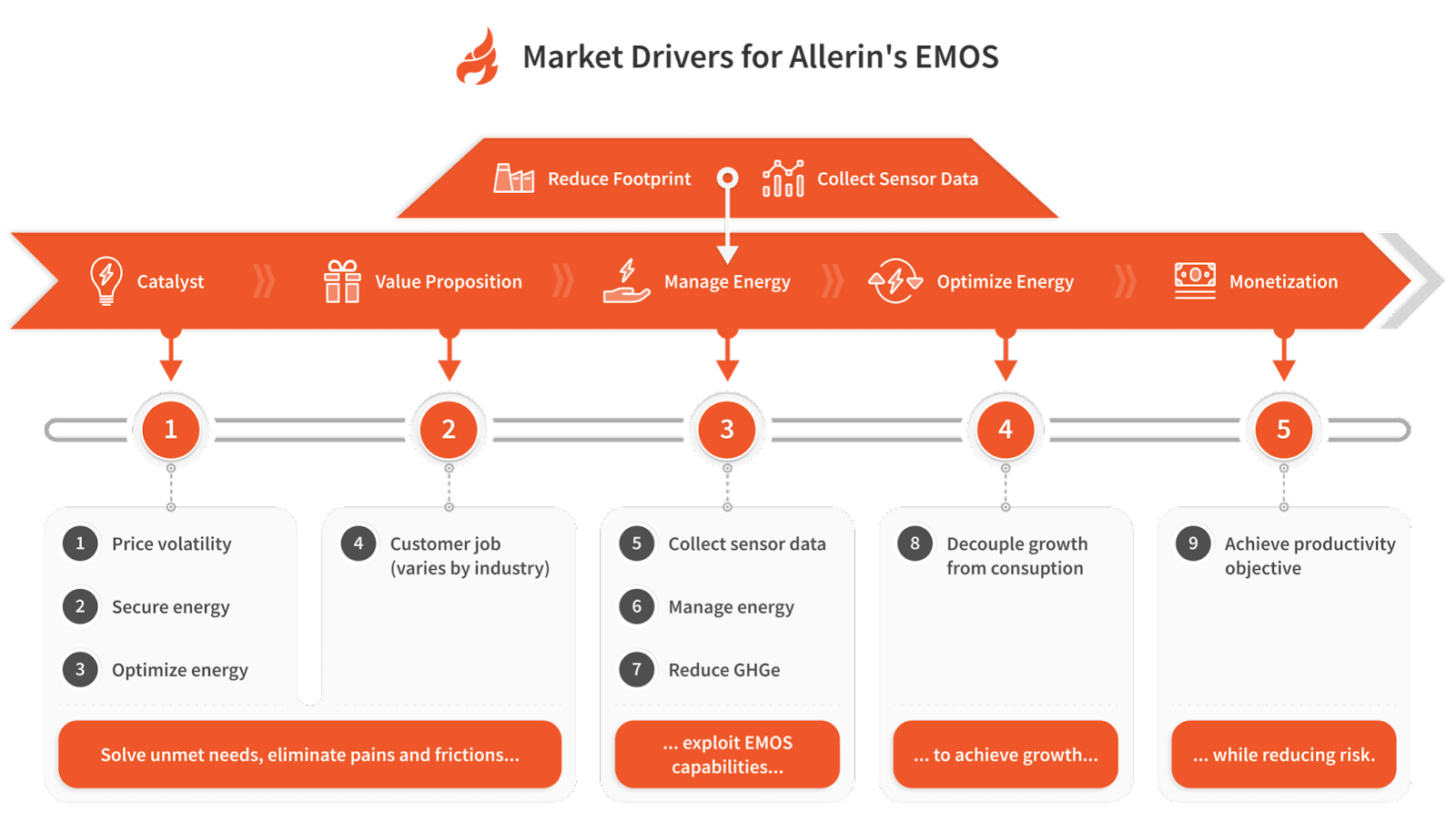 Our EMOS solution is designed to keep pace with these developments, providing a comprehensive solution for managing energy in the commercial and industrial sectors. Whether it's the rise of industrial digitalization, cutting-edge technologies such as IoT and AI, or the pressure from stakeholders to meet ESG goals, our EMOS has you covered. Our solution combines real-time intelligence, composable architecture, and embedded AI to enable you to optimize your energy usage, reduce costs, and meet your sustainability goals.
At Allerin, we understand that the success of our Energy Management and Optimization System (EMOS) lies in how well it supports the needs of our clients. That's why we've designed our solution to be flexible and adaptable to each business's unique needs. Our EMOS solution considers your business capabilities, digital maturity, and energy services strategy, mapping it all to targeted key performance indicators (KPIs) to help you achieve your desired outcomes.
We also understand that cyber security is a top priority with the increasing use of digitally controlled systems. That's why we've ensured that our EMOS addresses cyber risks from the start and throughout its deployment. We want you to be confident that your energy management system is secure from potential threats.
EMOS Functionality
Allerin's EMOS offers an innovative approach to energy management. An ideal solution for businesses of all sizes, it enables real-time data collection and tracking so you can monitor your entire system from one central platform - no matter how expansive or diverse that portfolio may be. With customizable features like detailed reporting options and cost management tools, Allerin's EMOS is sure to help improve efficiency -and profitability! –of any business's energy ecosystem.
One of the key benefits of Allerin's EMOS is its ability to provide a complete understanding of your energy usage and operations. With real-time data and analytics, you can model energy conservation efforts and make informed decisions about your energy profile. And, with rules and alerts in place, maintenance teams can be more productive, helping you get the most out of your energy investments.
Another important aspect of Allerin's EMOS is its support for environmental, social, and corporate governance (ESG) goals, particularly as they relate to decarbonization efforts. With detailed reporting and performance tracking capabilities, you can meet sustainability reporting requirements and ensure that your energy usage is as green as possible.
In addition to its ESG benefits, Allerin's EMOS also offers energy resilience and flexibility, ensuring that your business stays up and running, even in the face of extreme weather and climate events. With energy orchestration capabilities and the ability to interconnect with other energy management systems, you can take advantage of flexible load programs, peer-to-peer electricity trading, and more. And, with system security a top priority, you can rest assured that your energy usage data is protected from cyberattacks and bad actors.
Allerin's EMOS is the ideal option for businesses seeking to reach their energy-related ambitions. Optimize your investments, foster sustainability through ESG goals, and fortify resilience with Allerin's comprehensive solution - a powerful toolkit in pursuit of success.
Hyperautomation
Allerin's Hyperautomation module for the Oil and Gas industry is designed to streamline and automate operations, providing easy-to-integrate advanced capabilities to enhance efficiency and performance. The module enables product leaders to refine strategies and incorporate automation into their product roadmaps.
With its modular architecture and seamless integration capabilities through APIs and other means, Allerin's Hyperautomation module helps oil and gas customers excel in complex, multivendor environments. The module aligns with industry-wide standards and information models and provides governance, change management, and deployment services to help facilitate hyperautomation programs and fill customer knowledge and competency gaps. The solution sets provided by the Hyperautomation module are highly composable, enabling complex shifts in technology delivery orchestration for oil and gas companies.
With AI and ML capabilities at its core, Allerin's hyperautomation module provides advanced decision-making capabilities, such as predictive analytics, that allow oil and gas companies to optimize their operations and enhance overall performance. The module helps to address the complex shifts in technology delivery orchestration that companies in the industry may be pursuing and facilitates hyperautomation programs by providing governance, change management, and deployment services with aligned methodologies.
Allerin's hyperautomation module for oil and gas is a cutting-edge solution that offers a comprehensive approach to automation, combining multiple automation approaches and technologies to achieve maximum efficiency and productivity. With the industry facing intense competitive pressures due to decarbonization and market volatility, companies are looking for ways to optimize their operations and improve their bottom line. This is where Allerin's hyperautomation module comes in, offering a solution that can tackle complex, fragmented processes across organizational silos and legacy applications.
One key aspect of Allerin's hyperautomation module is its composable design. The module is built on principles that allow for the uncoupling of automation functionality from individual closed or proprietary applications, making it easy to integrate with a wide range of existing systems and technologies. This means that customers can leverage their existing investments in technology while still benefiting from the advanced capabilities offered by the hyperautomation module.
Allerin's hyperautomation module is the gateway to increased operational efficiency. Our customers need look no further for a competitive edge - combining cutting-edge AI and ML technology, this solution offers real-time analysis capabilities that can be utilized to their greatest potential by preventing unexpected equipment failures, streamlining maintenance schedules, or enhancing supply chains. Get ready: it's time you experience maximum optimization!