The Retail Scenario
Allerin's retail modernization solution is a leading business strategy designed specifically for retail technology leaders. The solution is based on three core pillars: a strong connection between a unified front end and a unified back end, experience-led, and composability. By integrating all digital and physical touchpoints and making the store a strong execution hub, Allerin's solution delivers a continuous customer experience that rises above the channel to understand how customers browse, transact, acquire, and consume. In addition, the solution addresses rapidly evolving customer expectations for flexible fulfillment options and personalized, touchless experiences. Through its focus on excellent associate experiences, personalized paths to purchase, and composable business, Allerin's solution enables retailers to become more agile, resilient, and in tune with their customer's needs in real time.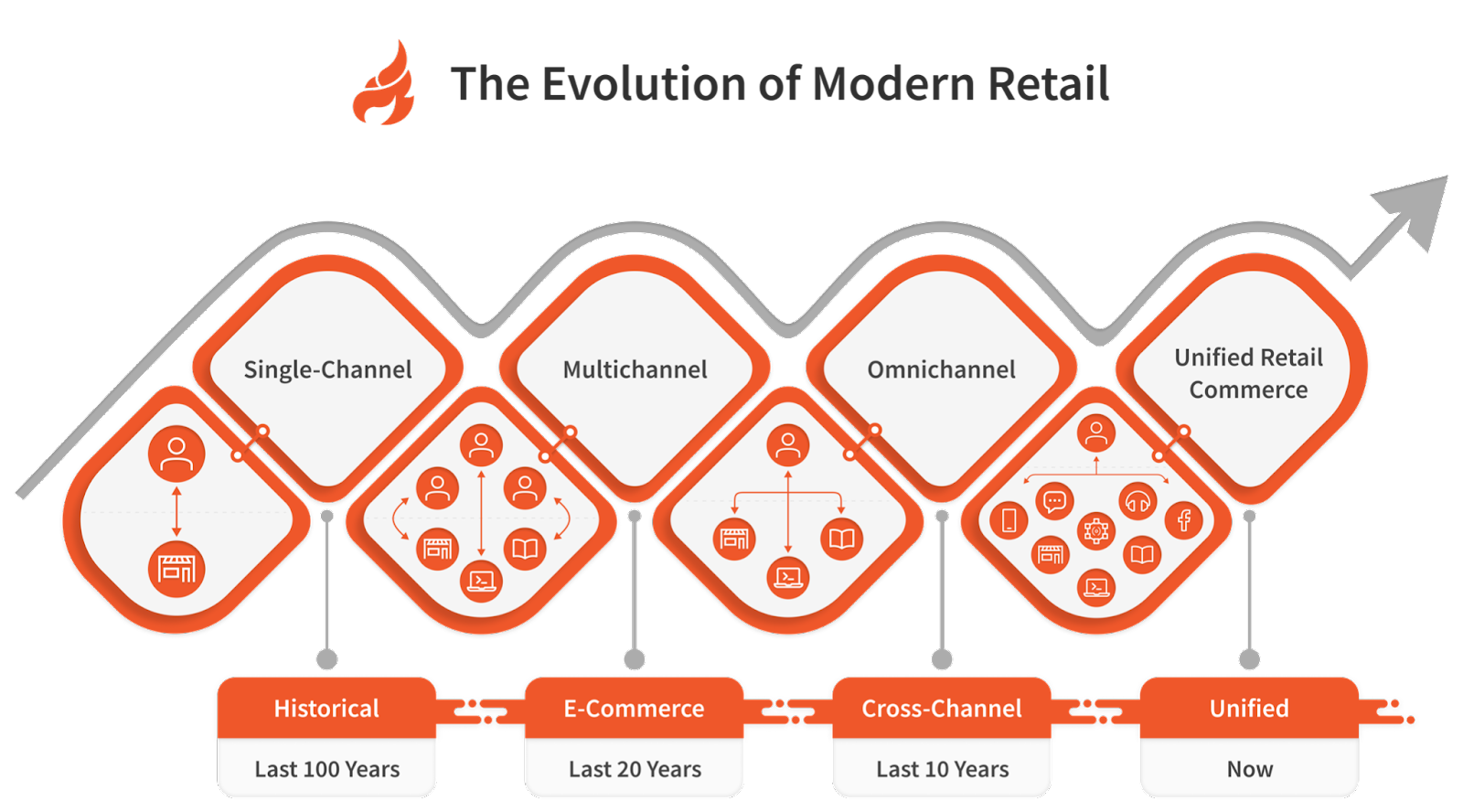 Allerin's retail modernization solution is built on three core pillars - Unified, Experience-Led, and Composable.
Unified
Allerin's retail modernization solution offers a seamless, unified experience for customers that transcends traditional boundaries between online and offline shopping. This is achieved by creating a strong and accurate connection between the front-end customer experience and the back-end retailer systems.
Experience-Led
Allerin's solution places a strong emphasis on delivering excellent customer experiences, recognizing that a strong employee experience is the key to success in unified retail commerce. Frontline workers are empowered with digital tools and data, enabling them to execute more effectively and efficiently.
Composable
Allerin's retail modernization solution is designed to be flexible and adaptable, leveraging modular building blocks to support the rapid changes of the retail landscape. The solution supports a resilient and agile business that can respond creatively to disruptive change.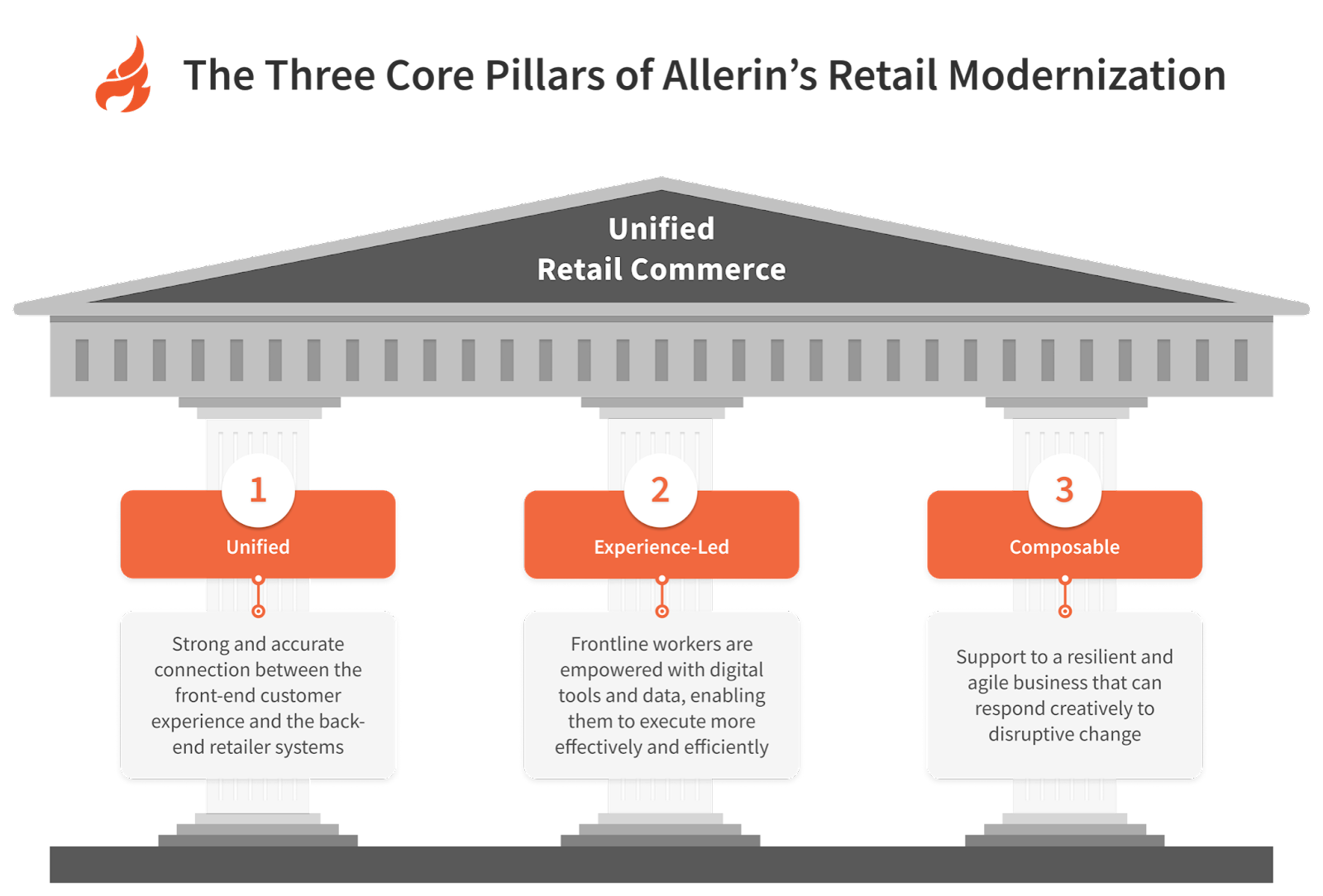 Retailers everywhere can experience the power of Allerin's advanced-edge AI solution, which brings unprecedented personalization to customer interactions. The unique context-based approach ensures customers receive only the most relevant experiences tailored just for them. Plus with a composable architecture, retailers have access to all new capabilities that come on board - no need for extra work or time-intensive integration steps!
Edge AI enhances consumer privacy by keeping personal information at the edge, either on-device or on-premises, reducing the need to send sensitive data to third-party ad service providers or centralized data centers. This architecture allows for real-time personalization and cost savings, enabling retailers to deliver customer-specific communications that match customer shopping preferences. The solution is gaining initial traction in retail and has early adoption in multi-enterprise environments such as malls and theme parks. The edge nature of the solution enhances customer privacy, a key consideration for consumer adoption.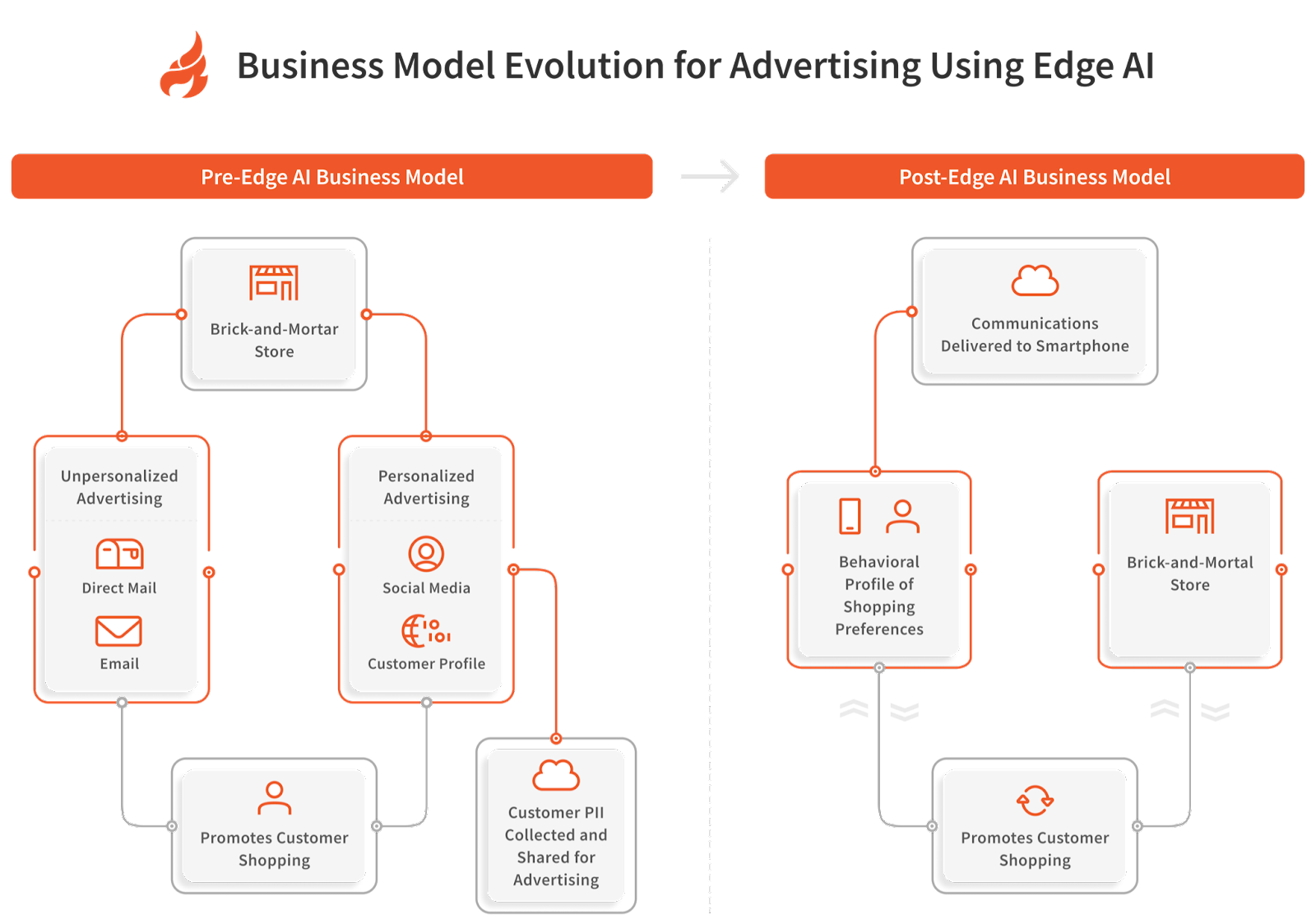 Customer-Centric Merchandising Automation With an AI Core
Allerin's retail merchandise solution with AI Core helps solve the challenges faced by retailers in moving towards customer-centric merchandising processes. This solution addresses the challenges faced by merchandising and planning teams, who require automation of basic and intelligent tasks to meet the demands of new business processes.
To solve these challenges, Allerin's solution focuses on three key areas:
Prioritizing customer expectations
The solution helps retail leaders prioritize customer expectations and align AI use cases for merchandising with their corporate strategic direction and industry segment needs.
Elevating the role of customer information
Allerin's solution helps retail leaders develop customer behavioral segmentation capabilities, elevating the role of customer information throughout the organization.
Leveraging algorithmic retailing
The solution leverages algorithmic retailing, including robotic process automation (RPA), intelligent automation, and hyperautomation, even starting with existing processes, to drive the transformation towards customer-centric merchandising processes.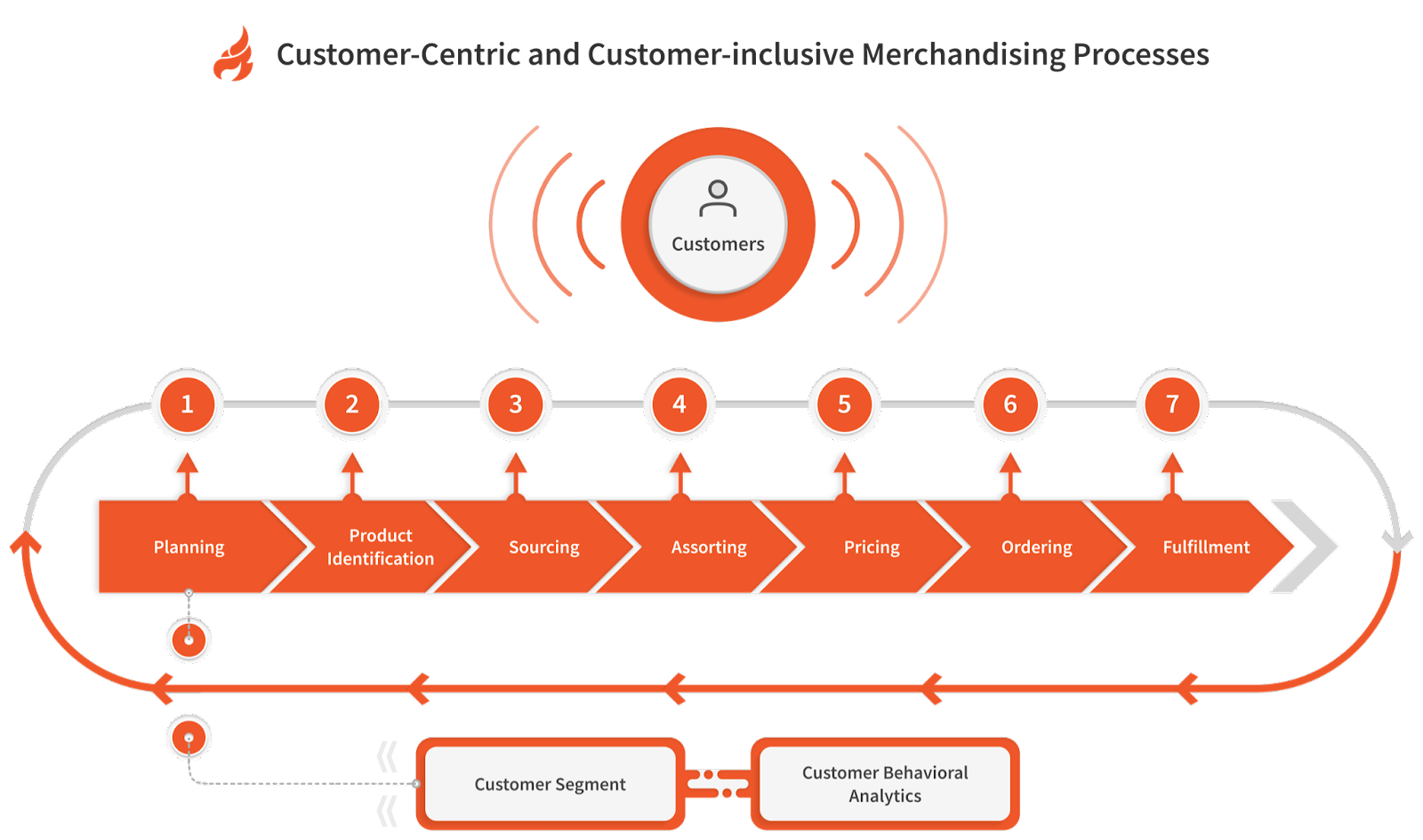 With Allerin's AI-Core retail merchandise solution, organizations can meet the needs of their customers with greater precision and efficiency. Our innovative tech utilizes customer behavior data to create personalized strategies that align merchandising efforts with marketing initiatives for a seamless experience. This helps retailers ensure they're targeting the right segments by understanding purchasing habits and requirements in order to tailor optimal approaches.
In addition, our solution leverages algorithmic retailing, including robotic process automation (RPA), intelligent automation, and hyperautomation to streamline and automate critical merchandising tasks. This helps to alleviate the pressure on merchandising and planning teams and allows them to focus on the high-value, strategic initiatives that drive the business forward.
With Allerin's retail merchandise solution with AI-Core, retailers can focus on what their customers truly value, and enable them to shop in the way that they prefer. Whether it's through in-store, online, or mobile, our solution empowers retailers to create an exceptional customer experience that drives loyalty, engagement, and growth.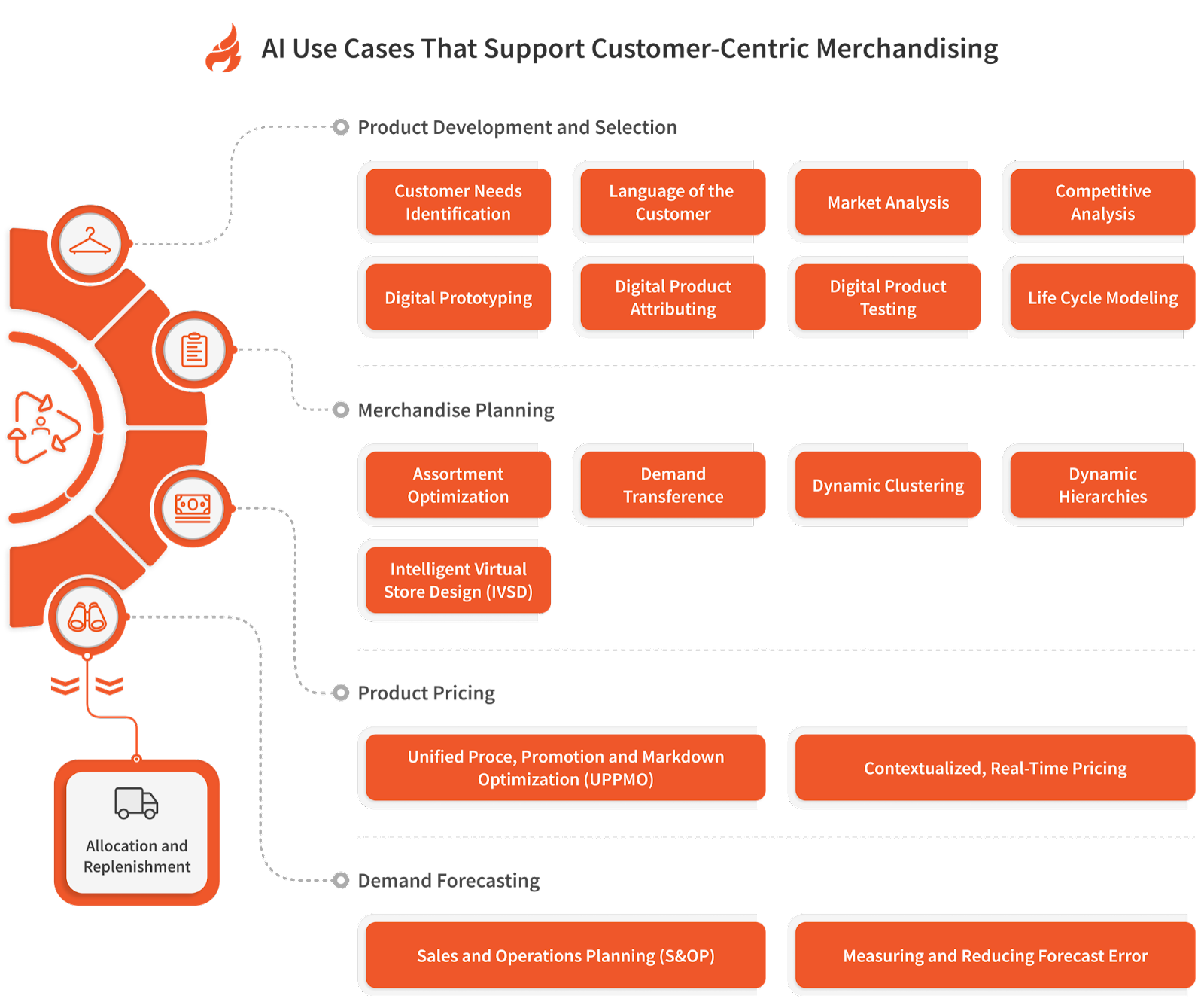 Allerin's cutting-edge, AI-Core retail merchandise solution helps businesses maximize the potential of their merchandising strategies. By providing comprehensive interfaces to analyze customer behavior and technology trends, this powerful tool streamlines marketing, merchandising and planning teams so they can realign resources toward corporate goals with confidence. Take your business into tomorrow today - experience what Allerin has to offer!
With Allerin's solution, business leaders can collaborate to drive a customer-centric approach that leverages AI and algorithmic modules for retailing. Our solution is fully integratable with leading software tools, including retail assortment management applications (RAMAs), retail assortment optimization applications (RAOA), intelligent virtual store design (IVSD), and unified price, promotion, and markdown optimization (UPPMO), helping businesses stay ahead of the competition. Whether you have a short or long life cycle, Allerin's retail merchandise solution with AI-Core has got you covered.
Allerin's retail modernization solution with AI-Core helps organizations stay ahead of the competition by preparing for a shift towards customer-centric merchandising processes. Our solution expands AI capabilities within your organization and aims to implement these changes within a two-year timeline. Additionally, our solution allows for the engagement of basic and intelligent automation services, even for processes that may not be necessary in the future. This helps to streamline your business functions and free up time for reengineering new processes. Embrace the future of retail with Allerin's AI-powered solution.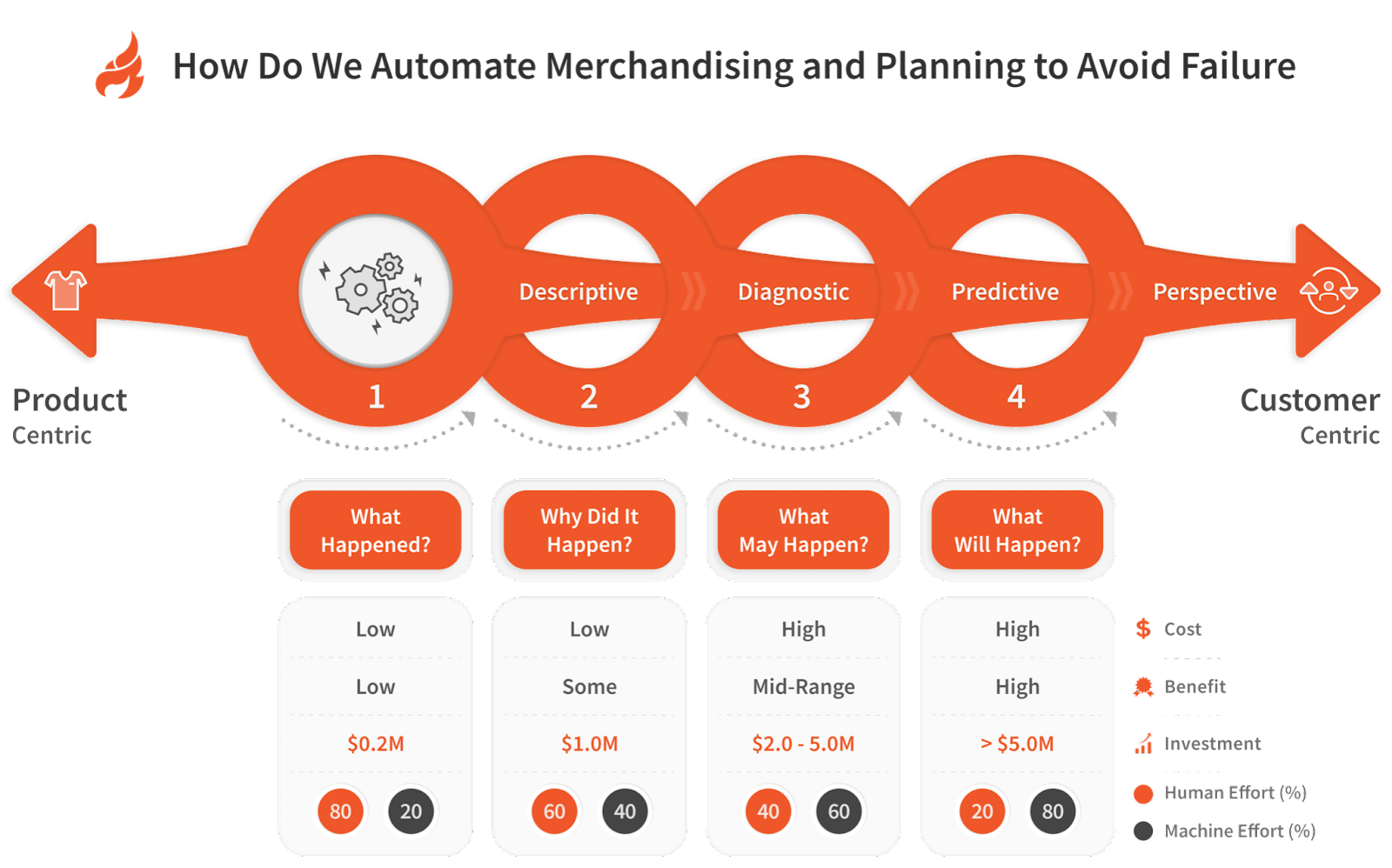 Retail technology leaders can develop customer-personalized advertising scenarios tailored to malls, theme parks, and other multienterprise endeavors using Allerin's solution. Additionally, the solution creates behavioral and operational intelligence solutions that can be extended through CV to address a variety of business challenges faced by multichannel retailers. By utilizing edge AI, the personal information remains at the edge, either on-device or on-premises, and doesn't need to be sent to a third-party service provider, cloud service, or centralized data center for processing.
With the aid of computer vision and edge AI technologies, retailers can unlock a wealth of information from their video feeds to inform marketing decisions and optimize customer experience. By harvesting behavioral insights directly at the store level that would otherwise be impossible to gain, these new solutions allow for more sophisticated decision-making strategies tailored specifically towards improving retail operations.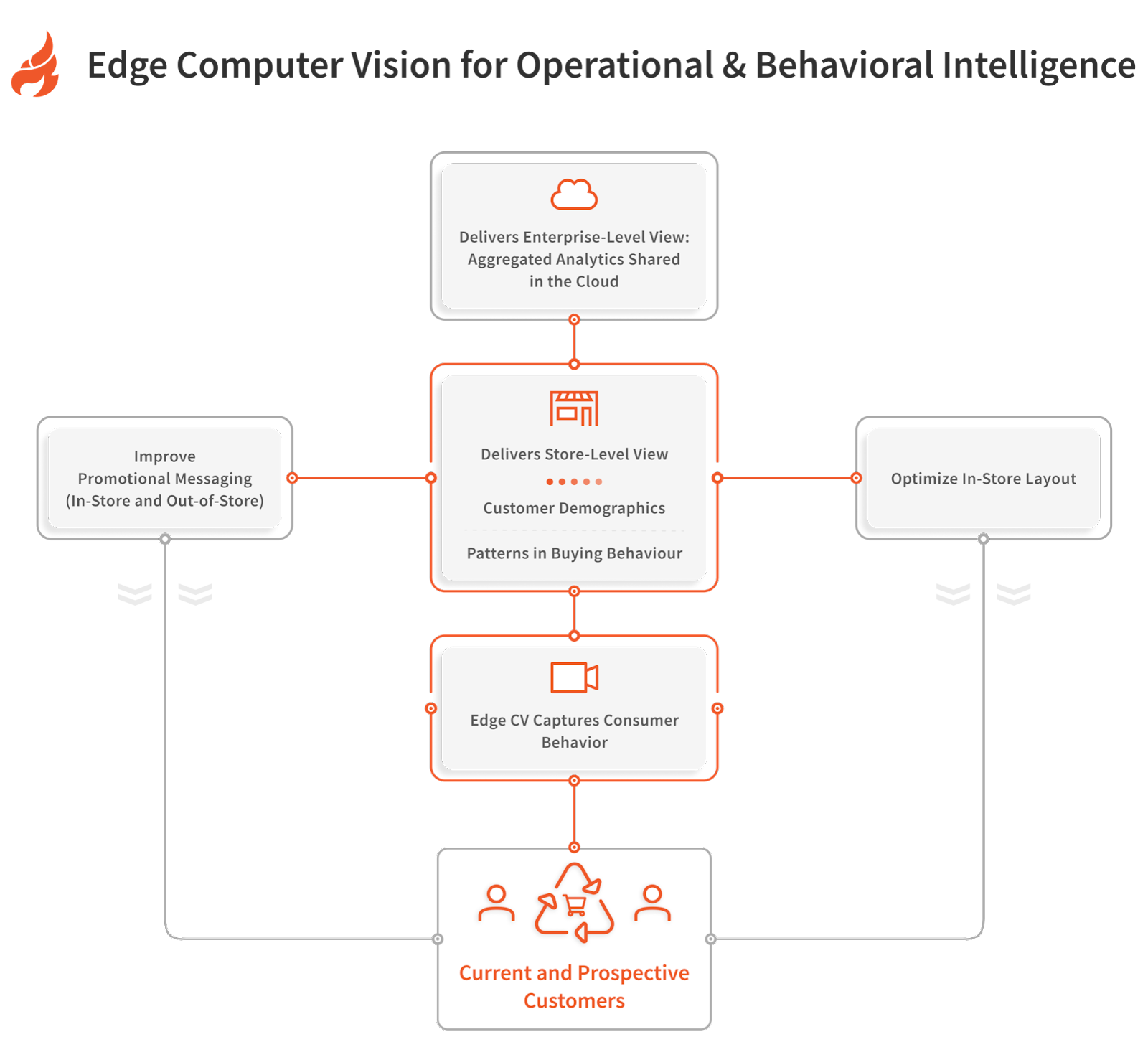 The Edge AI Architecture in our solution enables Automation Use Cases in Retail Stores. The use of edge AI is transforming the retail industry by advancing the digitalization of physical stores through the monitoring, analysis, and tracking of store activity using various IoT and endpoint technologies. Edge AI is preferred in retail automation as it enables real-time decision making, reducing network traffic and cloud infrastructure costs.
The solution leverages IoT, computer vision, and real-time analytics along with AI to provide various use cases for store automation, such as customer check-out, store cleaning, real-time inventory management, stock audit/replenishment, dynamic pricing management, and product locationing for e-commerce order fulfillment. These use cases provide real-time store intelligence, resulting in operational efficiency and visibility.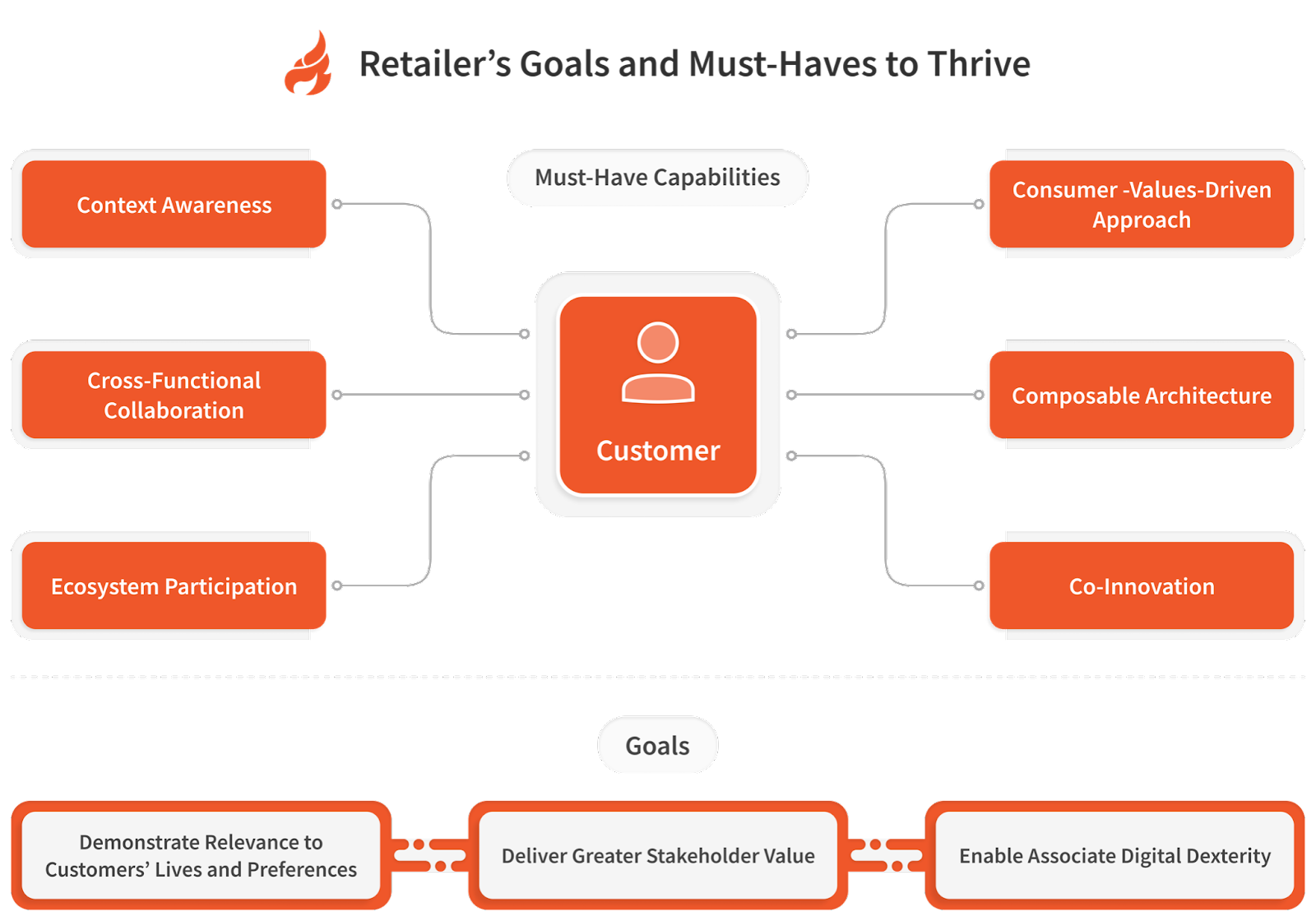 Fraud Detection in Online Retail
"iFSAR™" (Intelligent Fraud Shield Automation in Retail) is an AI-powered solution for fraud detection in the online retail industry that utilizes advanced machine learning algorithms, including supervised, unsupervised, and semisupervised models, as well as the ensemble approach. This approach combines the outputs of multiple models to provide a final output in the form of a risk score or accept/reject decision.
The data used to train iFSAR™'s machine learning models can be retailer-specific, industry-specific, region-specific, or universal, drawing from all retailers using the solution. This flexibility allows for the creation of tailored models that best suit the needs of individual retailers.
iFSAR™ places a strong emphasis on transparency and understanding in its decision-making process. It offers a visualization of the metadata accompanying its decisions, providing insight into the reasoning behind each outcome. This approach allows for performance analysis and confidence in the solution's output without revealing the technical details of how the decision was made.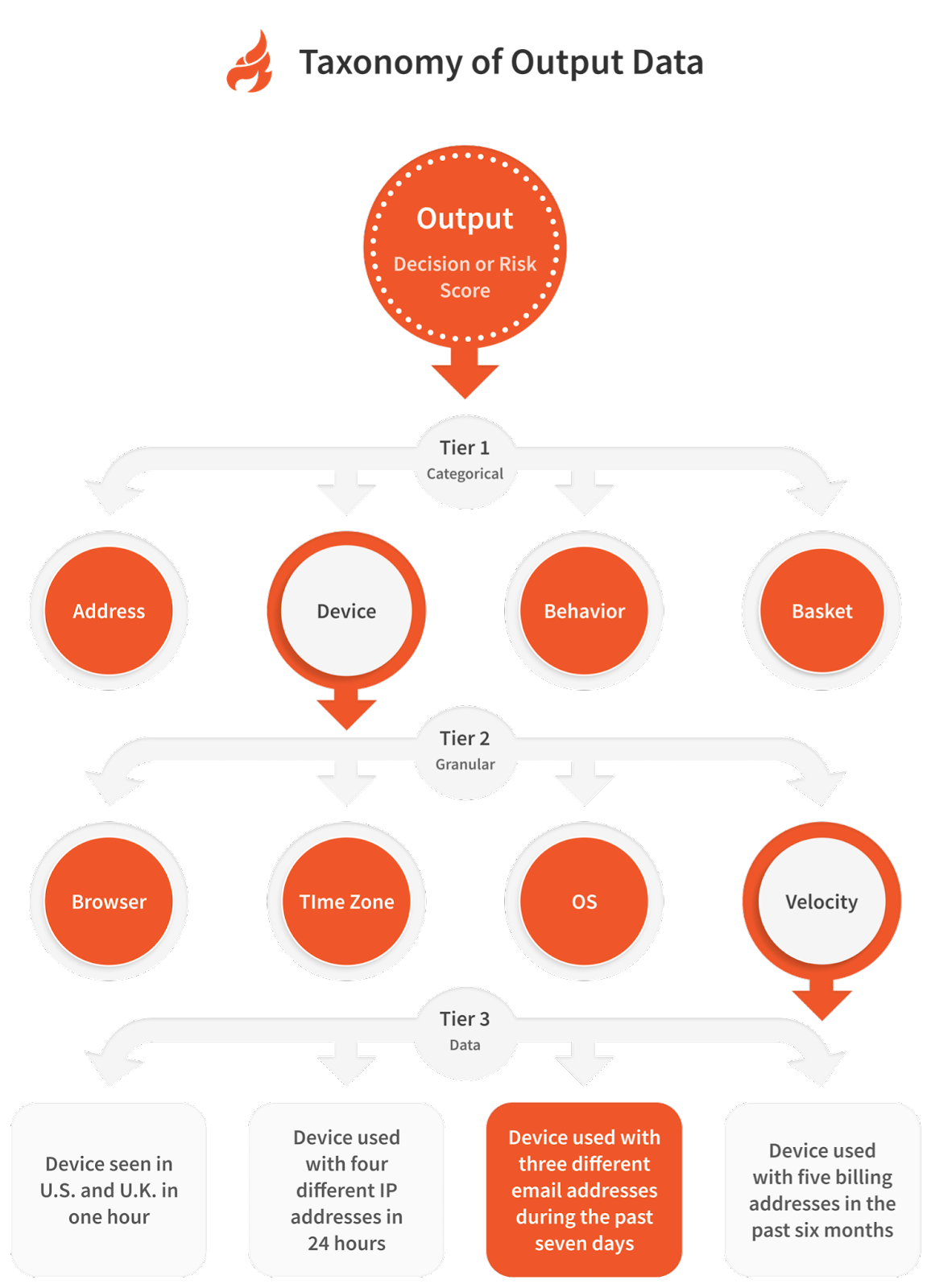 The system's transparency and ability to use retailer-specific, industry-specific, region-specific, or universal data sets make iFSAR™ a versatile and effective tool for online fraud detection in the retail industry. Its advanced machine learning algorithms and ensemble approach, combined with a focus on transparency, make iFSAR™ a comprehensive solution for security and risk management leaders."
iFSAR™ is a fraud detection solution that offers transparency and metadata visualization to understand the decision-making process of the machine learning models. It offers a stepwise approach to integrating machine learning into fraud management operations, starting with augmenting existing rule-based systems with the outputs from machine learning models. As confidence in the models grows, rules can be reduced and machine learning outputs can drive the decision-making process. If the vendor offers the ability for machine learning models to suggest rules, then manual effort can be reduced. In the long term, increased automation using machine learning algorithms is likely to result in operational cost reductions. iFSAR™ works in a balanced approach to maximize revenue, minimize fraud losses, and consider operational costs, not completely replacing all fraud detection rules with machine learning.
Smart Robots in Retail
Introducing RoboRetail - the intelligent retail solution powered by AI. At the core of RoboRetail lies cutting-edge computer vision and advanced machine learning algorithms, designed to bring your retail operations to the next level. RoboRetail™ is a unified robotics framework for smart robots in the retail sector. It offers a centralized platform that enables retailers to manage the deployment and interaction of multiple robots, ensuring increased efficiency, accuracy, and safety in their operations. The framework covers various use cases such as promotion compliance, price checks, inventory audit, low and/or no stock detection, directive action, notifications, analytics, cleaning, picking, greeting, wayfinding, Q&A, UV sanitization, in-store mapping, and much more. RoboRetail™ combines the power of computer vision and advanced ML algorithms to bring retailers an intelligent solution that streamlines their operations, reduces manual effort, and improves customer experience. With RoboRetail™, retailers can make the most out of their technology investments while ensuring compliance and safety, ultimately driving their business growth. Here is a brief introduction for each of the RoboRetail™ use cases:
Promotion Compliance
Ensure that in-store promotions are displayed accurately and effectively with RoboRetail™, improving the customer experience and maximizing sales.
Price Checks
Ensure that all prices are up-to-date and accurate with RoboRetail™, reducing the risk of overcharging customers and improving trust in the brand.
Inventory Audit
Stay on top of your in-store inventory with RoboRetail™, reducing the risk of stockouts and increasing operational efficiency.
Low and/or No Stock Detection
Get real-time notifications when certain items are running low or out of stock, allowing you to quickly replenish your inventory and avoid lost sales.
Directive Action
RoboRetail™ allows you to quickly and easily execute in-store directives, such as restocking shelves, cleaning, and more.
Notifications
Stay informed with real-time notifications from RoboRetail™, giving you up-to-the-minute information on in-store activity and performance.
Analytics
Gain valuable insights into in-store performance and customer behavior with RoboRetail™, allowing you to make informed decisions and drive growth.
Cleaning
Keep your store clean and presentable with RoboRetail™, improving the customer experience and creating a more inviting atmosphere.
Picking
Streamline your in-store picking process with RoboRetail™, reducing errors and increasing operational efficiency.
Greeting
RoboRetail™ can greet customers as they enter the store, creating a welcoming atmosphere and improving the overall customer experience.
Wayfinding
Help customers quickly find what they're looking for with RoboRetail™, improving the shopping experience and reducing frustration.
Q&A
RoboRetail™ can answer frequently asked customer questions, freeing up staff time and improving the overall shopping experience.
UV Sanitization
Keep your store clean and safe with RoboRetail™'s UV sanitization capabilities, reducing the risk of germs and ensuring a healthy shopping environment.
In-Store Mapping
Create detailed in-store maps with RoboRetail™, improving navigation and reducing the risk of lost items.
RoboRetail™ provides retailers with a comprehensive solution for integrating robots into their operations. Through centralized management and support for multiple different protocols, such as Robotics Industry Association (RIA) protocol, Modbus, EtherCAT, CANbus ROS OPC UA and TCP/IP RoboRetail ensures that any kind of robot from any vendor can be seamlessly integrated to propel businesses towards greater accuracy efficiency and safety than ever before. With the flexibility offered by its wide range of compatible standards - retailers have never been better equipped to take advantage of robotic solutions today!
Intelligent Virtual Store Design
Introducing Intelligent Virtual Store Design - IVSD, the revolutionary solution from Allerin. Say goodbye to outdated and ineffective store planning methods and hello to smarter, customer-centric strategies. Our IVSD solution leverages cutting-edge digital technologies to enhance the planning and execution of store-specific assortments, making it easier to fulfill online orders from your stores. With IVSD, you'll have the tools to build collaborative modules that drive your digital business transformation and stay ahead of the competition. And that's not all - we'll also help you assess the frequency of change in your planogram resets to identify any missed opportunities and analyze gaps in your current category management process to stay ahead of the game. Upgrade your in-store merchandising with Allerin's Intelligent Virtual Store Design - IVSD.
At Allerin, we recognize how digital technology is revolutionizing the retail industry and strive to keep up with these ever-changing times. To do this, we developed Advanced Space Planning Applications tailored to maximize processes for Tier 1 & 2 retailers - a complete system that can optimize store layouts, inventory management while improving customer experience. Our one-stop solution gives you all the tools necessary so your business stays ahead of the competition!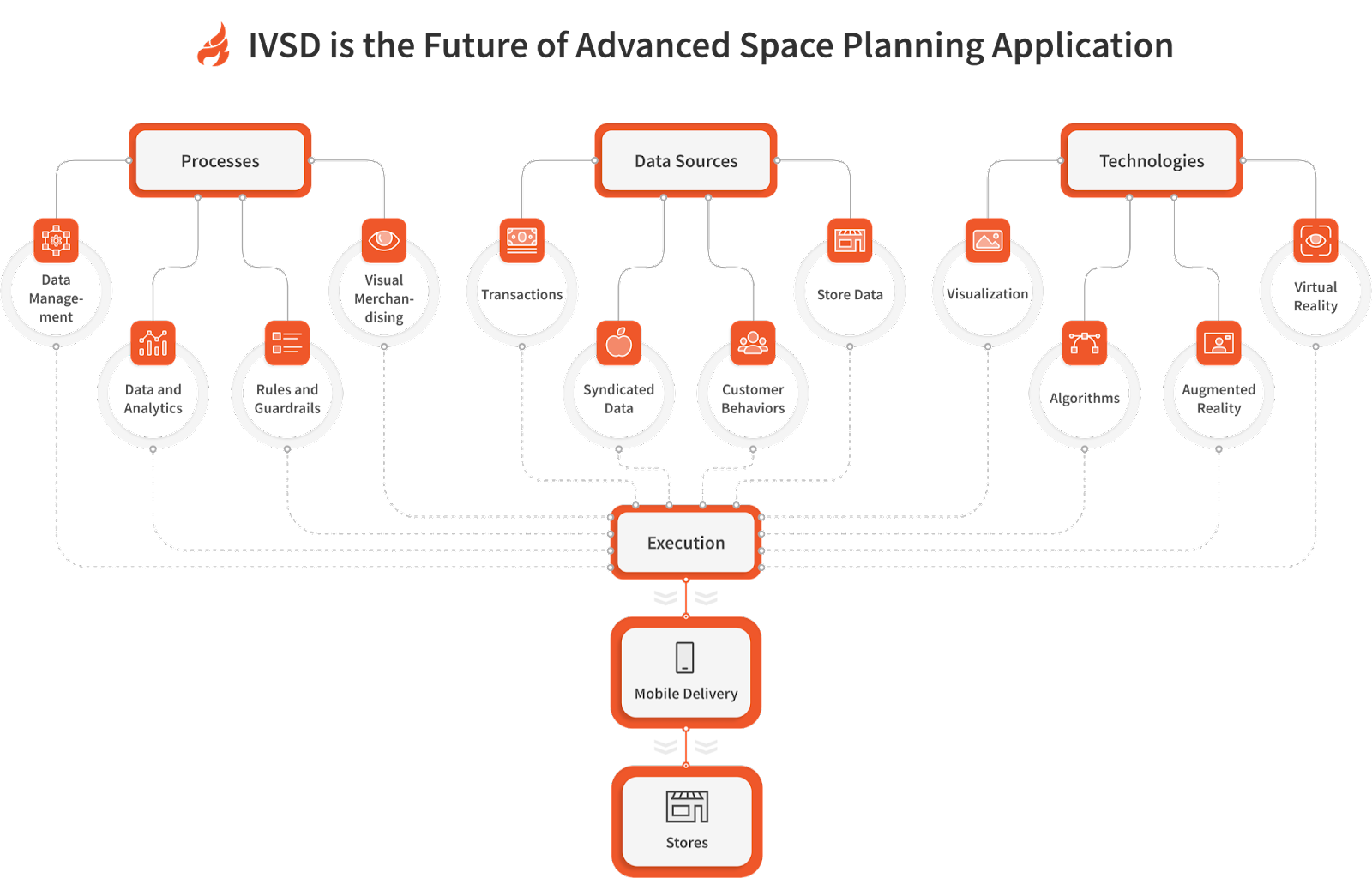 Discover the future of category management with Allerin's IVSD. Our solution leverages the power of big data, robotic process automation (RPA), intelligent automation services (IASs), machine learning (ML), and artificial intelligence (AI) to optimize in-store assortments for each individual store's customers. Say goodbye to the one-size-fits-all approach to category management and hello to personalized and data-driven solutions. With our IVSD, the impact of digital channels on store fulfillment and execution is also taken into consideration.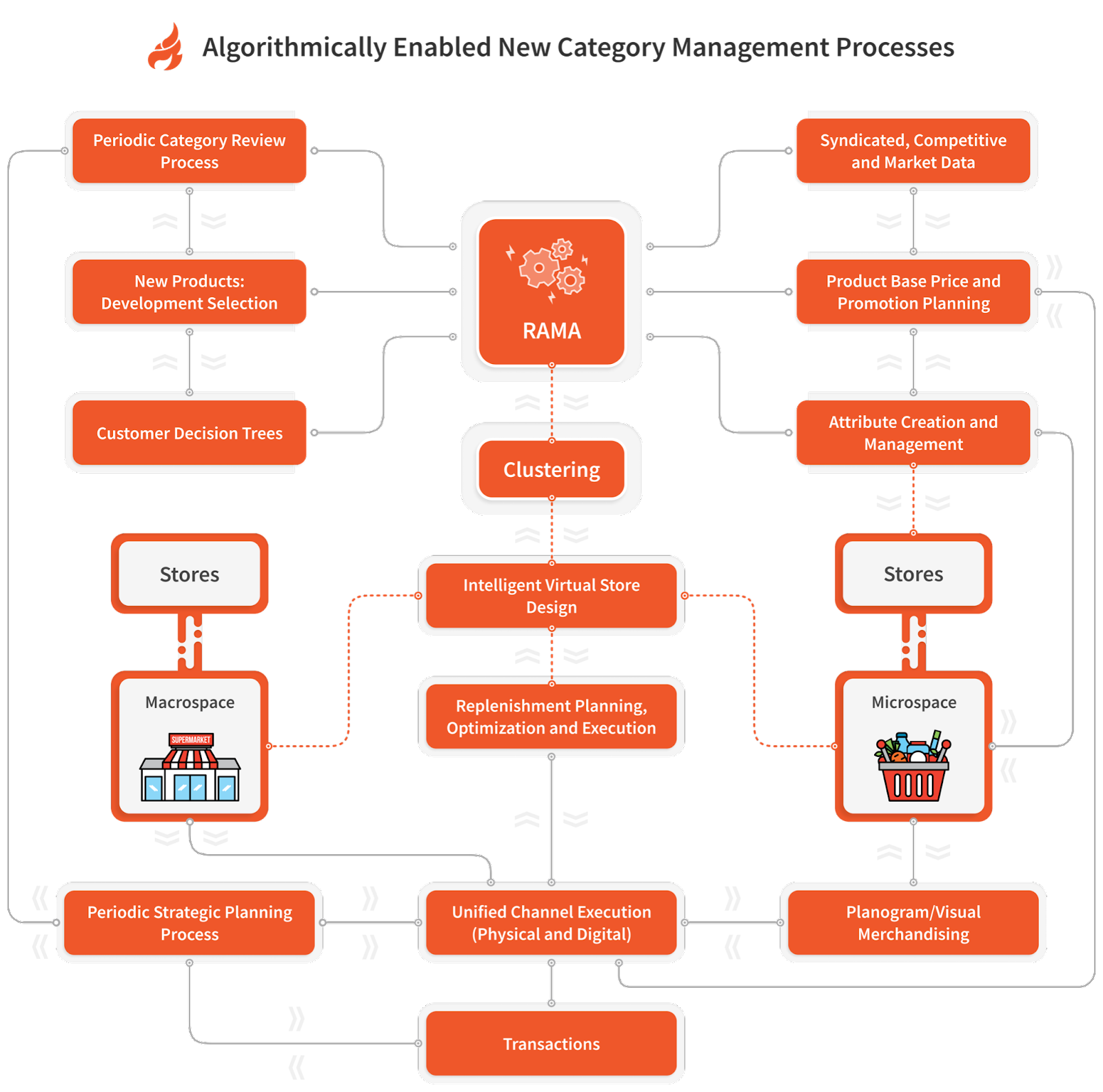 Our solution brings a fresh perspective to the category management process and integrates space planning into the broader merchandising ecosystem. Stay ahead of the game and revolutionize the way you approach category management with Allerin's IVSD.
Automation for Fashion Retailers
Allerin understands the challenges facing fashion retailers in today's market. With the rise of technology, customers now expect a more personalized shopping experience, and retailers are seeking ways to increase profitability and customer retention.
To address these challenges, Allerin's Emerging Fashion Tech (ALLEFT) is an innovative solution designed specifically for the fashion retail industry. ALLEFT solution leverages the latest technology to optimize assortments for greater accuracy in touchless personalization, reducing waste and returns.
ALLEFT enables retailers to define the best approach to deliver touchless best-fit technology. ALLEFT integrates with several key applications such as CRM, ERP, PLM, RAMAs and design and personalization platforms to maximize benefits and ensure a seamless customer experience.
ALLEFT also assists in reducing oversupplied designs and body shapes through the use of customer data. This approach helps product teams and buyers eliminate waste and target new designs for underserved body types.
Finally, ALLEFT enable retailers to collaborate with suppliers and manufacturers to incorporate customer insights into the production and manufacturing process. This helps to eradicate sizing discrepancies and ensures the final product is a success with customers.
We believe that by combining our expertise with the latest technology, we can help fashion retailers achieve their goals and offer customers a personalized shopping experience they will love.
ALLEFT Best Fit Approach
ALLEFT revolutionizes the shopping experience with its Best-fit approach, replacing traditional size estimation methods. Using a blend of innovative technologies like augmented reality (AR), virtual reality (VR), IoT, mixed reality (MR) and AI - along with our mobile & computer vision capabilities - customers can now accurately assess their outfit sizes for an informed buying decision guaranteed to be spot on!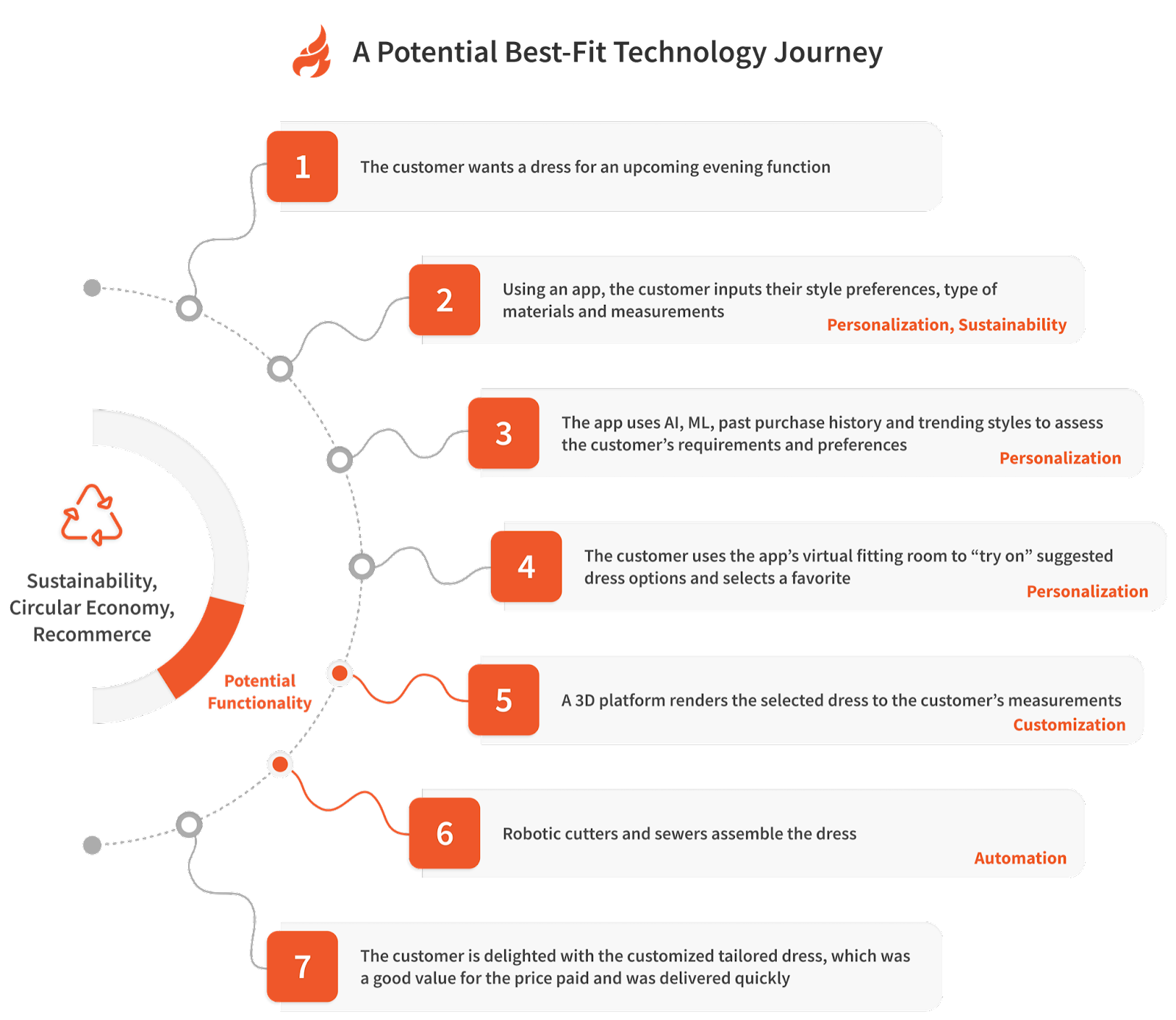 Our AI-driven size advisors offer personalized sizing advice tailored to the individual based on their height, weight, age and body shape. With this feature you can find just the right fit for your favorite brands with a simple widget or through our exclusive mobile app - meaning finding that perfect match is never more than an arm's reach away!
Our AI-driven size advisors offer personalized sizing advice tailored to the individual based on their height, weight, age and body shape. With this feature you can find just the right fit for your favorite brands with a simple widget or through our exclusive mobile app - meaning finding that perfect match is never more than an arm's reach away!
Benefits and Uses
Our emerging fashion tech solution offers innovative ways to optimize your business and enhance your customers' shopping experience. Let's take a look at how ALLEFT can benefit you and revolutionize your fashion retail business:
Say Goodbye to Returns
With return rates as high as 30-40% for online purchases, returns are a major headache for fashion retailers. ALLEFT provides more accurate sizing information based on each customer's body shape, reducing the likelihood of returns and improving customer loyalty and profitability.
Sustainable Solutions
Consumers are more aware of sustainability and waste reduction. The fashion industry alone accounts for 10% of global carbon dioxide output. ALLEFT helps reduce waste and the carbon footprint by addressing the issue of sizing inaccuracies, leading to reduced returns and stock write-offs, and optimized assortments.
Optimize Your Assortments
ALLEFT uses customer insights to optimize your product assortments in the pre-production phase. Our AI algorithms help you analyze customer body shapes and preferences, enabling you to curate precise collections that align with customer profiles and maximize revenue growth.
Personalized and Customized Offerings
Today's customers expect deeper personalization in their shopping experience. ALLEFT leverages AI and automation to deliver custom garments based on each customer's data, preferences, and requirements, giving you the opportunity to offer unique, personalized experiences.
Increased Conversion and Loyalty
ALLEFT helps fashion retailers to increase their conversion rates and average order value (AOV) by providing personalized and meaningful sizing information based on the consumer's body shape and size. By giving consumers the ability to make informed purchasing decisions, they are more likely to revisit websites, view more products or styles, and spend more in the process, leading to greater customer loyalty and profitability.
Accurate Manufacturing
ALLEFT's reliable body measurements and 3D data analysis helps retailers and manufacturers to optimize product selection and avoid waste. By improving the product selection process, retailers can collaborate with manufacturers to avoid overproducing for certain body shapes and optimize production for previously underserved body shapes.
Intelligent Retail Automation and Management
iRAM™, or the Intelligent Retail Automation and Management solution, leverages cutting-edge technology such as computer vision, smart sensors, and advanced machine learning algorithms to revolutionize the retail industry. It streamlines processes, provides actionable insights, and elevates customer experiences, allowing retailers to stay ahead of the game in an ever-changing market.
Associate Hiring and Training
Gone are the days of dull, unengaging training sessions. With iRAM™'s Associate Hiring and Training feature, your associates will experience interactive and immersive augmented, virtual, and mixed reality environments, making the learning process both enjoyable and effective. Say goodbye to boring training manuals and hello to a dynamic and interactive training experience that will set your associates up for success.
The benefits of incorporating iRAM™'s Associate Hiring and Training feature into your retail operation are numerous. Not only will you be able to attract and retain top talent, but you will also be able to train your associates more efficiently and effectively, leading to increased productivity and improved customer service. By using cutting-edge technology to enhance your associate recruiting and training process, you will set your retail operation apart and stay ahead of the competition.
Associate Scheduling
With iRAM's™ revolutionary Associate Scheduling feature, retail stores can now maximize efficiency while providing their customers with better service! Automated AI algorithms take into account the unique needs of your staff to create a comprehensive and predictive scheduling process. This tool ensures that all associates have access to necessary resources in order for them to fulfill customer requests quickly and accurately - which translates into higher satisfaction ratings, greater sales potentials, and an overall more productive workforce. Put simply: this technology makes retails operations simpler than ever before!
Assortment Management and Optimization
Assortment Management and Optimization" feature of iRAM™ is designed to help you make data-driven decisions that increase sales and improve customer satisfaction. With this feature, you'll be able to leverage cutting-edge AI technology to analyze a range of data sources, including multichannel transactions, CRM data, competitor information, and even social media trends, to determine which items to stock, substitute, or delete. The result? A smarter, more optimized product assortment that maximizes sales and margins while keeping your customers happy.
Autonomous Delivery
Attention all retail tech leaders! Introducing the exciting new feature of iRAM™: Autonomous Delivery. With the rise of drone and robot technology, we at iRAM™ are ahead of the game in offering a seamless and cost-effective autonomous delivery solution. No longer do you have to worry about the hassle of manual deliveries or the added costs that come with it. With our autonomous delivery feature, customers can experience a touch-free interface while retailers benefit from reduced costs and increased flexibility. With numerous drone and robot companies gaining operational licenses, now is the time to adopt this cutting-edge technology and set your business apart from the rest. Don't miss out on this opportunity to revolutionize the way you do business and join the iRAM™ revolution today!
Contextualized, Real-Time Pricing
At iRAM™, we believe that personalized experiences are the key to success in retail. That's why our "Contextualized, Real-Time Pricing" feature is designed to take real-time pricing to the next level. By leveraging the customer's mobile device and advanced technologies such as computer vision and machine learning algorithms, we are able to adjust item pricing for each customer in real time, based on a variety of factors including competitive pricing, promotional cadence, and customer loyalty.
iRAM™ collects data from the customer's device and combines it with data from other sources such as CRM, loyalty programs, and competitors. iRAM's ML algorithms then analyze this data in real-time to determine the most effective pricing strategy for each customer. This allows retailers to offer truly personalized pricing experiences, no matter where the customer is shopping - in-store, online, or through a mobile app.
By offering customized pricing based on each customer's unique needs and preferences, retailers can build stronger customer relationships and drive sales. By staying ahead of the competition with real-time pricing, retailers can increase their market share and grow their business.
Conversational Commerce
Conversational Commerce" feature - your ticket to effortless and natural communication with your customers. Our cutting-edge technology makes it possible to interact with people, brands or services through chat, messaging, and other natural language interfaces.
Imagine the convenience of being able to handle transactions through your customers' preferred platform - be it messaging, SMS, virtual personal assistant (VPA), social media, or even voice. With iRAM™, conversational commerce becomes a breeze, putting you ahead of the game in the retail industry.
By utilizing conversational commerce, you'll be able to build closer relationships with your customers, increase customer satisfaction, and ultimately drive more sales. Whether you're a small boutique store or a big box retailer, iRAM™ is the solution you need to take your customer engagement to the next level.
Demand Forecasting
Demand Forecasting feature is powered by AI that helps retailers to better predict sales and inventory requirements. iRAM™'s machine learning algorithms to analyze historical sales data, market trends, and other relevant information to give retailers an accurate outlook on their future demand. With iRAM™, retailers can have peace of mind knowing that they will have the right products in stock, at the right time, to meet the demands of their customers. By reducing stock shortages and overstocking, retailers can save money and increase efficiency, ultimately leading to increased profits and customer satisfaction. Demand Forecasting feature ensures that retailers have the information they need to make informed decisions and run their business with confidence.
Distributed Order Management
Distributed Order Management feature, designed to streamline and optimize the order fulfillment process. This innovative solution leverages cutting-edge technology to orchestrate the customer order process and ensure that target service levels are met in terms of fill rate, order accuracy, and on-time delivery - all at a cost-effective price point.
So, how does it work? Our Distributed Order Management technology integrates with your existing systems to gather real-time data on order and inventory levels across all channels. It then uses this information to make informed decisions on which fulfillment center or store location to source an order from, in order to minimize shipping time and costs. The result? Happy customers who receive their orders quickly and efficiently, leading to increased customer satisfaction and loyalty.
So if you're looking for a solution to take your order fulfillment process to the next level, iRAM™ is here to help. With our cutting-edge technology and human-like approach, you can be sure that your customers will be receiving the best shopping experience possible.
Freshness Management and Optimization
With the Freshness Management and Optimization feature, retailers have unprecedented insights into their fresh product inventory. Through real-time analysis of smart sensors, predictive algorithms, shelf life data and consumer demand information, this innovative solution helps maximize efficiency in rotating products on shelves to reduce waste while ensuring customers get only the freshest items available. It also offers valuable guidance to help retailer's refine their strategy for managing and optimizing fresh product quality - keeping shoppers satisfied with an excellent selection!
Go-Style Smart Check-Out
Introducing the amazing "Go-Style Smart Check-Out" feature of iRAM™! This cutting-edge technology combines computer vision, smart sensors and advanced machine learning algorithms to make your checkout process faster, smoother and more convenient than ever before. With iRAM™'s smart check-out, you can say goodbye to long wait times and long lines at the physical check-out lane.
The way it works is simple. When customers pick up products from the store, our system quickly recognizes what they have selected and tallies up the total cost. Our smart check-out then applies any loyalty or promotional benefits, decrements the inventory, identifies the customer and processes the payment, all in a matter of seconds!
The benefits of iRAM™'s smart check-out are many. Retailers can expect increased customer satisfaction, better inventory control and improved payment processing times. Plus, you'll be reducing the need for checkout staff, freeing up valuable resources and reducing operational costs. With iRAM™'s smart check-out, you can provide a seamless and efficient shopping experience that your customers will love. Get ready to revolutionize the retail industry with iRAM™!
In-Store Environmental Management
Our In-Store Environmental Management feature is designed to streamline and simplify your life. By utilizing cutting-edge technologies like IoT and machine learning algorithms, iRAM™ takes care of the day-to-day environmental management of your stores, so you don't have to.
With iRAM™, you can be sure that your store's environment is always at its best. Whether it's reducing wasted electricity, making sure your inventory stays safe, or alerting store associates to potential problems before they arise, iRAM™ has got you covered. Say goodbye to the headaches of in-store environmental management and hello to a more efficient and cost-effective way of running your retail business. Try iRAM™ today and see the difference for yourself!
In-Store On-Shelf Availability
Imagine having the power to identify out-of-stocks in real-time and having the recommendations for prioritized actions to fix them. With iRAM™, retailers can ensure a seamless shopping experience for customers by having the products they want readily available on the shelves. This not only improves customer satisfaction, but it alo helps to increase sales and boost profits for the retailers.
This feature leverages the power of technology to eliminate the guesswork, and streamline the in-store availability process, so that the retailers can focus on what really matters, providing an outstanding shopping experience to their customers.
Leveraging Smart Robots to Augment Humans
One of the key features of iRAM™ is "Leveraging Smart Robots to Augment Humans" – a technology that seamlessly integrates intelligent robots into retail operations. These smart robots are designed to work alongside human employees, learning and adapting in real-time to ensure maximum efficiency and accuracy.
With the ability to recognize environmental conditions, understand and solve problems, and even interact with customers using voice language, these smart robots are able to significantly augment the capabilities of human employees. Whether in warehouses, delivery services, or in-store, smart robots can handle complex and repetitive tasks, freeing up human workers to focus on more high-value tasks.
By leveraging the power of smart robots, retailers can improve their operations and increase efficiency, while still maintaining the personal touch that customers expect from brick and mortar businesses. Whether you're looking to reduce costs, increase productivity, or simply enhance the customer experience, iRAM™'s "Leveraging Smart Robots to Augment Humans" is an innovative and effective solution for modern retailers.
Mixed Reality Experiences
Our cutting-edge solution blends real-world environments with digital elements to create an immersive shopping journey for your customers. With mixed reality, you can bring your store to life with interactive displays and virtual try-on experiences that engage and excite customers.
Not only does mixed reality enhance the customer experience, it also provides valuable insights for retailers. By using advanced technologies such as AR and VR, you can track customer behavior and preferences in real-time, allowing you to make data-driven decisions to improve your sales and operations. The bottom line is that mixed reality experiences with iRAM™ drive customer engagement and help boost your bottom line. So why wait? Take your store to the future today with iRAM™!
Personalization
iRAM™ takes the shopping experience to a whole new level with its innovative Personalization feature - combining machine learning, big data analysis and customer behavior insights. It creates an individualized journey that caters precisely to each customer's wants and needs based on their past purchases as well as similar customers' trends.
By taking advantage of the Personalization feature, retailers can create a truly unique shopping experience for each customer. They are able to curate personalized promotions, product recommendations, and in-store experiences tailored specifically to individual customers, building satisfaction and encouraging loyalty that ultimately results in increased sales. This automated process will continually evolve along with changes in behavior or preferences so shoppers always remain engaged - keeping stores ahead of their competition by providing outstanding service every time!
Price, Promotion and Markdown Optimization
Say goodbye to manual price management and hello to smarter, data-driven decision-making with iRAM's Price, Promotion, and Markdown Optimization feature. Our cutting-edge technology uses predictive analytics and optimization capabilities to streamline your pricing strategy from start to finish. Whether you're setting initial prices, planning regular pricing, or marking down merchandise, our technology is here to help. With improved planning and management throughout the entire life cycle of your products, you'll be able to maximize profitability and make informed decisions that drive your business forward. Get ready to boost your bottom line with iRAM's Price, Promotion, and Markdown Optimization!
Product Selection, Development and Design
iRAM™'s "Product Selection, Development and Design" feature brings retailers the future of AI-driven product innovation. Our technology harnesses sophisticated voice recognition capabilities and natural language processing methods to understand customer wants - then rapidly turns those ideas into prototypes for testing in record time. This powerful combination eliminates obstacles between idea inception and store shelves with ease.
With iRAM™, businesses can dive deep into their customer data to understand exactly what they're looking for in a product. This allows companies to develop and design products that align with customers' preferences and needs - creating superior offerings which drive satisfaction up while also boosting sales potential. With the help of this powerful feature, it's never been easier or more efficient to create a customized lineup tailor-made just for you!
Product Sizing and Fit Assistance
Looking to make shopping a breeze for your customers? With iRAM™'s "Product Sizing and Fit Assistance" feature, finding the perfect size has never been easier! Our cutting-edge technology leverages AI to assist customers in making the most accurate size selection, leading to increased satisfaction and reduced return rates.
Our AI technology takes into consideration various factors such as customers' body measurements, preferences, and past purchase history to provide personalized sizing recommendations. With the help of our technology, your customers can shop with confidence, knowing they'll receive a product that fits them just right. This feature truly sets iRAM™ apart and makes it the ultimate retail automation and management solution on the market!
Social Media Monitoring/Sentiment Analysis
iRAM™, or the Intelligent Retail Automation and Management solution, brings the future of retail to your fingertips with its cutting-edge technology such as computer vision, smart sensors, and advanced machine learning algorithms. One of the amazing features of iRAM™ is "Social Media Monitoring/Sentiment Analysis."
With this feature, we harness the power of AI to keep a close eye on social media and understand what customers are saying about your brand. Our AI algorithms categorize the inputs and spot trends, providing valuable insights into customer opinions and preferences. By combining this information with other data sources, iRAM™ enables you to make informed decisions and stay ahead of the curve in the ever-evolving retail industry.
In a world where social media is king, this feature helps you stay on top of the latest customer sentiment and respond to their needs, ensuring that you are always delivering a top-notch customer experience.
Subscription Services
With iRAM™'s Subscription Automation, retail companies can give customers a unique and hassle-free shopping experience. Our AI Module uses advanced algorithms to understand customer behavior as well as their individual style preferences in order to create custom orders that precisely meet their needs. Thanks to our powerful dashboard analytics, retailers benefit from increased retention rates due to satisfied customers getting the products they desire exactly when they need them!
Metaverse/Immersive Experiences:
The "Metaverse/Immersive Experiences" feature of iRAM™ allows retailers to create a virtual shared space that combines both physical and digital realities. This feature is persistent and provides a truly immersive experience to customers. The virtual shared space uses advanced technology such as computer vision, smart sensors, and augmented reality. This feature of iRAM™ can revolutionize the retail industry by providing customers with an enhanced shopping experience that they have never experienced before. Retailers can provide customers with a virtual tour of their store, giving customers an idea of what to expect before they even visit the physical location. Additionally, customers will be able to interact with products in a way that is not possible in a physical store, providing them with a more hands-on experience that can help increase their satisfaction and likelihood of making a purchase.
Dynamic Pricing
Retailers everywhere can now access the transformational power of iRAM™ in order to maximize their profits. With Dynamic Pricing, intelligent algorithms and AI technology provide recommendations on optimal prices that take into account all aspects at play - demand, supply; promotion cadence; competitors' pricing strategies and even customers' behavioral profiles. Prices are not only adjusted in real-time but also respond dynamically to changing availability levels so retailers make sure they get the most out of every sale!
Understandably, retailers have been keen to take advantage of AI-driven Dynamic Pricing; this tool offers a clear opportunity for boosting profits while keeping up with rivals in the ever-shifting retail arena. By optimizing pricing strategies through artificial intelligence, businesses can gain an edge and maximize their success!
At-Home Replenishment as a Service
Looking to make shopping easier and more convenient for your customers? Our "At-Home Replenishment as a Service" feature is here to help! This cutting-edge solution leverages AI technology to predict demand and ensure the profitability of at-home replenishment models. By linking with smart appliances and providing access to the home through security systems or services, we can help streamline the process and make sure that your customers never run out of the products they need.
With this feature, retailers can extend their demand forecasting and replenishment systems to include at-home stocking locations, giving customers the ultimate in convenience and peace of mind. So why not take your retail business to the next level with this innovative solution today?
Product Selection Development and Design
iRAM™'s innovative Product Selection Development and Design feature harnesses the power of Artificial Intelligence (AI) to deliver retailers a powerful advantage: agility in selecting, designing, and developing products that meet customer expectations as well as sustainability goals. Utilizing state-of-the-art technology such as voice recognition, natural language processing, and digital prototyping capabilities along with life cycle development techniques - AI algorithms can generate insights from customer trends which leads to revolutionary rapid prototyping for maximum profits while striving for sustainable objectives all at once!
Live Commerce
iRAM™'s remarkable Live Commerce feature is transforming the way retailers and customers interact! Through this innovative technology, businesses are now able to showcase their products or services in real-time from afar. By enabling stores to provide interactive live demonstrations of what they offer, customer trust increases as shoppers can evaluate each retailer's authenticity for themselves before making a purchase - revolutionizing shopping experiences one conversation at a time!
Live Commerce brings shopping to a new level, taking the customer experience beyond traditional boundaries. By using futuristic video technology, retailers around the globe can connect with customers in real time—allowing them to watch live product demonstrations and interact directly through conversation or questions. This revolutionary approach allows businesses to showcase their products and services on an engaging platform that boosts sales conversions while widening their reach of potential buyers.
Leveraging the power of "Live Commerce" with iRAM™ can give retailers a major boost in multiple areas. Not only will it help them build trust and brand recognition, but their reach to potential consumers on any platform will increase substantially! With its combination of advanced technology and ease-of-use convenience, businesses both large and small are sure to find success using this innovative feature for connecting customers quickly and confidently - no matter where they may be located!
Upsell/Cross-Sell
Introducing the "Upsell/Cross-Sell" feature from iRAM™! This powerful tool is designed to help retailers maximize their sales and revenue by leveraging the power of AI to suggest additional products and upgrades to customers during their shopping experience. With the use of advanced algorithms and machine learning, this feature is able to analyze customer behavior and suggest items that complement their current purchase, encouraging them to spend more and increase overall revenue for the retailer. The benefits of this feature are clear - not only does it help drive sales and increase revenue, it also enhances the overall customer experience by providing personalized and relevant product suggestions. Make the most of your sales with the Upsell/Cross-Sell feature from iRAM™!