Overview
At Allerin, we strive to empower businesses in the manufacturing industry with the power of technology - crafting tailored solutions and frameworks that drive digital transformation. Our cross-industry expertise enables us to provide a comprehensive solution fit for each company's unique needs, from maximizing operational efficiency to unlocking sources of innovation and growth potential. Through our cutting-edge IT solutions, companies can unlock their full business potential!

Our manufacturing solutions feature five levels of digitalization maturity, including Asset-Focused, Process-Focused, Service-Focused, Value-Focused, and Invention-Focused. Our solutions are designed to meet the unique needs of each manufacturing company and provide a clear path to progress from one level of maturity to the next. Our offerings also include best practices, methodologies, and technology components proven to work in the industry.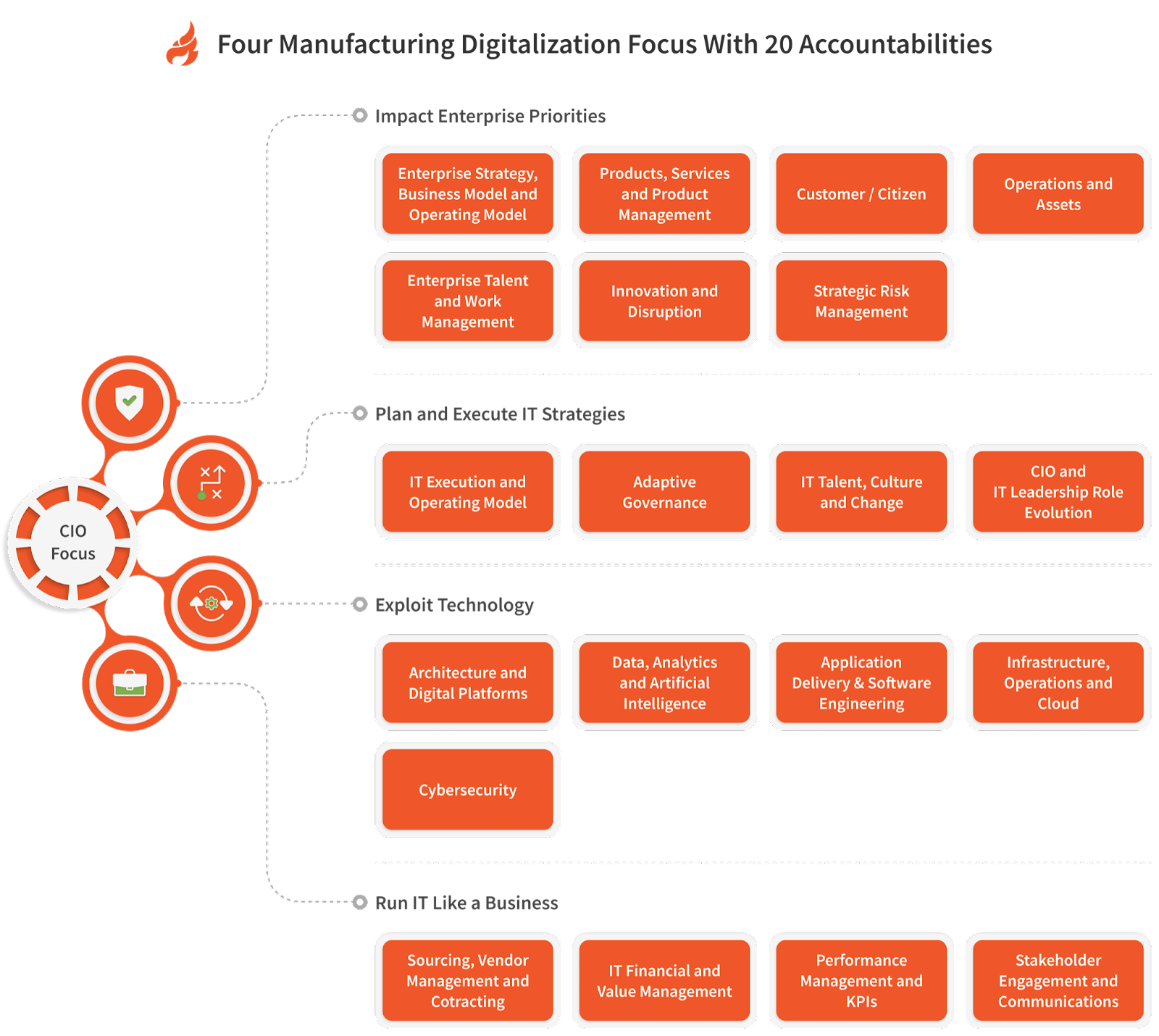 At Allerin, we understand the unique challenges facing the manufacturing industry and the importance of staying ahead of the curve. That's why we offer innovative solutions designed to help manufacturing leaders leverage information and technology for business success. Our solutions are tailored to meet the specific needs of each company and provide a clear path to progress from one level of maturity to the next.

With our five levels of digitalization maturity, including Asset-Focused, Process-Focused, Service-Focused, Value-Focused, and Invention-Focused, you can be confident that our solutions will provide the competitive edge you need to succeed. Our solutions are designed to streamline processes, increase operational efficiency, and improve service quality, allowing you to focus on what really matters - driving growth and innovation.
Allerin's Manufacturing Data and Analytics Suite (MDAS)
Allerin's MDAS is powering the evolution of manufacturing, transforming it into a modern digital powerhouse. With an advanced data management framework tailored to meet every need, manufacturers have access to groundbreaking opportunities that maximize their potential and keep them ahead in our rapidly-evolving industry. Embrace change with Allerin's Manufacturing Data and Analytics Suite–your success awaits!

With Allerin's MDAS, manufacturers can power their data-driven initiatives by uniting business units for digital transformation. Our composable solution makes it simple to swiftly benefit from advanced technologies such as metadata management, graph technology, API, and event management alongside adaptive data governance & agile DataOps. Manufacturers can maximize efficiency while ensuring their valuable information is secure!

With MDAS, manufacturers can get ahead of the competition and stay there - accessing real-time insights, automating processes with AI capabilities, and unlocking the potential for powerful data science tools. All this means staying agile in an ever-evolving landscape by democratizing complex operations like processing large volumes of information or embracing new technologies.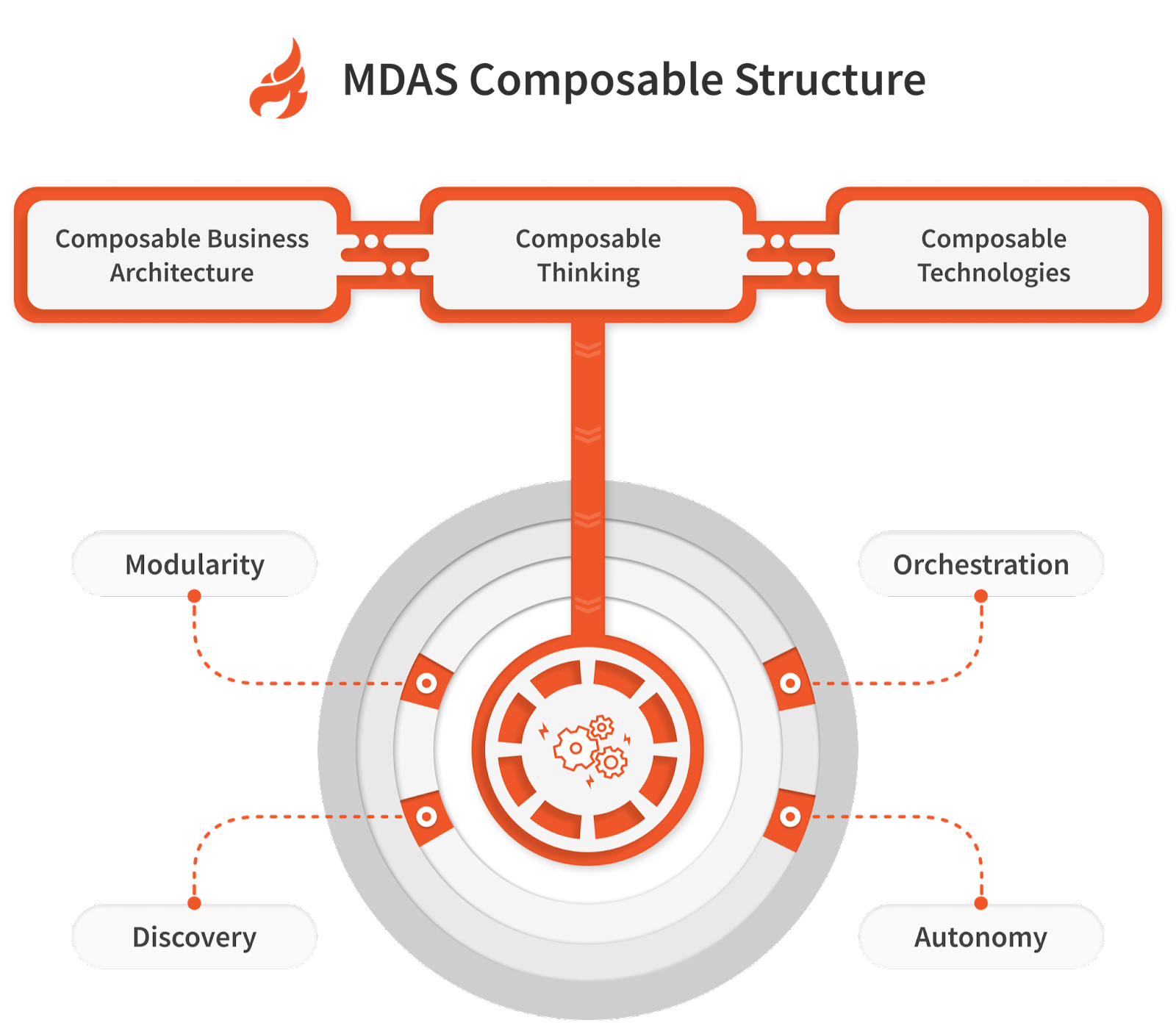 Unlock the full potential of your manufacturing operations with Allerin's MDAS! With this innovative solution, you can keep up with ever-changing market conditions and stay ahead of new regulations. Integrations for IoT in machines give you a bird's eye view on asset management from anywhere at any time - not to mention real-time fraud detection giving an extra level of security. And when it comes to planning? No problem! Develop digital twins for capacity planning as well as predictive maintenance so that whatever challenges come your way, you're always prepared!
MDAS Packaged Business Capabilities (PBC)
Manufacturing businesses can now quickly and easily manage their operations with MDAS Packaged Business Capabilities (PBCs). These pre-built software components offer a comprehensive view of specific business capabilities, enabling users to select only what they need without any complex development work or system integration. With PBC, it's never been easier for companies to rapidly see results - transforming the industry in one decisive leap forward!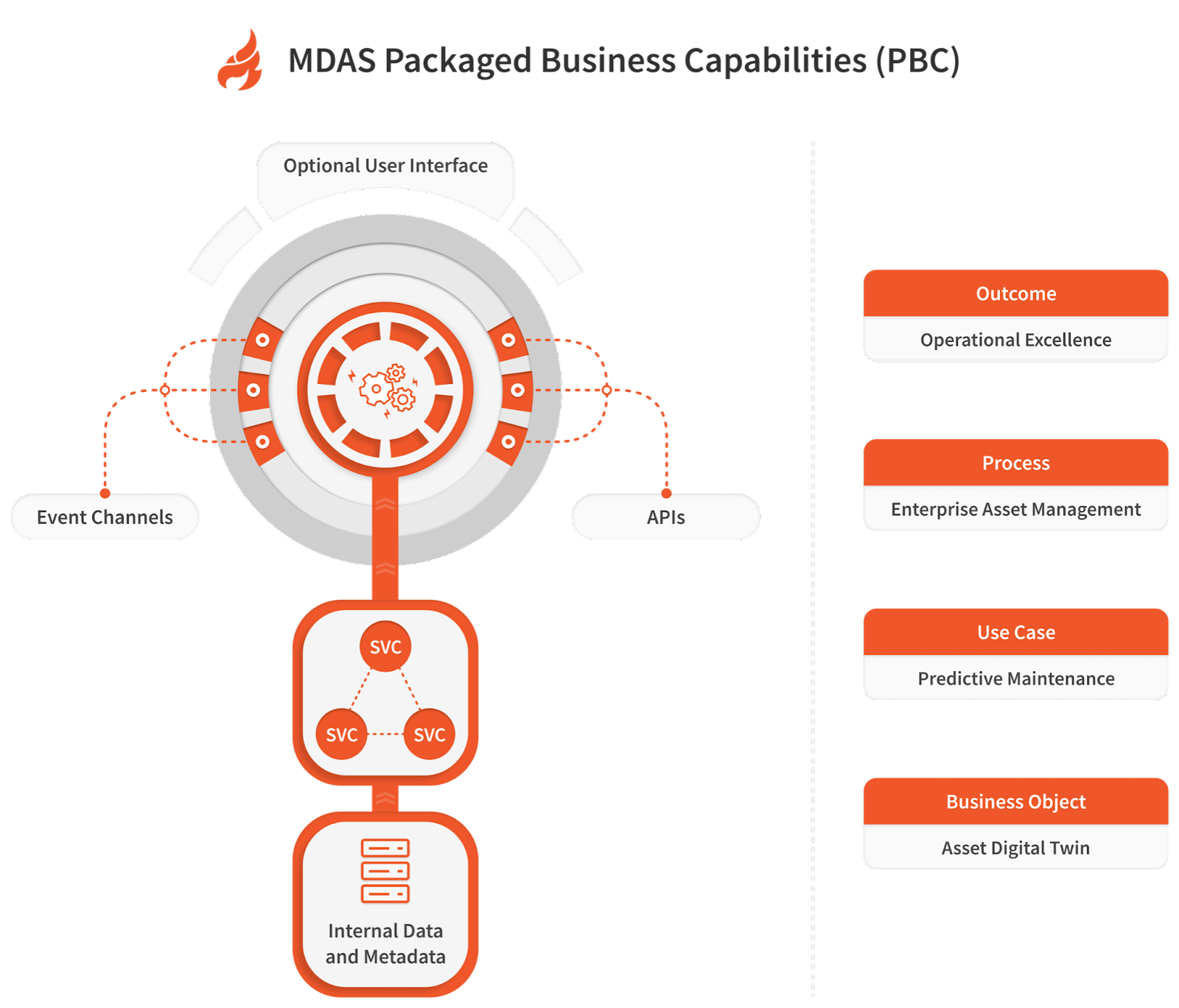 With PBC, streamlining your technology landscape and unlocking the power of data has never been easier. Forget about complex software development - let Allerin take care of it for you! You'll be able to start benefitting from improved data management, enhanced analytics and a more efficient overall operation in no time. Reduce risk while saving valuable time with faster implementation timescale, lower total cost ownership and reduced resource needs when selecting MDAS Packaged Business Capabilities as your digital solution provider. Don't just dream up what could be; make it happen now with PBC's sleek solutions!
Composability in General Includes Data and Analytics Services
MDAS is a revolutionary solution that empowers manufacturers to unlock the full potential of their data. It's incomparable composability allows it to be easily integrated with existing systems and processes, giving businesses unmatched flexibility for quick adaptation when needed. With MDAS you get access to powerful features like predictive analytics, real-time insights, and advanced data management capabilities - meaning enterprise growth has never been so easy!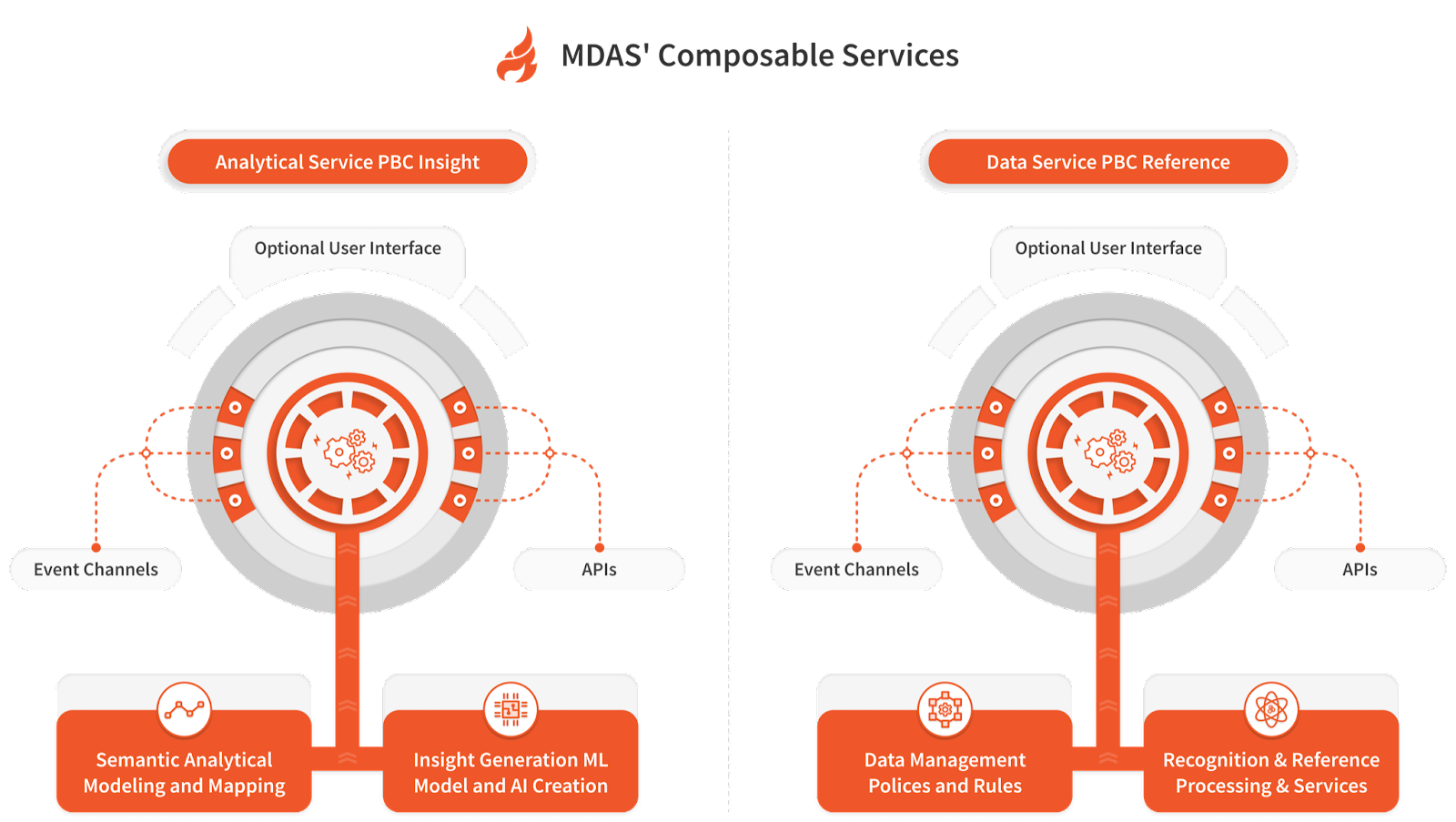 MDAS' composable services allow you to tailor your solution just the way you need, while also ensuring that all elements work in perfect harmony. Save time and effort without compromising accuracy - so no matter what obstacle or challenge lies ahead of you, MDAS is here to supercharge your success!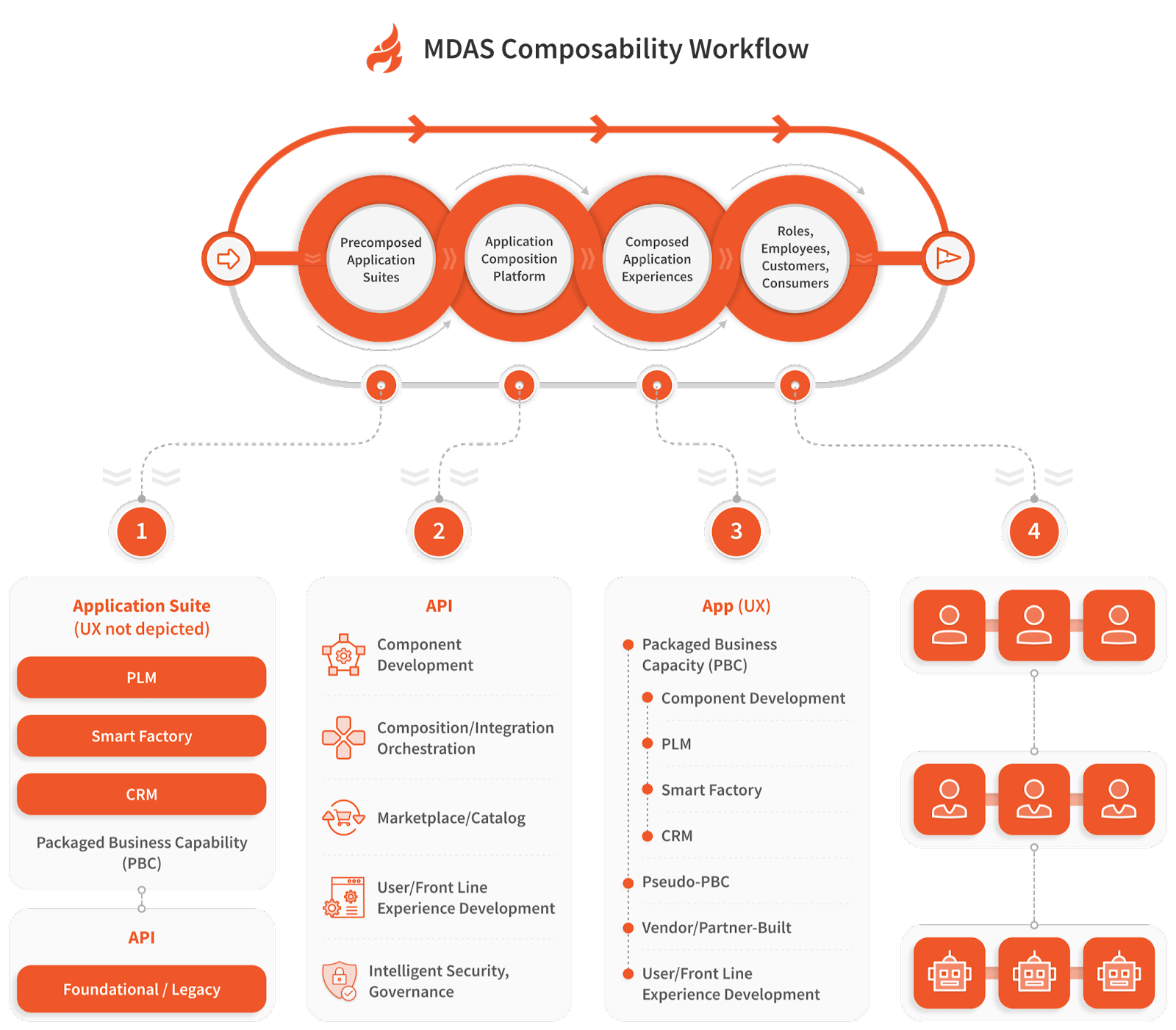 Our MDAS Precomposed application suites have been built around solution-specific designs, representing product and portfolio silos, making it easy to customize and optimize as per your needs. The real power of MDAS lies in its composability. With the ability to assess and analyze data across the user environment, including the wider ecosystem, and connect through open technology interfaces, MDAS delivers real-time insights that can drive success. Whether it's employees, customers, or consumers, our solution is designed to empower all users to utilize the outcomes of the packed business capabilities in their day-to-day activities, even if they are front-line and don't have major technical expertise. With MDAS, you can collaborate between different priority levels within your environment, including partner APIs or customers, and enjoy seamless data orchestration and exchange, linked to real-time events and requirements generated from data assessments.
Analytics Function
MDAS Analytics Function is a critical component of our solution that helps manufacturers unlock the full potential of their data. Our analytics function has several tiers of capabilities that serve different purposes and use cases, delivering meaningful insights and results to end-users. The information portal provides structured reports and dashboards that give a clear picture of the data, while the data science lab explores correlations and patterns, developing predictive and prescriptive models that can drive strategic decision making.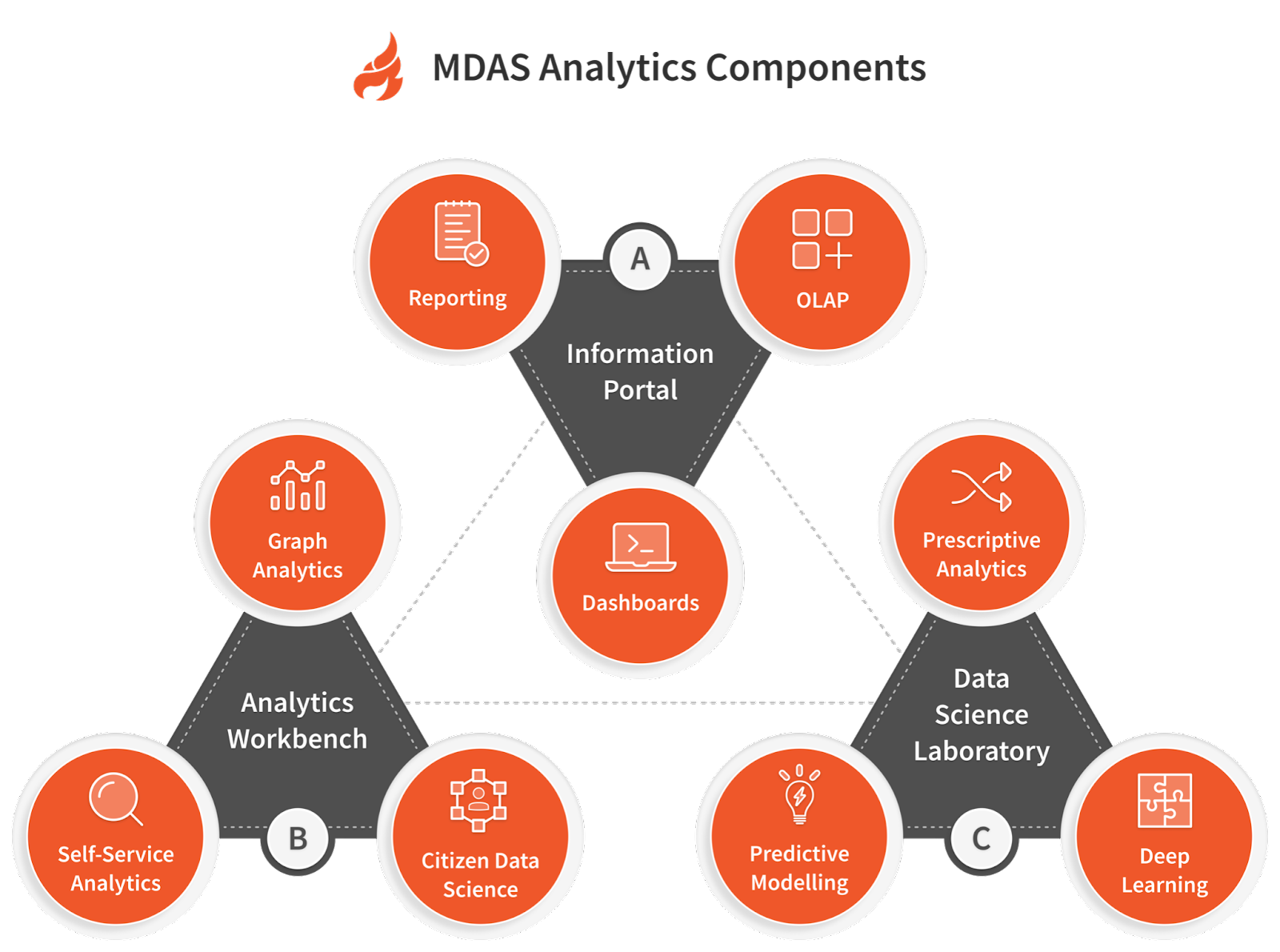 Allerin knows that knowledge is power and our MDAS analytics function can give you the advantage. Get easy access to everything from simple reports all the way up to complex predictive models, so you're always in-the-know when it comes time for big decisions. Tap into a powerful pool of data with Allerin's flexible solution - stay ahead of your competitors while innovating swiftly towards success!

At Allerin, we know the key to success lies in making informed decisions. That's why our MDAS analytics function is like a master-key - unlocking crucial insights from data and allowing businesses transform these into valuable opportunities for growth and innovation. By leveraging the power of this technology today, you can stay ahead of trends tomorrow!

MDAS analytics function leverages the vast amounts of data generated throughout the manufacturing process, including data on resource utilization, machine and tool operations, procurement contracts, bill of materials, and the finished product. This data is essential for understanding the efficiency of individual processes and workflows, and helps to identify inefficiencies and areas for improvement.

With our analytics function, you can analyze the relationship between resource intake and output to not only understand unit and fixed costs, but also track waste and scrap data. This allows for a more in-depth analysis of resource inefficiencies and the related carbon emissions, and provides opportunities to reduce waste through better resource procurement or material innovation. Additionally, our analytics function aligns sustainability attributes with production output, helping you to consider the circularity of your products when they reach their end of life.

MDAS gives you the power to construct, enhance and optimize your solutions in any way that fits you! Its open technology interfaces grant flexible data orchestration and exchange - connecting real-time demands with comprehensive 360° analytical capability. With MDAS at the helm of gathering insights across all aspects of environments, rest assured knowing every decision made is an informed one based on a holistic view.
Manufacturing Operational and Asset Intelligence Management (MOAiM)
Allerin's Manufacturing Operational and Asset Intelligence Management (MOAiM) solution is a game changer for the manufacturing industry. This solution incorporates edge AI capabilities into manufacturing processes, bringing in a new level of intelligence and efficiency. With MOAiM, organizations can benefit from a more optimized and intelligent manufacturing process, resulting in improved operational performance, asset utilization, and cost savings.

MOAiM helps organizations "servitize" their assets by identifying Original Equipment Manufacturers (OEMs) who want to use as-a-service models for their products and creating a service catalog for user organizations. This solution also addresses sector-specific operational intelligence use cases by assessing internal competencies and engaging industry practitioners in collaborative ideation and development. Furthermore, MOAiM offers edge AI capabilities, providing a perfect solution for utilities planning to deploy IoT devices such as smart meters, network sensors and new digital assets.

MOAiM provides a revolutionary edge in the manufacturing industry, leveraging cutting-edge technology. Edge AI enables organizations to process data quickly and accurately for better decision-making capabilities that result in higher performance levels. Manufacturers can unlock new productivity potential by reducing latency, minimizing data transport consumption and enhancing local processing with MOAiM's unique solution - all of which is designed to facilitate informed decisions towards streamlining operations at the highest level of efficiency possible. Following are the use cases covered by MOAim:
Edge AI for Asset Intelligence
MOAiM's Edge AI for Asset Intelligence is a revolutionary solution that ushers in an age of industry automation. This sophisticated technology can help organizations access data faster and use it more efficiently, giving them the upper hand when making decisions and optimizing performance. Harnessing the power of edge AI has never been easier with MOAiM: empowering industrial entities to enhance their processes at unprecedented levels!

MOAiM offers a powerful edge AI solution that can aid any organization in realizing the full potential of their assets - industrial or otherwise. With greater control and improved data security, businesses are able to reduce machine downtime costs while optimizing usability for true operational reliability. At MOAiM we believe productivity should never come at the cost of safety; so let us help you take your processes to new heights with our cutting-edge Asset Intelligence!
The benefits of using MOAiM's Edge AI for Asset Intelligence are numerous. By preventing expensive machine downtime and improving asset performance, organizations can achieve cost savings and better risk management. This improved operational reliability, sought by operators of asset-intensive environments, provides better control of smart, connected assets and improves data security and usability. This not only makes the solution an attractive option, but also opens up new opportunities for organizations to servitize the monitoring and maintenance of their industrial edge assets.
IoT Products Enablement for Manufacturing.
MOAiM's IoT Products Enablement for Manufacturing is a solution that helps Original Equipment Manufacturers (OEMs) leverage the power of edge AI to extend the life and value of their products. This use case is all about enabling connectivity and control of product-related outcomes, which allows OEMs to offer their products as a service.

With MOAiM, product leaders can embed intelligence into industrial assets, servers, and gateways for continuous monitoring and management. This opens up new opportunities for product servitization, which is a commercial model that offers visibility into connected assets and delivers manageable performance outcomes, especially in remote environments.

By using MOAiM's Embedded AI, OEMs can servitize their offerings, offering customers asset-based services that are priced as recurring operating charges. This results in improved incident and problem management, increased availability and performance, better access management, and enhanced security. MOAiM's IoT Products Enablement for Manufacturing offers an end-to-end solution that delivers the benefits of product servitization, helping OEMs take their products to the next level and stay ahead of the curve.
Operational Intelligence
MOAiM's Operational Intelligence transforms data into a powerful tool, allowing organizations to gain valuable insights in real-time. Edge AI offers the potential for improved decision-making and performance - enabling smarter management of operations that maximizes success outcomes.

MOAiM's unique AI architecture offers an unparalleled capability to process data in real-time, even with no internet connection. This powerful technology delivers critical insights for enhanced business management - maximizing results and efficiency through intelligent automation.

MOAiM's Operational Intelligence use case is designed to give manufacturers, logistics companies and other businesses with high-value assets a competitive edge. Utilizing data analytics capabilities within MOAiM helps you transform your information into actionable insights that will help optimize performance, drive better decision making and maximize returns on investment - all of which can be achieved using this advanced solution. Put simply: if you're looking for an effective strategy to make the most out of available resources in order to run operations more efficiently and reach higher levels of success than ever before – look no further!