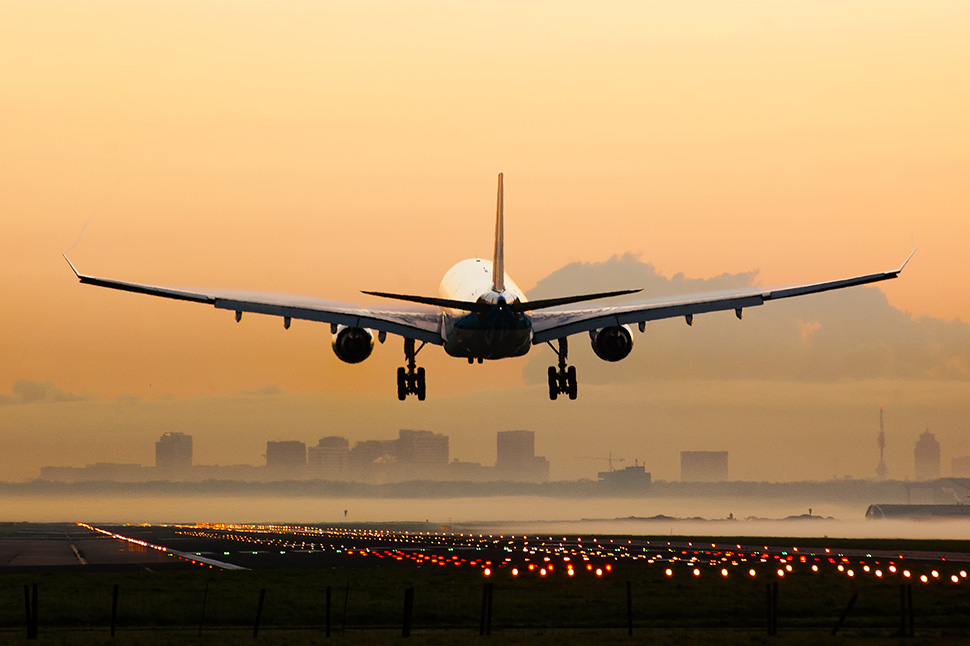 Passengers expect a hassle-free and convenient travelling experience. That is why the aviation industry focuses on improving passenger experience by providing benefits such as in-flight Wi-Fi, custom-built airline apps that allow passengers to interact with the plane and in-flight systems from their own device, and personalized food menus based on customer preferences. All of this runs in parallel with other services such as easy ticket booking portals, flight alerts and notifications, etc.
Moreover, aerospace applications all over the world are becoming more innovative, thereby delivering increased capacity, security, and speed.
Current and future IT missions for this sector increasingly rely on the timely and reliable capturing, processing, storing, and delivery of actionable data.
As the aerospace industry is a hyper-competitive market, enterprises constantly face the challenge of maintaining high-level customer engagement, providing a superior travelling experience at lowest fares and manufacture robust defense solutions. The following is a list of challenges faced by the aerospace industry at each critical touchpoint: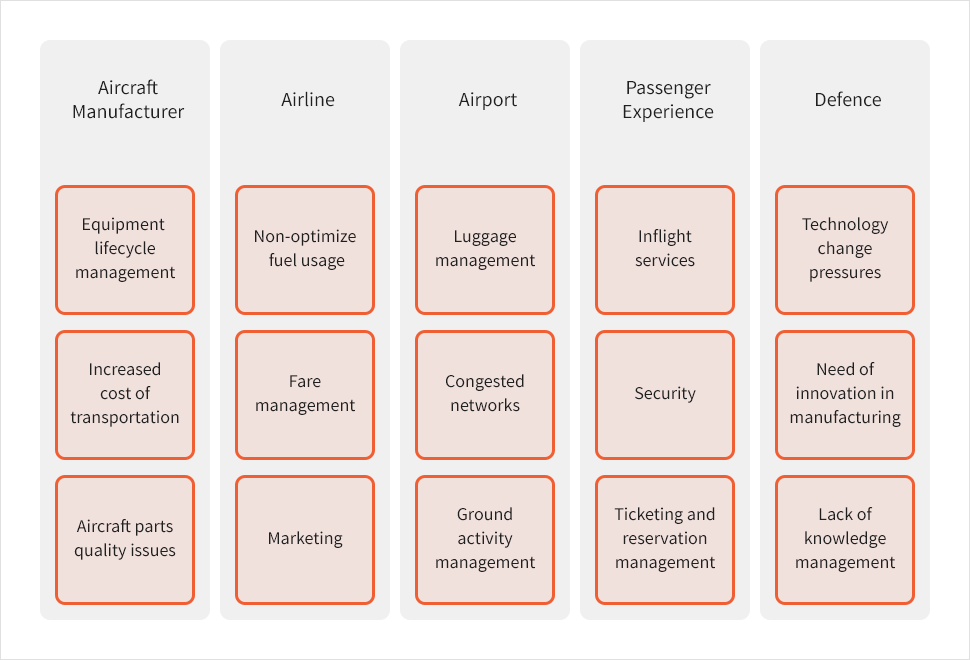 Opportunities for IoT Adoption
In the aerospace industry, IoT promises to deliver a reduction of travel time, enhance passenger comfort, and enhance national security levels. This disruptive technology comes with tremendous benefits for the aviation industry.
Sensor data
Sensors embedded in connected objects help in the control, monitoring and collection of accurate real-time data.
Cloud computing
Cloud computing creates a single platform to handle and integrate data from multiple sources, i.e. people, processes, and systems.
Development of smart airports
International and domestic airports can implement advanced technology and improved methods of data collection to extract meaningful real-time insights for passengers. Using IoT, the aviation industry can integrate and analyze multiple data sets to develop smart applications or services for airports, airlines, and passengers.
Network-Centric Concepts
IoT facilitates advanced situational awareness that allows today's military commanders to make decisions based on real-time analysis that is generated by integrating information from unmanned sensors and reports from the field. IoT devices can survey the mission landscape and feed data to a forward base, where it gets analyzed and integrated with data from other sources to enable comprehensive battlefield situational awareness.
Allerin's Solution
Allerin's Digital engine for the aerospace and defense industry combines IoT and big data technology to create an intelligent airline platform. Allerin presents you with an End-to-End IoT solution that consists of a distributed IoT platform suite made up of all IoT endpoints, IoT edge platforms (gateways) and IoT platform hubs. The solution consists of new condition-based preventive maintenance capabilities that users can integrate with their existing business applications like asset management, procurement, and service dispatch applications. In this way, Allerin's IoT solution can cater to specific business objectives of airlines and defense organizations, thereby improving their operational efficiency.
Following are the features our solution provides:
Generating personalized insights
Incorporation our digital solution provides airlines with a platform to improve their services to passengers and use collected data to offer personalized services.
Tracking passenger activity
Our digital solution empowers several monitoring applications to track passenger movement in real-time. In this way, airlines can effectively diffuse bottlenecks easily.
Scheduling maintenance activities
Allerin's digital solution helps airlines to predict and prevent customer issues well in advance. They can also schedule maintenance activities prior to the actual breakdown.
Monitoring
Our connected solution helps airlines explore opportunities in driving improvements in ancillary services. Our solution helps in leveraging sensor data to upsell exclusive offers like the lounge, fast lane, etc.
Providing Knowledge Management
For any military organization, knowledge management is important for ensuring that all military personnel have access to the right information. With Allerin's IoT solution, military organizations can make sure that right information is available to the right military personnel at the right moment via the right channel, anytime and anywhere.
Benefits of Allerin's solution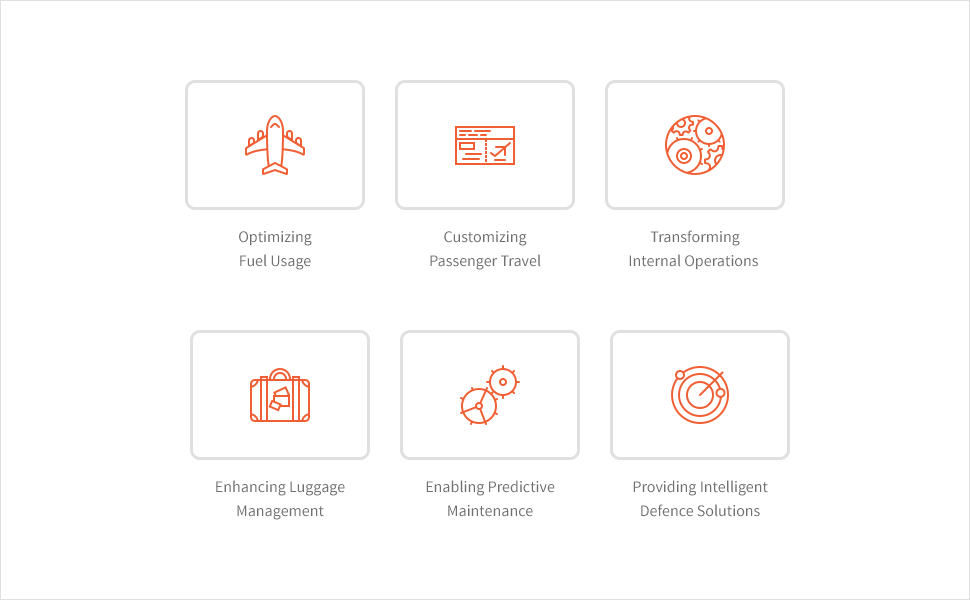 Allerin's digital engine can be leveraged to boost aircraft performance. Our solution helps in maximizing fleet utilization, reducing operating costs and identifying problems in advance. This proactive approach helps in streamlining maintenance processes and thus, provides efficient scheduling of maintenance activities. Moreover, the defence industry can gather data using IoT devices that are associated with intelligence collectors, such as signals and geospatial intelligence. This will facilitate better data analytics and thus better and more informed decisions for war-fighters.
With our Big Data solution, aerospace and defense organizations will have the strategic data and intelligence for developing new applications, thereby making them smarter and enabling them to provide cost effective and secured services.
Our aerospace solutions team can help aerospace and defence organizations companies identify their specific pain points and tweak our solution accordingly. Our solution will, thus, help you take better business decisions and react faster during critical times while eliminating human intervention in routine activities. To know more about our solution, contact Allerin .